The full press release for the shortlisted artists for the Arts Foundation Futures Awards for the Comics category runs below.
Congratulations to the shortlisted quartet!
Esther McManus, Danny Noble, Zara Slattery and Jess Taylor have been selected from a long list of nominated comics artists as finalists for the £10,000 Arts Foundation Futures Award in Comics 2020. An event to celebrate their work will open in October at London's Cartoon Museum including a talk with Comics Laureate Hannah Berry.
The recipient of the main award will be announced at the Arts Foundation Futures Awards on the 27th Jan 2020 at London's ICA. The runners-up will receive £1,000 awards towards their practice.
The award was judged by three revered comics artists Woodrow Phoenix, Hannah Berry and lastly John Allison who said; "The four finalists all draw from different schools of cartooning, but each exemplifies the greatest strength of good comics – the easy communication of complex ideas."
Comics are easily one of the most vibrant and inventive areas of the arts in the UK today, with both the breadth of work produced and the forums created around growing exponentially over the last fifteen years. Talking about the award, Hannah Berry, comics laureate and a judge for this year 's award noted;
The medium is still woefully underrepresented in terms of funding and support, and limited opportunities mean that very rarely can creators afford to get a foothold and take their work to the next level. The Arts Foundation Fellowship is a crucial lifeline, offering not only the financial support artists need but the motivation of having such a prestigious organisation in their corner.'
The four finalists will be celebrated at the newly situated Cartoon Museum in London. The AFFA in Comics 2020 will take over the 'In-Focus' section of the gallery from the 18th Oct – 1st Dec featuring both original and printed work. The public will have a chance to hear the talented finalists speak about their varied techniques and inspirations at a special event at midday on Saturday 19th October at the Museum chaired by Comics Laureate Hannah Berry. Tickets to the talk are £5 and include access to the whole museum including the excellent Comics Creators, The Famous and the Forgotten curated by Steve Marchant.
The Finalists
Esther McManus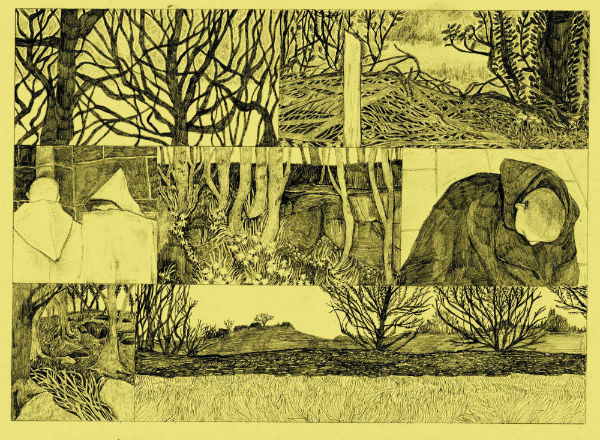 Esther McManus is a graphic artist whose self-published works weave together the comic and book forms. She favours self-publishing as it fosters strong networks of comics makers and promotes "narratives that fall outside the mainstream".
In her work McManus explores how the form and content of book objects shape the experience of the reader, and how materials play a central role in the way stories are read and understood. She views her identity as a practitioner as characterised by the use of practices in combination, such as drawing, printing, binding, distribution, and engaging with other work.
McManus sees comics as uniquely placed to communicate her research into feminist publishing and collective practice, due to their ability to represent time in unusual, non-linear ways. This allows her to highlight the connections between past and future in the rendering of historical narratives, such as Between Friends (2019), which examines feminist publishing over the past 50 years.
Danny Noble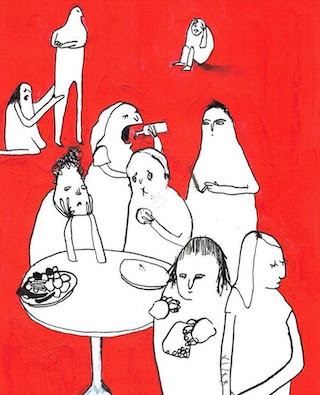 Danny Noble started writing a diary when she was a child, religiously penning her thoughts to paper – first in word, then picture form. Writing a diary allowed Noble to turn her life into funny stories, a form of "therapy" that has shaped her artistic career.
Calvin & Hobbes and Bill Waterson were Noble's pathway into comics – she was mesmerised by the worlds they created at the flick of a pen. After this she gradually found herself drawing panels instead of single images.
"Still confessional, but edited to be entertaining", Noble published autobiographical comic strips entitled MONDAY MORNING (2008) which were influenced by her diary entries. It was important to her to be "as unexpected and funny as possible", however she ultimately had a realisation that she had to stop "hiding behind a punchline" and let her "raw old self lie exposed on the page", channeling this in works such as DIAZEPAM DIARIES (2017).
Much of Noble's works are self-published, however her drawings were also chosen to illustrate her "childhood comedy hero" Adrian Edmondson's children's books Tilly and the Time Machine (2017) and Junkyard Jack and the Horse that Talked (2018).
Danny is currently working on a graphic memoir called Shame Pudding, out in Spring next year.
Zara Slattery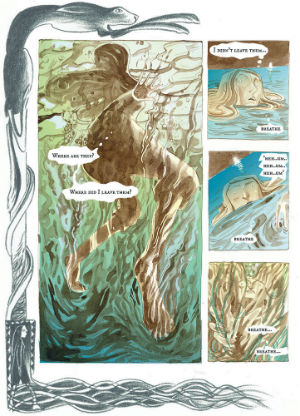 Zara Slattery is an illustrator, comic artist and tutor based in Brighton.
During her years as a student Slattery developed a love of performance, theatre and circus, drawing inspiration from David Hughes, Ralph Steadman and David Hockney. These influences shaped her work both on stage and in print, focussing on character design, story development and live action to create experimental performance and inventive narrative forms.
When Slattery joined a writing group with a view to write illustrated YA fiction, she was introduced to graphic novels, notably American Born Chinese by Gene Luen Yang and the work of Audrey Niffenegger. Astonished by their power to tell profound and complex stories in an accessible way, Slattery then revisited her own stories, reworking them to create her first comic.
Slattery's ongoing work in progress – Coma Comic- is a graphic memoir that tracks her mental and physical journey through an induced coma following a serious illness in 2013. She also produced a rhyming comic entitled Don't Call Me A Tomboy (2018) in collaboration with writer Kirsten Wild, which looks at and challenges old fashioned ideas about gender specific behaviour and ability.
Jess Taylor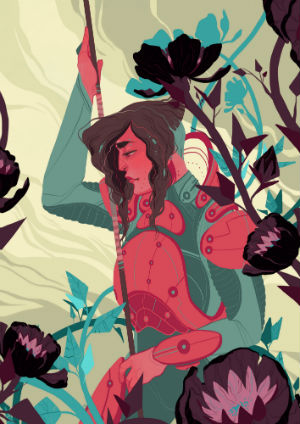 With a degree in Animation and two films under their belt, Jess Taylor attended a 'comics mixer' in 2016, feeling sceptical and expecting to be the only woman in the room. Unexpectedly, the event revealed to Taylor a diverse and exciting world that would completely alter their career path: the indie comic.
That year, Taylor made Chevalier(2016) a prose based fantasy story that took influence from medieval art, Mucha, and cartoons like Samurai Jack and Secret of Kells. The comic explored the hard realities of living with mental illness, drawing on Taylor's personal experience of anxiety and depression. They describe this comic as setting a precedent for everything they've made since.
Taylor's work culminated this year in the production of two ongoing long form graphic novels: The Curse of the Wren and Of Her Own Design, both depicting surreal and honest fantasy worlds that focus on female and non-binary characters growing up and accepting themselves. Feminist overtones are very present in Taylor's work, they draw women as subjects rather than objects, forcing the viewer to see the characters in the same way.