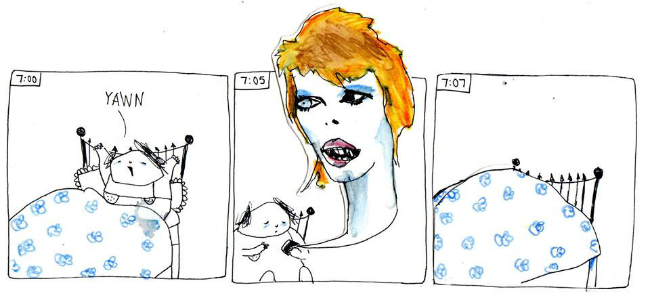 The Broken Frontier Small Press Yearbook 2016 – a showcase celebration of this column's 'Six UK Small Press Creators to Watch in 2015' – debuts in print this month featuring the work of that fabled half dozen of Rozi Hathaway, Jess Milton, Danny Noble, Emma Raby, Alice Urbino and Adam Vian, alongside a whole host of established British-based comics creators who began their careers in the world of the small press.
As we approach our launch night at Gosh! Comics, I've been talking to those six creators about their Broken Frontier Small Press Yearbook contributions, looking back with them on their year of dedicated coverage at BF, and asking them how their practice developed in that time.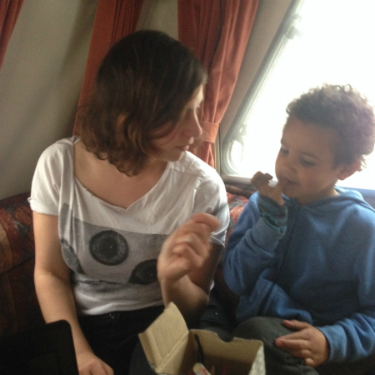 Today's subject is an artist who needs no introduction to regular 'Small Pressganged' aficionados. The incomparable Danny Noble (right) has been a regular fixture in this column over the last year or so and is also our artist-in-residence at the Gosh! Comics/Broken Frontier Drink and Draw nights.
Danny's re-imagining of the lives of thespians Oliver Reed and Alan Bates – had they retired after their naked wrestling scene in Women in Love and lived together in drunken, debauched nudity – was one of the great small press comics highlights of last year and justly won her long-overdue recognition with a nomination in the Breakout Talent category in the 2015 Broken Frontier Awards. Two volumes, Was it… Too Much for You? and Ollie & Alan's Big Move are available from her online store. 
Today I catch up with Danny to chat about her cover design for the Broken Frontier Small Press Yearbook, her First World War ghost story within those pages, and the value of social media in promoting your work. There will also be references to drinking cider…
ANDY OLIVER: To begin with, could you tell us about your cover for the Yearbook (below), how you approached the brief you were given for it and your design decisions?
DANNY NOBLE: I wanted to do something simple and striking. Something that represented the six of us and also Broken Frontier's proactive championing of small press. I had a few ideas but this one popped in my head straight away and refused to budge, and luckily that's the one that you chose. I know, especially recently, there's been a lot of imagery of pens and pencils as weapons but this is more of a colossal pencil making a mark. Leaving the flag of BF triumphantly flapping about on the moon.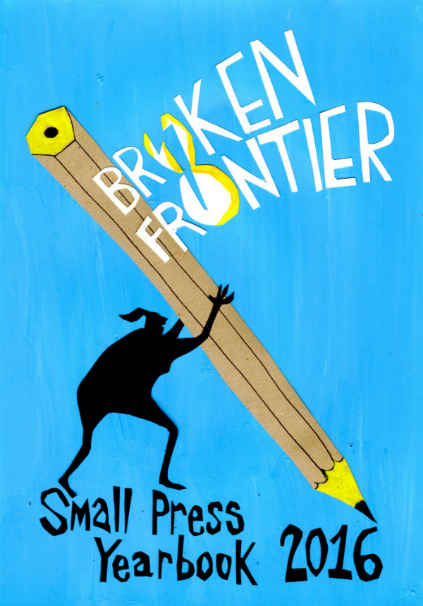 Can you give us a short spoiler-free summary of your story 'Plain as the Nose on Your Face' (below) in the Broken Frontier Small Press Yearbook?
A girl tells her camped-out-all-night friends a terrifying ghost story set in the trenches of a brutal war. Mayhem, gore and teenage cynicism in glorious technicolour.
How does it fit into the anthology's theme of "breaking frontiers"?
Partly because it's set in a trench, a physical border between one set of people and another… stuffed full of broken folk. And partly because I was experimenting with different styles for the story's narrator, and the internal story, while scooting about all over the page breaking the frontier of the panel.
And mostly because I broke the frontier of the theme to shoehorn my own weird little story into the anthology…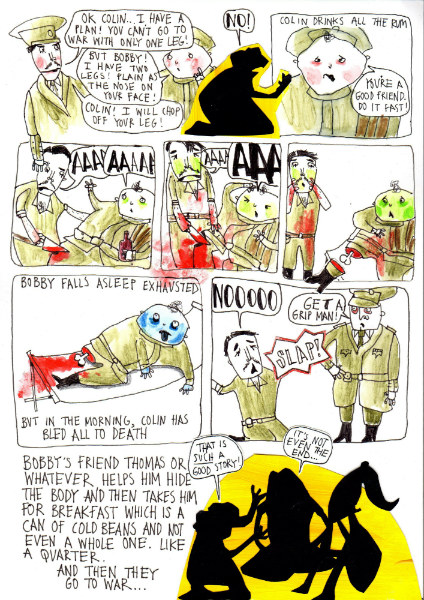 How do you feel your comics practice evolved in 2015?
I cared a bit more about the look of things. I didn't notice it happening at the time but, looking back, I was always so concerned about the story or the joke that I didn't always make things look how I wanted. I'm never going to be someone who produces slick polished work, but over this year I think I drew my rough, messy ink stains in a more thoughtful manner. I became less of a Tippex queen. Sometimes these days I even *whispers*… redraw.
When I interviewed all of the 'Six UK Small Press Creators to Watch' last year I asked you where you wanted to be at the end of 2015. Do you feel you achieved those objectives?
I loved doing that interview! Reading back over it now you could technically say I achieved none of my goals, apart from maybe getting Avery Hill Publishing drunk. I got them drunk but entirely forgot to pitch to them. But I've been producing regular work that (partially thanks to you and all at Broken Frontier) has reached wider and wider audiences. And I've not upset Ma Noble. So all in all I'm quite happy.
Danny's work from Dirty Rotten Comics #6 and the Sound and Vision zine for Gosh! Comics' 2015 Record Store Day event
What went particularly well for you in the comics world in 2015? What were your most memorable highlights?
Being a part of the 'Six UK Small Press Creators to Watch' was excellent. The tireless support and championing helped us all so much. It gave me the kick up the arse to get stuff printed and to be proud of my bonkers little stories.
The weird terrible wonderful world of Twitter continues to be a great way to firstly get my work viewed but also encouraging me to produce more work as I desperately and unhealthily seek some kind of instant validation. When I was lucky enough to be nominated for the Broken Frontier Breakout Talent Award Twitter really helped me out. Though I lost in the end to the obscenely talented Tillie Walden, it was overwhelming how people I hardly know, or have never met, could be so supportive with their kind messages, spreading the word and graciously putting up with my spamming. The nomination was definitely a highlight.

UK small press comics' breakout stars Ollie and Alan with guest star Tom Selleck…
Exhibiting at comic fairs is a mixture of heaven and hell. Surviving those as well as meeting such a lot of talented folk and hard-working organisers, with a karaoke cherry on the top was another highlight. And I also got to meet the elusive man of mystery behind Comic Printing UK who has, with his patience and skill, helped me this year to produce three comics of outstanding quality. Having those boxes of softcovered books arrive through the post was like three extra Christmases.
After 39 years I have learnt with just the right amount of cider I CAN do public talking.
And I have been read and laughed at by some of my all-time heroes.
A pretty amazing year.

Where could readers see your work published in 2015?
As well as my self-published books Was it…Too Much for You?, Ollie & Alan's Big Move, and Hangover Farm, I was published in two amazing Dirty Rotten Comics anthologies (#4 and #6). I was also in Keara Stewart's wonderful A Bit of Undigested Potato anthology concerning a nightmare I'd had about Latvian folk dancers and in Steve Walsh's music zine for Record Store Day at Gosh! Comics in which I told the sad tale of being attacked by a soundman while dressed as a fishfinger .
What's coming up from you next? What future projects can you share with us?
A couple of secret projects that will be revealed in time. I will be putting together a new collection of Monday Morning strips (above), and possibly a third nautical themed Ollie and Alan. I'm working on my longer length comic and some smaller zines. I'm halfway through artwork for my band The Meow Meows' third album, and I've recently discovered 'Gypsies, Tramps and Thieves' might be my perfect karaoke song.
'Friends on Benefits', the title track from last year's EP by Danny's band The Meow Meows. Visit their online store here. 
If you could give the new 2016 'Six to Watch' creators one piece of advice for their time in the spotlight what would it be?
Be brave, be drunk if you must, but show your work all that you can.
The Broken Frontier Small Press Yearbook launches at London's Gosh! Comics on April 29th and Danny Noble will be signing copies on the night. Full details here and on the Facebook event page here. Pre-orders are available online here priced just £6.00 plus postage.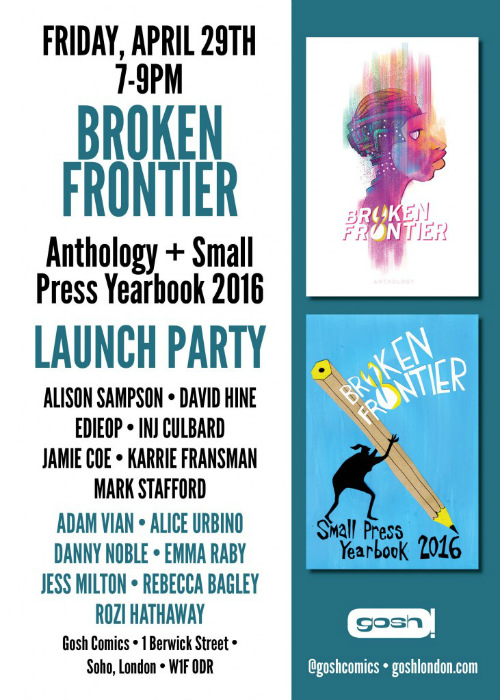 For more on Danny Noble visit her website here and her online store here. You can also follow Danny on Twitter here, 'like' her Facebook page here and catch her on Instagram here. 
For regular updates on all things small press follow Andy Oliver on Twitter here.