One of the great pleasures of being involved in comics commentary is that you can be aware of exciting projects going on in the background long before they're announced to the wider world. Draw the Line is one such enterprise: a collaborative group effort designed to emphasise positive political action through individual comics and cartoons as a response to the sobering and worrying global events of 2016. It's been steadily growing steam over the last few months but the final results on the Draw the Line site here are even more impressive than I was expecting. And I was expecting a lot given the amazing list of talent involved!
Overseen by Myfanwy Tristram (Two Birds) Draw the Line includes the celebrated likes of Dave McKean, Karrie Fransman and Roger Langridge alongside many of the incredibly talented self-publishing artists we've been championing here at BF for some years like original Broken Frontier 'Six Small Press Creators to Watch' star Danny Noble, Wallis Eates, Katriona Chapman, Richy K. Chandler, Sean Azzopardi, John Riordan and Amber Hsu. We'll be talking to Myfanwy Tristram about the scope of the project (and the stunning breadth of information that goes with it on the Draw the Line site) very soon here at BF. But in the meantime the official press release is below along with a small selection of images from the site…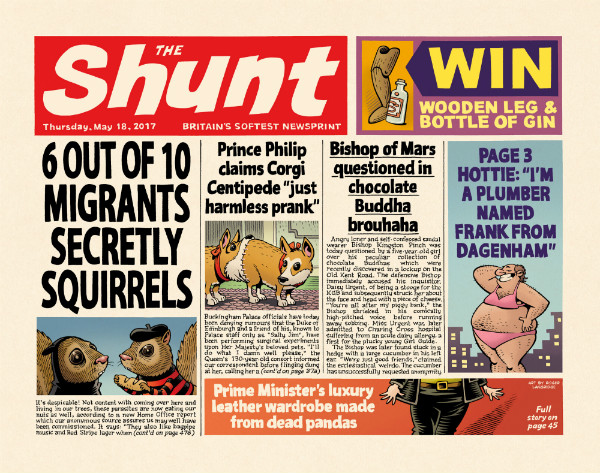 QUESTION SOURCES: Don't believe everything you read. Always check whether that news story has come from a trusted source — especially if you're planning on sharing it! (By Roger Langridge)
Today, more than 100 comics artists and illustrators from around the world launch Draw the Line, a lively, visual guide to positive political action that anyone can take.
A reaction to dramatic social, environmental and political changes in the USA, Europe and across the world, the Draw the Line project offers more than 100 comics illustrating different ways that active citizens can help to change their community, politics and the world.
Draw the Line is the brainchild of comics artist and activist Myfanwy Tristram, who brought together a cast of international artists, including veteran and award-winning artists like Dave McKean (Sandman, Coraline), Steven Appleby (Normal Life, Loomus), Karrie Fransman (The House that Groaned), Lucy Knisley (Relish, Displacement), James Harvey (Masterplasty, Bartkira) and Woodrow Phoenix (Nelson, Rumble Strip).
"Like many people, I found the political upheavals of 2016 pretty scary, and I was looking for positive ways to push back.", said Tristram.
"When things are looking bleak, it can be hard for people to picture a better world. That's where comics artists can come to the rescue, showing people how they can make that change happen."
Taking inspiration and advice from social, political and environmental movements like Black Lives Matter, the Women's March and Standing Rock, Draw the Line compiled more than 100 positive political acts. These range from the traditional to the cutting-edge, and the gentle to the radical, but they all share a desire to change the world for the better.
In one image, two women furtively sew labels into clothes in a high street shop, reading "Made in Sweatshop Conditions". In another comic, a literal gorilla brightens up his beleaguered street with acts of "guerilla gardening". An absurd tabloid cover blares "Six out of ten migrants are secretly squirrels", highlighting the need to question "fake news" and check sources.
Comics artist Karrie Fransman said, "Draw the Line is an uplifting demonstration of what a hundred talented comic artists and activists can accomplish with blood, sweat, ink and a belief in justice and equality. We hope these actions will inspire thousands more."
Renowned cartoonist Steven Appleby said, "Drawings and words together give ideas greater power than either alone. Maybe if humans came together, too, we would all be stronger and happier."
Draw the Line: Comics for Positive Political Action launches on Tuesday 21 February at drawthelinecomics.com and across social media. Organisers intend to publish a book of the comics in 2017, and welcome interest from publishers.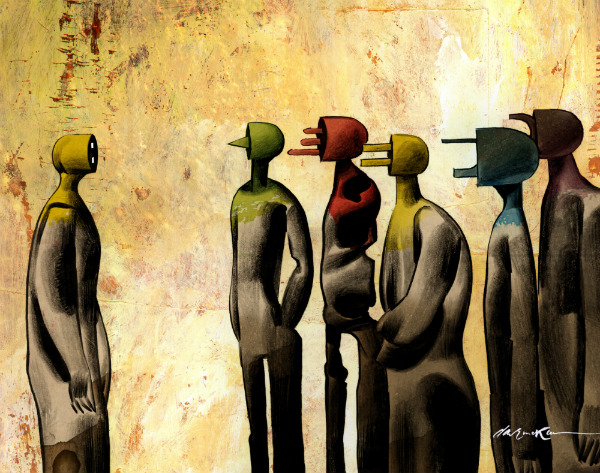 GIVE MINDFULLY: Donate money to an organisation whose values you share. They'll know exactly how your money can best be put to work. (By Dave McKean)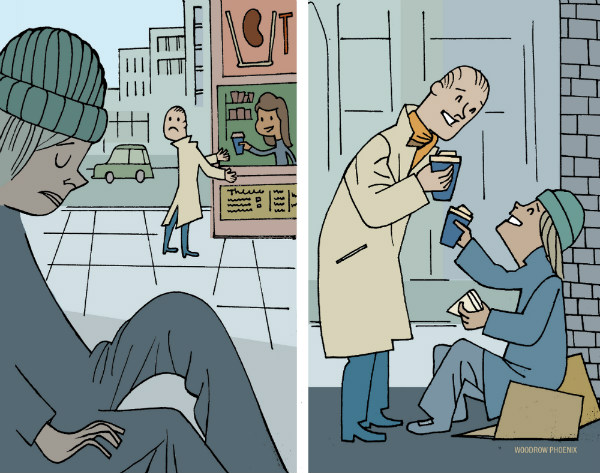 SEE PEOPLE AS PEOPLE: The charity Streets of London say that we must "challenge the perception that homeless people are any different from the rest of us. Homelessness begins when something bad happens and you don't have family or friends around to help. It could happen to any of us." The same logic can be applied across many sectors of society: they may be temporarily disadvantaged, but they are people. (By Woodrow Phoenix)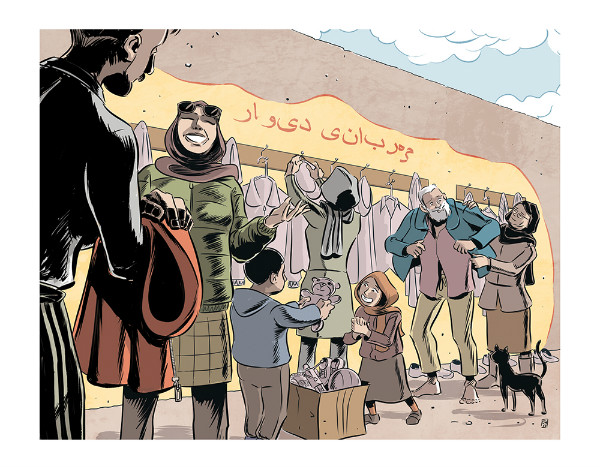 BUILD A WALL OF KINDNESS: While Donald Trump was first talking about his divisive wall, the concept of a "Wall of Kindness" was blossoming in Iran. Stretches of wall are painted and furnished with pegs. Then, people hang clothes, food and and goods that they no longer need for the homeless or poor to take. The concept is spreading: several UK towns currently feature their very own walls of kindness (in the case of Brighton, it's a seafront shelter of kindness…) (By Jaime Huxtable)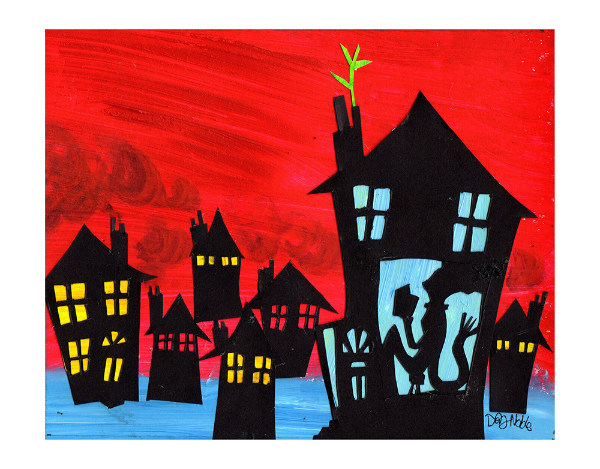 LAYER UP: Instead of turning the heating on, put another layer on. Just like your mum told you. (By Danny Noble)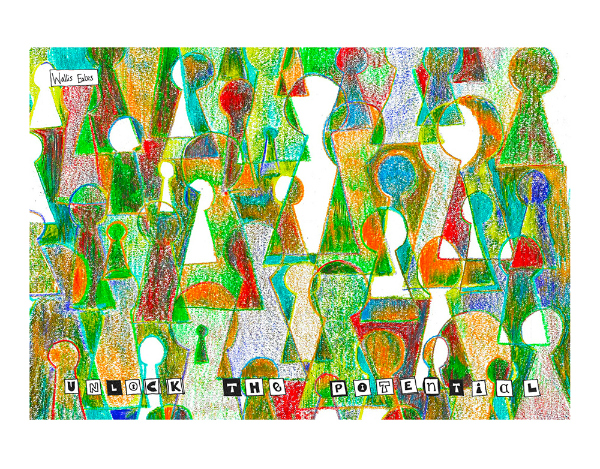 EMPLOY THE LESS EMPLOYABLE: Could you give a job to someone who would find it hard to secure work elsewhere Consider recruiting from groups such as ex-convicts – giving them less reason to return to a life of crime – or those with autism, learning difficulties or disabilities, allowing them a chance for paid work that few others may offer. (By Wallis Eates)