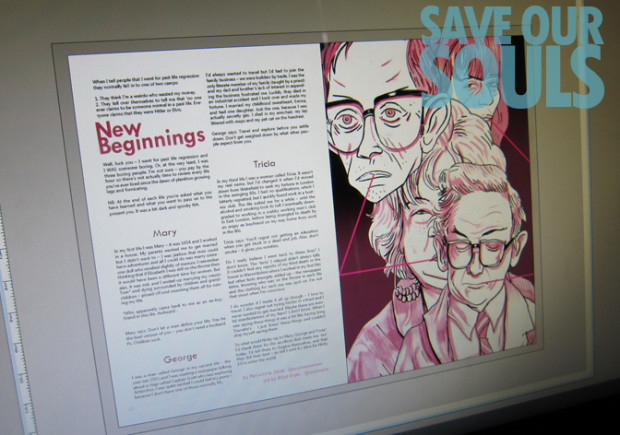 It's back! The Gosh! Comics/Broken Frontier Drink and Draw returns on February 23rd at a new venue, upstairs in the famous Coach and Horses pub in Soho's Greek Street. Last year's run of popular events included creators of the calibre of Tom Humberstone, David Hine, Mark Stafford, Karrie Fransman, Mike Medaglia, Isabel Greenberg and Emma Ríos – alongside regular Drink and Draw artist-in-residence Danny Noble – and we're kicking off 2016 in style with a first meet-up that includes no less than five guest artists!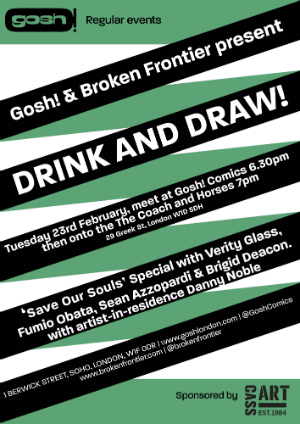 Our all-new, all-different rebirth sees a new co-host for the event as I (Broken Frontier Editor-in-Chief Andy Oliver) am joined by Gosh's very own Nora Goldberg – a familiar face on the London comics scene. February's D&D will be a Save Our Souls special with three guests having appeared in the first issue of that book.
SOS is a topical anthology which publishes "articles on wide ranging topics and experiences by some of the best writers currently being published in major newspapers, magazines and websites" and looks "to change the way people see the relationship between comics and writing". We covered the crowdfunding campaign for #1 here at Broken Frontier last November and you can look out for a review of that first issue at BF this week.
From the Save Our Souls crew attending, Fumio Obata is the creator of the critically acclaimed graphic novel Just So Happens from Jonathan Cape, a thoughtful and delicately constructed slice-of-life tale following a young woman's return to Japan for her father's funeral after living in London for years.
Verity Glass has worked on Professor Elemental, anthology Disconnected, and for Titan Comics including cover art for their Doctor Who series. Finally from the Save Our Souls trio we have Brigid Deacon (Coma Deep, Bimba, Off Life) who is one of this year's Broken Frontier 'Six Small Press Creators to Watch' and a featured artist in the current Comix Creatrix exhibition at the House of Illustration.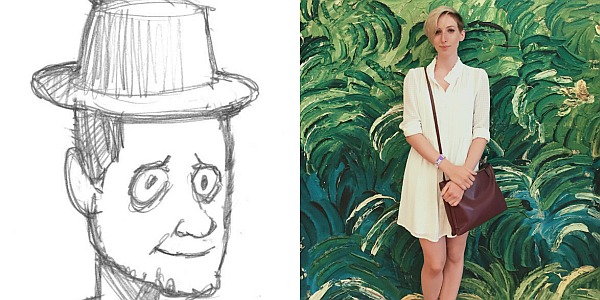 Your co-hosts – BF's Andy Oliver as illustrated by Drink and Draw guest Sean Azzopardi and Gosh! Comics' Nora Goldberg
Bumping up our bonanza numbers even further this time around we have UK small press stalwart Sean Azzopardi, a familiar name in our 'Small Pressganged' column over the years, whose versatile approach to the form has included autobio work (Rain on Glass, Tracks), horror (Dark Matters), and even a dabbling in the world of super-heroes (Necessary Monsters).
Last but certainly not least our regular artist-in-residence, the incomparable Danny Noble, will be in attendance. Danny was not just one of our 'Six UK Small Press Creators to Watch in 2015' but also nominated for a Broken Frontier Award this year in the Breakout Talent category. Her unique creative voice has been seen in the pages of Was it… Too Much for You?, Ollie & Alan's Big Move, Hangover Farm, A Bit of Undigested Potato and Dirty Rotten Comics this year.
Nora and I, and all the guests, look forward to seeing you there on the 23rd for another evening of themed drawing, artist interaction, and convivial drinking. We kick off in Gosh! at 6.30 with a signing by the creators before heading down to the Coach and Horses around 7pm. In the meantime here's a reminder or two of some of our previous evenings…
The Gosh! Comics/Broken Frontier Drink and Draw is sponsored by Cass Arts. Join the official Facebook event page here. 
Left – Drink and Draw co-hosts Nora Goldberg and Andy Oliver at our first event last June with Tom Humberstone (right) of In the Frame fame
The fabulous Drink and Draw poster for July by Mark Stafford (The Man Who Laughs) on the left and David Hine (Second Sight) has a riddle for you on the right
Our October Drink and Draw with Karrie Fransman (Death of the Artist) and Mike Medaglia (One Year Wiser) had a Halloween theme. This panel-by-panel "exquisite corpse"-style comic strip was started by Danny Noble. Were you one of the artists who contributed? Let us know in the comments section below. 
Post-Thought Bubble in November our guests were Isabel Greenberg (The Encyclopedia of Early Earth) and Emma Ríos (Pretty Deadly) when we created multi-artist jam images on the themes of fantasy art and weird Westerns…