BROKEN FRONTIER AT 20! In 2015 cartoonist Danny Noble was among the number of our very first Broken Frontier 'Six Small Press Creators to Watch' programme; an initiative that, perhaps more than anything, has encapsulated BF's approach to comics commentary over the last several years. Danny has gone on to great things since, including illustrating Adrian Edmondson's children's books Tillie and the Time Machine and Junkyard Jack and the Horse that Talked. In 2020 Danny's acclaimed graphic memoir Shame Pudding was released to great critical acclaim; its irreverent, endearing and witty depiction of her relationship with her two Jewish grandmothers landing her the 2020 Broken Frontier Award for Best Graphic Non-Fiction. 
On an additional note Shame Pudding was published by Street Noise Books whose catalogue of socially conscious work reflects our own mission here at BF to promote and celebrate marginalised voices. For both reasons we're delighted to be able to publish Danny's 'Inside Look' creator commentary on Shame Pudding as part of our 20th anniversary celebrations!
Our Inside Look feature at Broken Frontier provides creators with the opportunity to share exclusive commentaries on their comics projects with our readers, giving insights into the genesis, process and themes of their work. It's one of the oldest regular features at BF, first appearing on the site back in the mid-2000s and also one of our most well-received. Today Danny Noble talks Shame Pudding…
Image 1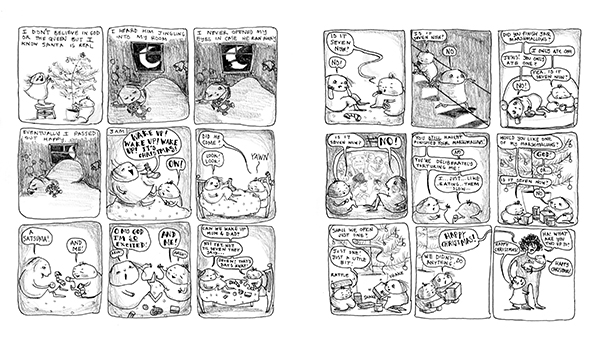 Shame Pudding, originally called Poisons & Painkillers, was going to be a chronicle of my various different ailments, and the official, and often less official, ways in which I medicate. Liz, my insightful publisher was most drawn to the parts of the comic where I was hanging out with my grandma. I said "if you like that grandma you're going to love my other one! She used to pinch our cheeks and scream 'Shame Pudding!' in our faces and not knowing it was her mangled way of saying Shayne Punim, which means beautiful face in Yiddish, we were naturally terrified." "I think that should be the name of your book" said Liz, and my book evolved into a story much more wrapped up in my childhood. Like every good Jewish girl the most important part of my childhood was Christmas. And fighting with my ever-patient little brother. In this spread I wanted to capture the magical grey delirium of waking up Christmas morning and the torture of delayed gratification when you're seven years old.
Image 2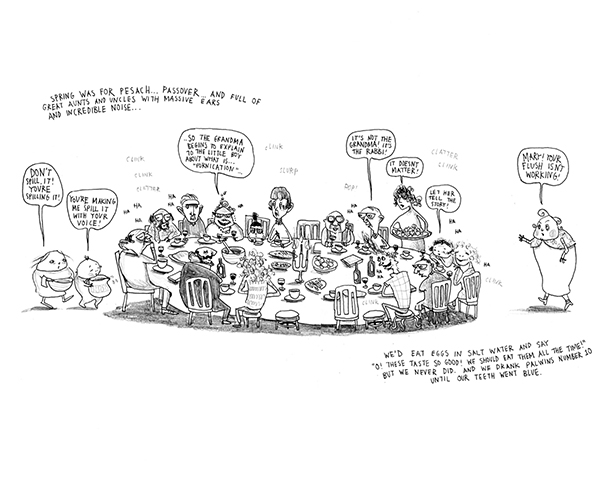 One of my favourite things about working on something longer-form rather than my usual three-panel strips, was to be able to have strikingly different page layouts. When I read comics I love pages of big crowd scenes where your eyes are guided about by speech bubbles. So unlike the traditional panels in the Christmas spread, I showed the Passover Sedar over one image with lots white space hopefully drawing you in to the hubbub of the table where my big, loud, funny family would eat with wild abandon and talk over each other, jokes disguised as stories, and stories funnier than jokes. I found it very easy to slip back into my kid way of thinking and finding these gatherings both alien and overwhelming, and warm and comforting all at the same time.
Image 3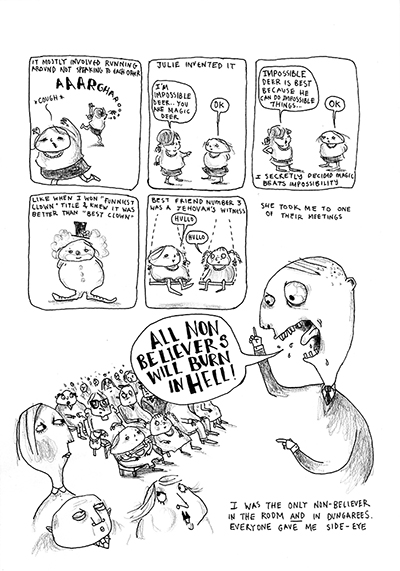 I wanted to show you this page, not only because it tells of the weirdness of two of my first best-friendships, how we sort of played alongside each other rather than interacting in the first example, and in the second how we spent all our time together though we had almost nothing in common, but also this page is a moment of staggering technical achievement. After years of refusing to use any tools except pen and paper, I got to the end of Shame Pudding and Ada, my poor editor had to explain to me in at least 50% of my speech bubbles I'd failed to use any of the required apostrophes. Rather than draw them by hand and rescan everything, over the next few weeks my dad and Tom had to mentally hold my hand as I Photoshopped in 100s of missing apostrophes. When I got to this page I realised though the text clearly mentioned I was wearing dungarees, I had drawn myself wearing a damn school uniform. I realised I could use my new-found skill not to just add punctuation but to entirely change my wardrobe! Stand back in awe, for a new techno-goddess has been birthed!
Image 4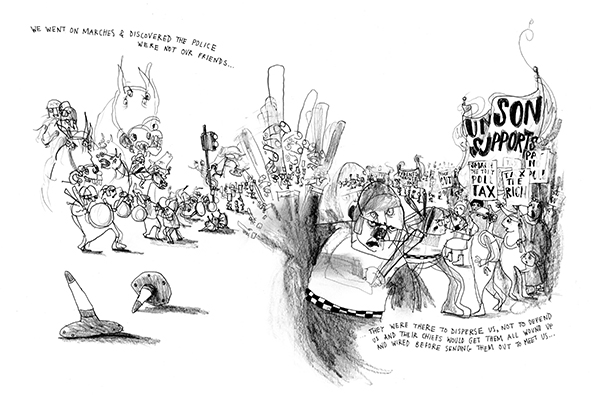 Further on in the book as I'm changing from a constantly worried kid to a chronically anxious teenager, though still incredibly self-centred, I began to become more aware of the world around me.  In this image I wanted as much movement and confusion as possible, to show both the claustrophobia and franticness of being kettled in by the police, and also how everything sort of shifted and went off-centre when I realised the way I viewed the world had been coloured through the lens of my sheltered privilege.
Image 5
Though it is late on in Shame Pudding, it's one of the first pages I drew, and I think one that pulled my publisher to encourage me to move my book in a different, more Grandma-centric direction! I loved working on my book so much, it felt like I'd somehow magically won extra time to hang out with my long-gone grandmas. This page I'm using the panels as the neon corridor where I crouch trying frantically to get through to the other panels of my grandma's lovely flat, where she lay after a fall. Drawing it then and looking back at it now makes my heart ache in a warm sort of way. As you can see from all the pages I've shown, I'm a simple mark maker, but I hope I get character across through expressive pen lines and through dialogue. The intimacy of bickering. Dialogue is everything to me and the heart of this book is a family constantly telling each other off with protective love. Which we continue to do to this day.
Buy Shame Pudding online here
Top BF logo by Joe Stone