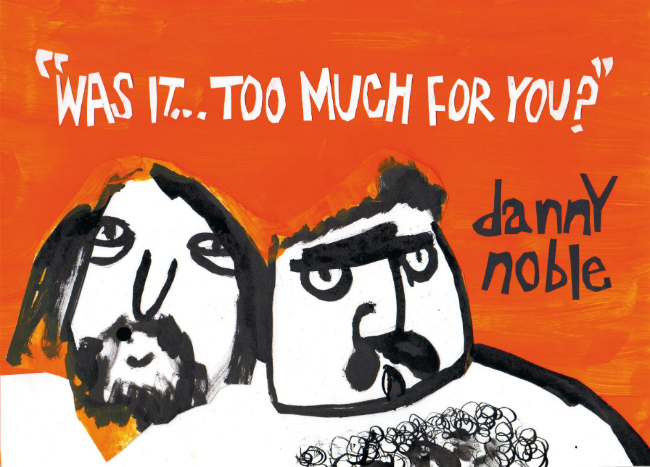 Today at Broken Frontier we have something a little special for you to tie in with the publication of the first print edition of Danny Noble's Was it… Too Much for You? comics! One of my Small Pressganged 'Six UK Small Press Creators to Watch in 2015', Danny has been publishing the strip online since the beginning of the year and describes its premise in the following irresistible terms:
"In 1969 Mr. Oliver Reed met Mr. Alan Bates in the film Women in Love. When they wrestled naked in front of a roaring fire the frisson was so great that they have been unable to dress themselves since. This is their story…"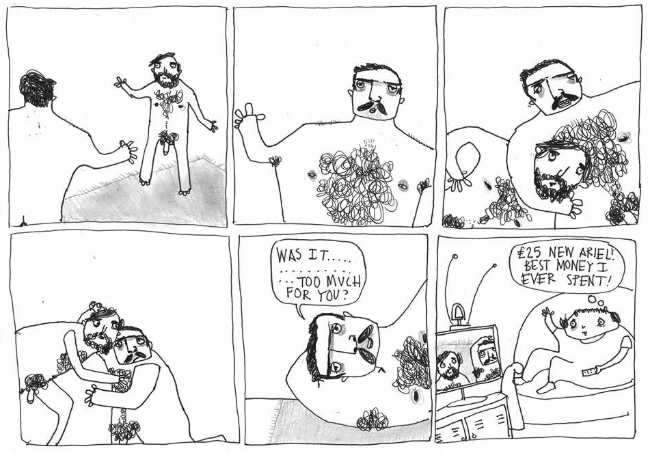 Her cartoon versions of Alan and Ollie first appeared in the above edition of her autobiographical comic Monday Morning (check my review here at Broken Frontier). From thereon their adventures took on a life of their own and, to date, Noble has produced over a hundred strips featuring these madcap men-children whose surreal scrapes tend to revolve around flamboyant public nudity, drunkenness, getting one up on Tom Selleck, and the unseen presence of fellow Women in Love star Glenda Jackson…
With the first print edition of Was it… Too Much for You? now available to buy from her online store Danny has selected a number of her favourite comics from this first collection for us to run as a preview here today in 'Small Pressganged'. Also, as a very special bonus, we have an ultra-rare colour Was it… Too Much for You? strip exclusive to Broken Frontier for your reading pleasure as Alan and Ollie drop in to the Broken Frontier bullpen…
To find out more about Danny Noble's work you can also read my interview with her last month here. And look for a review of Was it… Too Much for You? very soon in this column.
Click on the strips below to enlarge.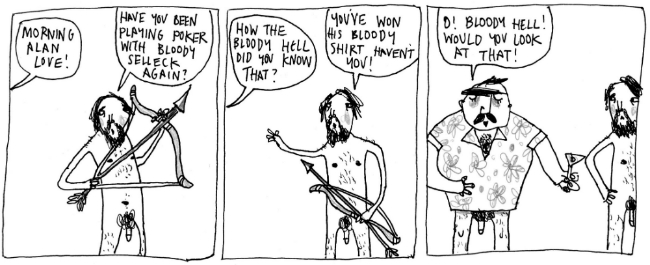 Don't forget to order your copies of Was it… Too Much for You? online here for just £4.00 for 52 pages.
You can follow Danny Noble on Twitter here.
For regular updates on all things small press follow Andy Oliver on Twitter here.