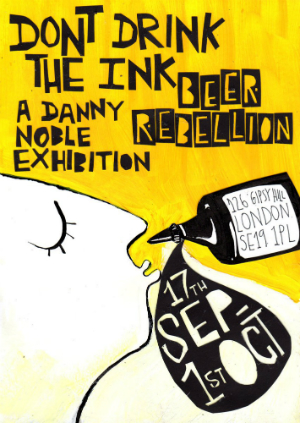 Between the end of 2014 and the early months of 2016 the name "Danny Noble" was ubiquitous at Broken Frontier. One of our original Broken Frontier 'Six Small Press Creators to Watch' Noble's return to the comics world in 2015 saw a flurry of work that included two album editions of her "wickedly witty" Ollie & Alan characters (hairy, drunken, naked, men-children versions of actors Oliver Reed and Alan Bates), a reprint of poignant slacker comedy Hangover Farm, prolific comics postings on social media and multiple anthology contributions (both Broken Frontier Small Press Yearbooks among them).
In terms of comics output, the last year or so has been much quieter as Noble's attentions were understandably focused on illustrating actor and comedian Adrian Edmondson's children's novel Tilly and the Time Machine. The book has received widespread critical acclaim and recently won the Sainsbury's Children's Book Award in the Fiction 5+ category.
Next week sees the opening of an exhibition of Danny Noble's comics work and illustration at Beer Rebellion in Gypsy Hill London which will run from September 17th to October 1st. The venue is the same one that held Matt Boyce's 'It's Going to Be Okay' exhibition which I reported back from earlier this year here at BF. It will include an opportunity to savour art from projects like the second Broken Frontier Small Press Yearbook, Dirty Rotten Comics and her unseen Corbyn comic, alongside original work created for the event. You can enjoy some of that imagery here today including some exclusive first looks at material in the exhibition.
Unseen Jeremy Corbyn comic work and a page from this year's Broken Frontier Small Press Yearbook
Long-term 'Small Pressganged' readers will be well aware of the high regard I have for Noble's work which I count as being among the very best uses of the medium I have had the privilege of covering at BF in my time here. I could wax lyrical once again about her deft and dexterous manipulation of the form and the expressive qualities of those scratchy illustrations but I don't think I'll ever phrase it better than I did in a 2015 review on the site when I said "Danny Noble's comic genius is surpassed only by her comics genius. In a decade of Broken Frontier reviewing I have never encountered an artist with a more naturally instinctive command of the unique storytelling possibilities of the comic page. "
I think that in itself is more than enough reason for you all to get over to South London before October 1st…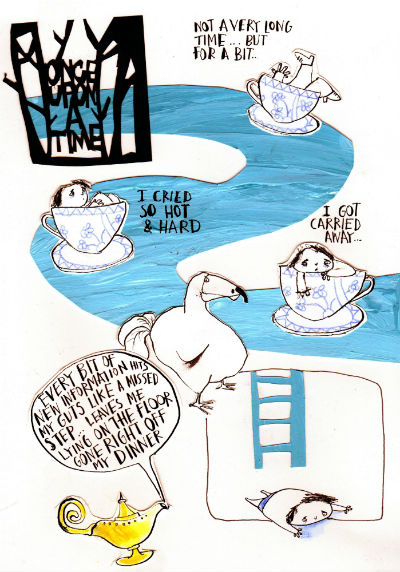 For more on Danny Noble visit her website here and her online store here. You can also follow Danny on Twitter here.
You can find out more about Don't Drink the Ink on the Facebook page here. 
For regular updates on all things small press follow Andy Oliver on Twitter here.