Imagined anecdotes, an ode to equine-headed amour, hallucinatory parties, and adoptive elves all feature in the latest round of minicomics from the kuš comics range…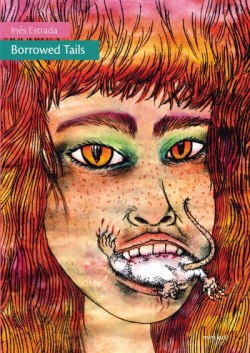 The joy of Latvian publisher kuš komiksi's mini kuš! (as suggested by the title, their range of single creator minicomics) is that so often the creators come to them from a perspective that seems unpolluted by the traditions and perceived rules of "mainstream" comics storytelling. This latest batch of four books once again complements the main kuš anthology series with unconventional stylistic approaches and playful uses of the medium which ably represent the parent title's commitment to diverse and often experimental comics narratives.
All kuš output also offers an opportunity for discovering unfamiliar creative voices from international shores and mini kuš #14, entitled The Pernicious Kiss, is an excellent example of this. Finnish poet and artist Tiina Lehikoinen provides a monologue on the social perplexities of being horse-headed that is darkly funny and tragically tender all at once. As our distinctively domed protagonist seeks to find love, despite the physically limiting logistics of his condition, Lehikoinen's full-page visuals portray his situation with a lingering grotesqueness that is memorably haunting in its composition.
Fellow find from Finland Heta Bilaletdin provides #15's short Hideous Fiesta, a claustrophobic account of a surreal party with a nightmarish dream logic to it. There are shades of Alice's Adventures in Wonderland here and a stifling sense of entrapment; the collage-style art only adding to that eerie sense of displacement. Swedish creator Emelie Őstergren's Runaway Dog is the offering in #16 wherein an escaped dog is taken in by a community of gnome-like creatures. But beware a twist in this moving tale! There's a counterpoint of happiness and poignancy in this one that is almost heartrending with the deceptive storybook visuals accentuating its deeply affecting denouement.
Sample pages from Hideous Fiesta, Runaway Dog, and The Pernicious Kiss
Finally, #17 is Borrowed Tails, a collection of brief narratives from Mexico's Inés Estrada. The basis for these shorts are snatches of overheard conversations, though whether real or imagined is left to the reader's imagination. A sort of distorted psychedelia prevails in these rapidfire tales which is emphasised by Estrada's vivid use of colour and vibrant, often unnerving visuals. Sexually frustrated ghosts, the travails of the malodorous Skunk Girl, and a wasp sting-induced metamorphosis of a most radical nature (below right) are just some of the fantastic flights of fancy on offer here.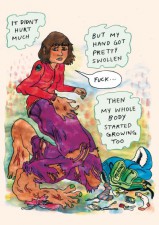 Four minicomics, then, which for different reasons all have a hazy, dreamlike feel to them. I cannot over-stress what an invaluable resource the kuš range  is for discovering international comics practitioners who take radically different and inspired approaches to the comics page. The most exciting thing about their output is its unpredictability, and in a world where the aforementioned comics "mainstream" has become ever more homogenised and tiresome in the last couple of years that's a most welcome attribute indeed!
For more on the kuš philosophy check out their website here. You can buy the latest batch of mini kuš from their online store here priced$6.00 each or $18.00 for all four.