Dark & Golden Books is a new imprint "dedicated to charting a less travelled course through the history of British comics, finding and celebrating mislaid and forgotten classics for the audience of today in new high-quality editions." A new publishing operation from Strip for Me's Douglas Noble and Breakdown Press's Tom Oldham. Their first publication, coming next week, is Kevin O'Neill's early work Mek Memoirs. More details of this limited edition comic in the press release below.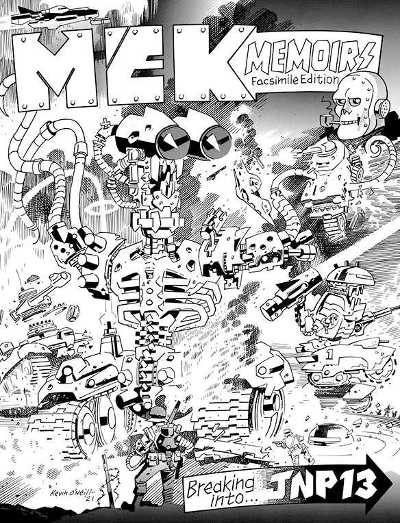 Dark & Golden Books are delighted to announce their reissue of the 1976 comic classic, Mek Memoirs. See the future history of robot warfare captured on video for the very first time. Von Kruppenstein! The Crusher! The Killdozers! Take a peek at the horrible world to come in searing battle action! This acerbic end of the world comedy is an unmissable look at a war you never want to see happen! This robot conflict urtext set the stage for the comics sci-fi revolution that was just around the corner, and was among the pieces in O'Neill's portfolio shown to Pat Mills to land a job at 2000 AD.
Newly created from scans of the original artwork, this facsimile edition comes wrapped in 8 pages of unseen material and reminiscences by artist Kevin O'Neill and writer Chris Lowder, including a brand-new cover by O'Neill created especially for this edition. In accordance with the artist's wishes, the comic is presented without staples as originally published.
Mek Memoirs comes in an envelope alongside a bonus print of a contemporaneous O'Neill artwork.
Available at https://darkandgolden.bigcartel.com/product/mek-memoirs and Gosh Comics of London from Monday, March the 21st, 2022.