"Pray that the stories, names, characters and incidents portrayed in this comic are untrue" says the knowing subversion of the traditional opening disclaimer in Strip for Me's latest A Pocket Chiller. It's a cute wink at the reader in one of the range's most playful issues to date. This time around artist Mark Stafford (The Man Who Laughs, The Bad, Bad Place) makes his A Pocket Chiller debut alongside writer and publisher Douglas Noble in Ripple in the Dark, the thirteenth issue of the digital one-shot horror stories series.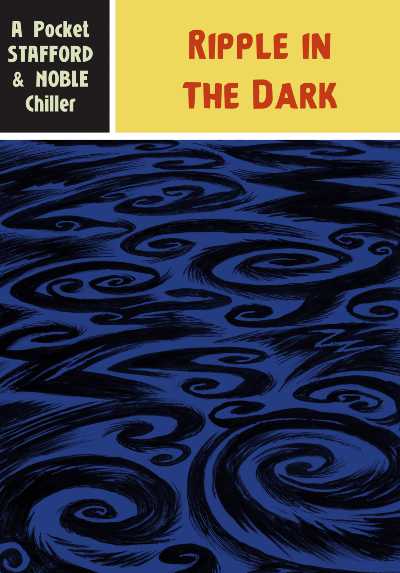 A lone sailor in a row boat encounters former girl detective April Mae, submerged in the expanse of flood water he is attempting to navigate. With only her head bobbing above the surface she starts to tell him about her life as one of the Everything Agency, a trio of 8-year-old investigators. Their cases were many and varied and included 'The Case of the Blushing Hair', 'The Invisible Friend of Tobermory Jackson', and 'The Girl with the Hundred-Mile Eyes'.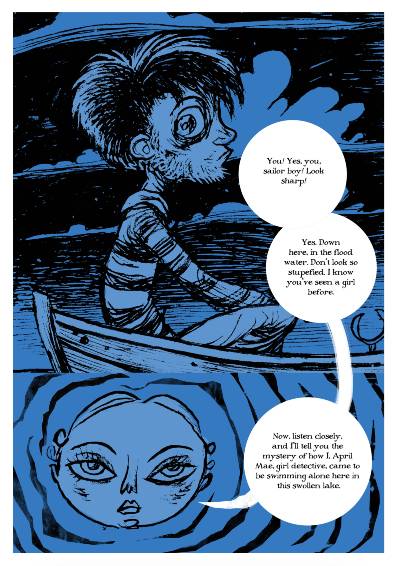 But tragedy struck when her colleagues drowned in unusual circumstances. After time in a sanatorium she gradually returned to her vocation but the question remains… how did she end up immersed in the water and what is the truth behind the connective patterns she sees in everything?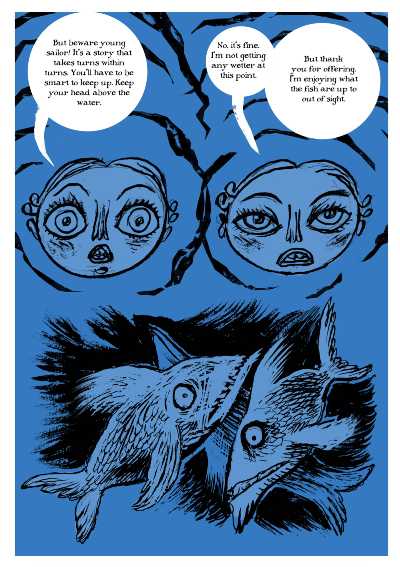 Mark Stafford has a visual style that is bound up in contradictions. It's strangely appealing, to a point almost endearingly morbid, but also captivatingly grotesque and delivered with a jauntiness that is unsettling given the comic's casual horror. It's a perfect complement then to the ever poetic prose of Douglas Noble with its hints of otherworldly terror and frequent unceremonious placement of the horrific in the everyday. Stafford's shifting but monochromatic use of colour in Ripple in the Dark also ably emphasises the stark weirdness of April's world and its inhabitants.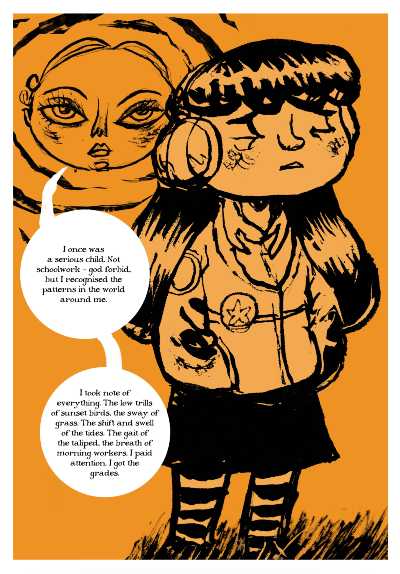 Ripple in the Dark is about connections, consequences and how all stories are influenced by each other. Or at least that's what I took from it. That's one of the most appealing elements of much of Noble's writing – the reader is continually invited to find their own truths in its pages. I would say that this is an excellent entry point into the A Pocket Chiller range but the truth is that their standalone nature and consistently strong experimental approach makes every single issue a perfect introduction to the line.
Douglas Noble (W), Mark Stafford (A), • Strip for Me, £2.39
Review by Andy Oliver