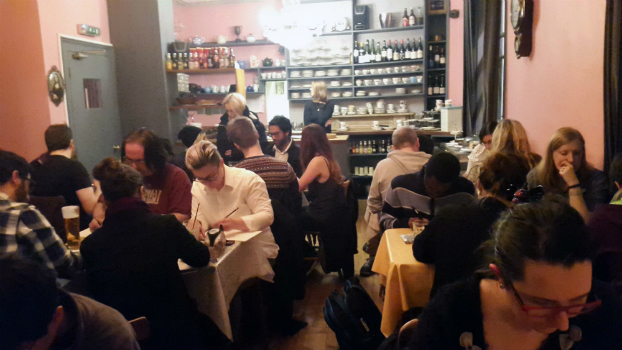 The first Gosh! Comics and Broken Frontier Drink and Draw of 2016 took place last night with a bumper batch of guests at our Save Our Souls special. Co-hosted by myself and Gosh's Nora Goldberg, the evening kicked off with an opportunity to meet the creators and get their comics signed at the shop on Berwick Street. We then headed over to the famous Coach and Horses pub on Greek Street where our assembled comicky community had the upstairs tea room to themselves for the night.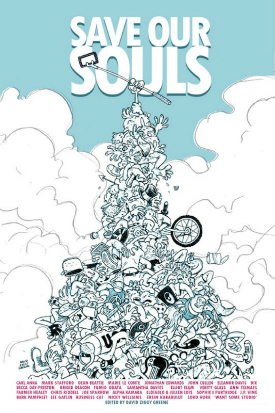 From the pages of graphic reportage anthology Save Our Souls (see our review of #1 here) we were very fortunate to have guest artists Fumio Obata (Just So Happens), Verity Glass (Disconnected, Doctor Who cover artist) and Brigid Deacon (Coma Deep and one of this year's Broken Frontier 'Six Small Press Creators to Watch') in attendance. Also joining the crew was that familiar face on the UK small press scene, and CECAF co-ordinator, Sean Azzopardi (Dark Matters, Tracks) whose comics career I profiled here last week.
With the beer flowing and the spirit of Dionysus permeating the room we drank, drew and shared our work in true collaborative conviviality. This month's themes were topical news stories, alternate realities and revenge fantasies, with the results of each half hour scribbling frenzy being displayed by willing volunteers in our mini "show and tell" sessions after. We also started a new group comic strip for 2016 as the now traditional large sketch pad began to circulate around the room…
Thanks to everyone who turned up, and especially to our guest artists for so generously giving up their time. Nora and I have big plans for the Drink and Draw this year and we're already looking forward to March's edition. For updates on that please join our Facebook group here. In the meantime let's revisit some of last night's highlights…
Photos courtesy of Nora Goldberg. Click to enlarge. 
Guest artists at Gosh! as the enigmatic Brigid Deacon and Sean Azzopardi pose with their comics – both books are in stock at the shop now
Fumio Obata displays his self-published comic while Save Our Souls editorial is always fully behind its work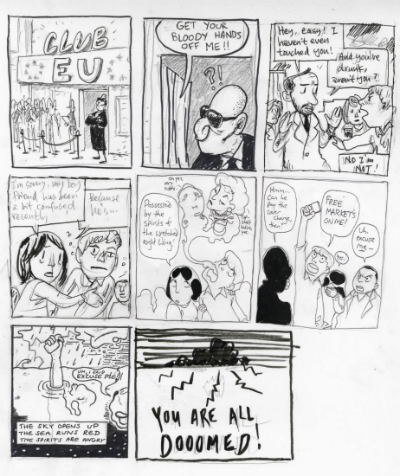 Work in progress – our first group comic strip of 2016 has started with a satirical influence – work from David Ziggy Greene, Fumio Obata, Verity Glass, Brigid Deacon and Sean Azzopardi. To be continued in March… 
Above and below – ink and alcohol provide inspiration…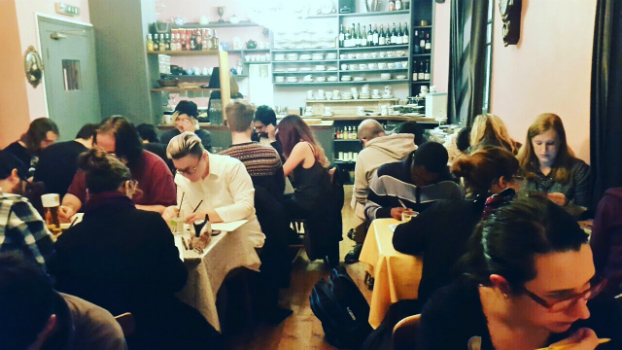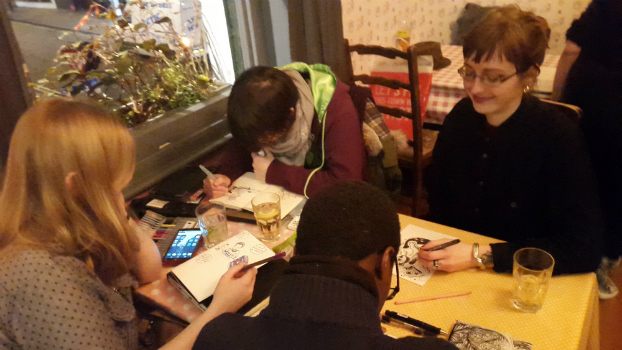 For regular updates on all things small press follow Andy Oliver on Twitter here.