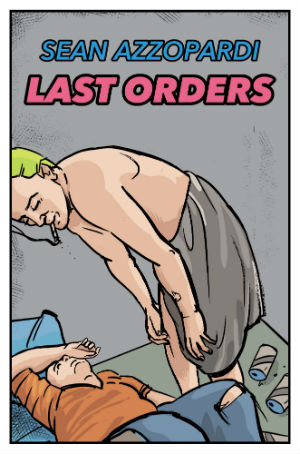 THOUGHT BUBBLE 2019!
When I first started covering the work of Sean Azzopardi at Broken Frontier he had long since become one of the integral fixtures of the London small press scene. Both creator and organiser, his importance on the circuit was one that was often masked by his casually self-deprecating demeanour. Azzopardi is a versatile creator with work that ranges from the indie horror classic Sightings of Wallace Sendek with Douglas Noble to the peripheries of the super-hero world with Daniel Merlin Goodbrey on Necessary Monsters, but it's his autobiographical work that remains the central plank of his practice. His latest collection of shorts, Last Orders, launches this year in time for Thought Bubble where it makes its festival debut.
For a creator with such an enduring self-publishing pedigree it may surprise some when I say that it's been in the last four or five years that Azzoapardi's practice has evolved into some of the finest pure slice-of-life craft I have written about at BF. That's very much in evidence in this new comic. Because when it comes to the language of visual storytelling Last Orders emphasises how Azzopardi's autobio work, with its unflinching honesty and uncompromising realism, continues to embrace the specific tools of the form to make the most intimate connection with his readership.
The first story, 'My Relationship with Alcohol', is a perfect example of that. With great candour Azzopardi is open about his own occasional anti-social behaviour when under the influence (a post-pub revenge-piss against a neighbour's car providing an early moment of epiphany) while contrasting his own occasions of inebriation with a life growing up with an alcohol-abusing father. There are no easy answers here but Azzopardi's playful use of comics' unique relationship with time and our between-the-panels comprehension of it is remarkable in creating a sense of place and changing eras that accentuates the strip's overarching themes.
The echoing call of the past continues in 'Camden is Burning (Again)' wherein a meeting with old friends brings Azzopardi's earlier days in a thriving small press community back to mind, reflecting on relationships that have moved on with a painful but accepting poignancy. Throughout, double-page spreads serve to draw the reader further into his introspective mini-narratives. In 'Body Parts' the stark sight of a deceased Azzopardi on a slab is an alarmingly bleak introduction to his thoughts on the transience of existence, while in 'The Jab' – a visually stunning account of living with psoriasis – they emphasise his comparative helplessness across the years as an on-page Azzopardi is swept through sequences of medical graphic metaphor. That feeling of environment is again at the fore in the final stories which lead into a years past, drug-induced trip into Highgate Cemetery late at night looking for a vampire. It's creepy, atmospheric and yet oddly familiar. A reminder, perhaps, of the recklessness that being under the influence has provoked in all of us at some point in our lives.
These brief, accessible snippets into Azzopardi's life yet again underline what a shame it is that his work is not more widely appreciated. For those of us who are looking less to review and more to champion and spread the word it seems a travesty that practice as strong as this isn't being recognised and seen by the kind of expanded audience it so richly deserves. Ironically, since he stepped back from using thinly disguised on-page avatars in his work, there's been a freedom and a confidence to Azzopardi's autobio that has seen it go from strength to strength and, in an ideal world, we would be seeing a publisher stepping in to collect the last five or so comics into one volume. While we wait for that to happen make sure to put Last Orders on your essential purchases list for Thought Bubble this year.
Review by Andy Oliver
Follow Sean on Twitter here and visit his online store here. Sean Azzopardi will be exhibiting at Thought Bubble 2019 in the Ask for Mercy Hall at Table 142A. 
For regular updates on all things small press follow Andy Oliver on Twitter here.