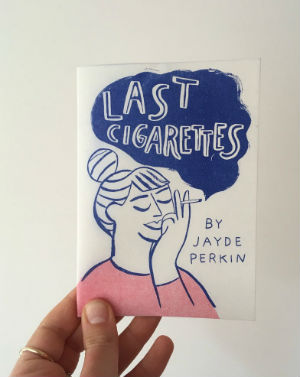 Jayde Perkin's work has taken many presentational forms over the last few years from multiple self-published comics to her recent ELCAF-debuting and critically acclaimd graphic memoir I'm Not Ready, through to almost zine-like minicomics. Whatever the format, though, there are interweaving themes and motifs that run throughout them all whether directly or tangentially. In her latest short-form offering Last Cigarettes, Perkin returns to an examination of her relationship with tobacco; a subject all the more poignant given her very specific explorations of grief and loss in her wider body of work.
Last Cigarettes will no doubt have a familiarity to anyone who has struggled to make the break with an addictive habit. Combining comics, hand-lettered prose and illustrated narrative, it traces the complexities of Perkin's reliance on what she describes as a "stupid little stick" and one she keeps returning to even though she knows "you make us ill". Employing her usual deft use of visual metaphor, tobacco's grip on her daily routine is represented by a stygian cloud of smoky darkness that sweeps through the pages of the comic, sometimes lurking malevolently in the backgrounds and on other occasions seductively snaking around her.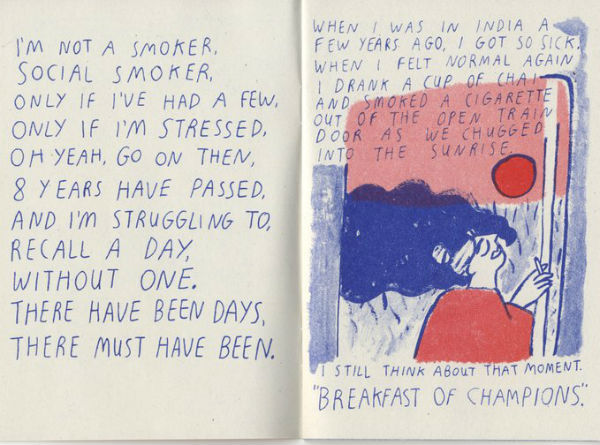 As with all of Perkin's work, Last Cigarettes is notable for its unflinching honesty – the excuses she knows she makes for it, the insecurities that drive her to smoke and the self-deception of so many promises that this will be the very last one. From nightmares about the effects of smoking that are embodied in the strangest scenarios to resonant memories (when a cup of chai and a cigarette after being ill in India constituted "the breakfast of champions") it's a self-deprecating piece of riso that both complements and expands on her body of work to date. It's also one that emphasises through the cadence and openness of her prose just how equally talented she is as both a writer and an artist.
For more on Jayde Perkin's work visit her site here and her online store here. You can follow her on Twitter here and on Instagram here.
Review by Andy Oliver
For regular updates on all things small press follow Andy Oliver on Twitter here.