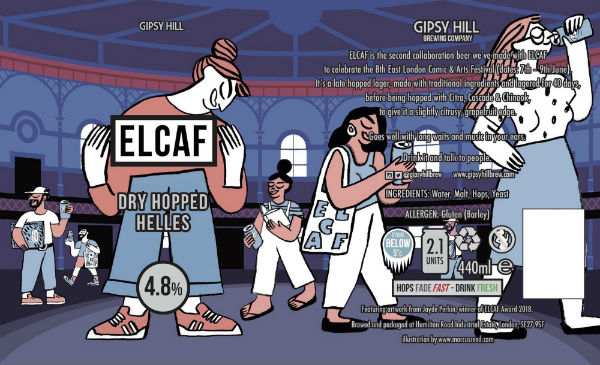 ELCAF FORTNIGHT!
We could not have been more delighted here at BF last year when 2018 Broken Frontier 'Six Small Press Creators to Watch' artist Jayde Perkin won the ELCAF x WeTransfer Award. It meant, of course, that her graphic memoir I'm Not Ready would be published at this year's festival and, given we've not stopped telling you over the last couple of years just how good her work is, that's a most deserved accolade. Having seen the finished book some time in advance, we can assure you it's going to be one of this year's most critically acclaimed UK indie releases. Not for nothing did the Broken Frontier readership and team vote her 'Breakout Talent' Award winner in last year's BF Awards after all!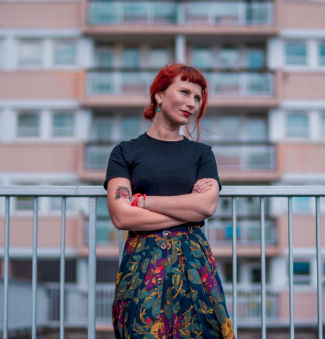 Perkin's comics largely explore themes of grief and bereavement, focusing on the loss of her mother, and are illustrated with beautifully expressive and empathetic visuals. Ahead of a huge ELCAF for Jayde, I caught up with her to look back on that prize win, working with ELCAF this year and how it feels to have her art adorning this year's official festival beer!
(Photo credit: Jesse Roth)
ANDY OLIVER: So we're a year on from you winning the ELCAF x WeTransfer Prize! Thinking back to June last year how did you feel when your name was read out at ELCAF 2018 as the winner?
JAYDE PERKIN: I was genuinely so surprised.
I always like to think could put on a "calm and collected" front in a situation like that, but apparently not. I just went tomato-faced and teary and was completely overwhelmed.
I think I have this negative "I never win anything" sort of perception on life. In fact, my partner David and I had been sat in London Fields that morning having coffee and porridge and we were talking about the prize, and I'd already come to terms with the fact it wouldn't be me. And then it was.
I'd never been able to dedicate the time, or had the means, to turn my minicomics into something longer and more tangible, and the prize has allowed me the platform and the freedom, to do exactly that. Which is amazing.
AO: ELCAF sees the release of the full-length version of I'm Not Ready, collecting your comics on loss and grief into one long-form narrative alongside all-new material. For readers who may discover your work for the first time at ELCAF can you explain the themes and aims of the book and talk a little about the new content?
PERKIN: I'm not sure about aims, but like you say, the past few years have seen me mostly exploring themes of loss and grief through my comics. All my comics have musical references, and I keep coming back to exploring this concept of 'home'.
The newer content goes much more into depth about this idea of 'what is home?', it's a story about growing up, a story of trying to make sense of a world without my mum, but it's also a story about my place in the world.
It's a story about feeling unsettled and lost, because the world keeps changing. It's about gentrification, it's a story about Berlin, it's a story about Bristol. It's a story about going back and forth from city to city, leaving your heart in different places. It's about friends, and family.
It's a story about how grief can manifest itself in all sorts of ways. It's about our little vices and the complicated relationships we have with everything we do, everything we consume. It's a sort of a graphic memoir cynical monologue about loss, and the shit things that happen in life, but also these simple pleasures, and moments of joy, too.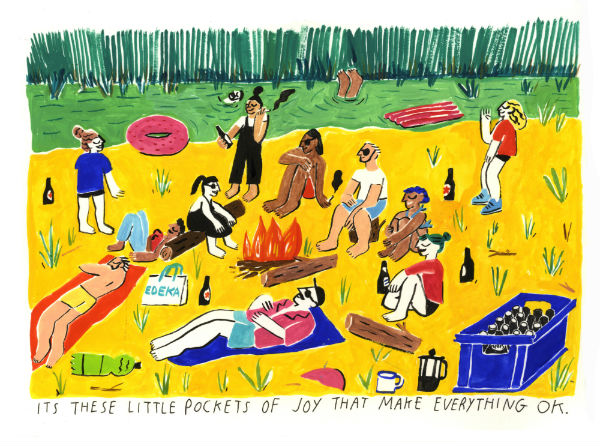 AO: Give us a quick run-through of the past twelve months from a creative perspective? What has it been like working on your first full-length comics work with the ELCAF team? And what have been the particular challenges of putting together I'm Not Ready in this new form and making the move from minicomics presentation to longer-form narrative over the last year?
PERKIN: The ELCAF team have been absolutely brilliant, they've given me so much freedom, but have also been on hand to help me out with all my questions and worries, especially with a lot of the technical stuff like printing and proofs etc.
It's been a massive learning curve, and a lot of work, and a lot of juggling time-wise and finding balance. It's been a challenge emotionally too, normal artistic disposition, and moments of 'What the FFFF am I doing?' (especially with the fact so much of it is very personal), in many ways its been cathartic, but in other moments, it's made me feel quite vulnerable, and I've doubted a lot of what I'm doing. But now it's back from the printers I feel happy, and proud. I feel like I've learnt so much. It has been a lot of fun, and an amazing opportunity to make this book.
AO: You also worked on the illustrations for this year's special ELCAF beer which launched at the Gipsy Hill Tap Room in May. Can you tell us about the design process behind that? How much are you looking forward to sampling a beer with your own artwork embellishing its packaging?
PERKIN: Anyone who reads my comics, or knows me, probably also knows I love beer, so I am dead excited to try it. I mean, dry hopped helles lager pairs perfectly with comics, right?
Gipsy Hill are such a great brewery too, and I'm good pals with Charlotte Dumortier who did last year's can, and we all kept taking silly photos of each other drinking from these cans, so I was absolutely delighted to be asked. It's just cool seeing illustrations on beer – two of my favourite things, combined!
In regards to the design process, I worked a bit differently to usual. As I'm sure everyone knows already, but the incredible Jon McNaught did this year's ELCAF branding, so Marcus Reed and I were working with Jon's really beautiful colour palette. I created some characters (which feature in I'm Not Ready) drinking beers/ holding comics, in the lighter pinks and blues from Jon's palette, and Marcus made the backgrounds (ELCAF's home: The Round Chapel!) in the purples and darker colours from Jon's palette. I think it all works together really nicely.
AO: Since we last spoke you've also had the children's book Mum's Jumper published by Book Island which touches on the wider themes of your work but, importantly, for a specific younger audience. How did you get involved with Book Island and what kind of feedback have you had about the book to date?
PERKIN: Greet Pauwelijn, the founder of Book Island actually found me at Bristol Comic and Zine Fair back in 2017. She loved my minicomics (Breathe In Deep and Time May Change Me) and commissioned me to make a picture book about grief.
Book Island are great and really pushing the boundaries of children's picture books, which is so crucial. Death and grief is still so taboo, and it is so important we talk about these things, and that we are transparent with kids from a young age, and the more material we have to be able to talk about these topics, the better.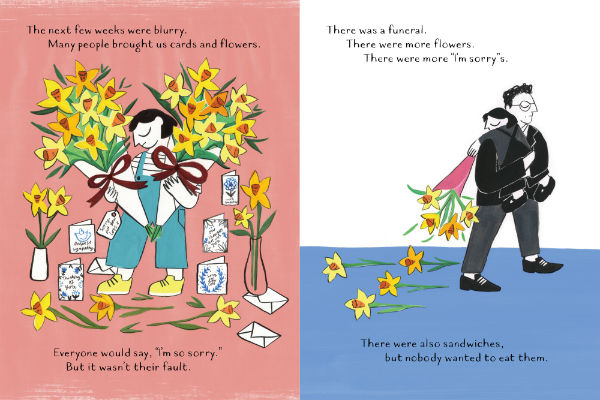 It was a challenge making a book like this for children (I'd never really done much stuff for kids before), but what an amazing opportunity, and we're both really happy with the book and the feedback has been incredible; everyone's been so supportive!
AO: What events are you involved with this year at ELCAF? Where else apart from your own table can attendees see you?
PERKIN: I'm doing a talk on the Saturday afternoon (3pm), I'll be chatting about I'm Not Ready, my process, and my journey since winning the prize at last year's ELCAF. I'll also be discussing comics as graphic medicine, and using art and narrative as a vehicle for exploring complicated feelings.
Then at 5pm on the Saturday I'm on the Broken Frontier Panel! Chaired by Andy Oliver himself! And I'll be alongside Hannah Berry, Aleesha Nandhra and Katriona Chapman chatting Indie Comics – taking new creators to new audiences.
And after that I'll probably be having a beer.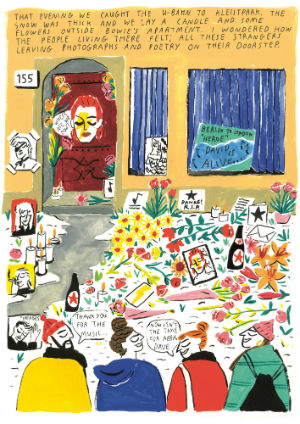 AO: And, finally, you've probably hardly had a chance to think beyond ELCAF but have you given any thoughts to your next comics project? What are your plans for the rest of 2019?
PERKIN: I'm actually working on another little minicomic at the moment, it's a bit different to I'm Not Ready, it's much looser. It's going to be called Last Cigarettes. Printed in riso, just one colour, with my pal at Assembly Press here in Bristol. I'm hoping I'm going to have it ready for ELCAF, but we will have to see. But other than that, I've got a few ongoing commissioned projects which I'm working on, including some animation! Which is super exciting!
And I'm going to Glastonbury and Green Man this year, so I'll be off the radar for a bit of the summer too, which I think I need. Also, have you seen the line up for Green Man, it's banging!
Jayde Perkin will be exhibiting at ELCAF and will also be talking about 'Comics as Graphic Medicine' and taking part on the Broken Frontier Panel. For more on Jayde's work visit her site here and her online store here. You can follow her on Twitter here and on Instagram here.
For more on ELCAF 2019 visit the festival site here and follow them on Twitter here.