ELCAF FORTNIGHT!
Ahead of ELCAF, we caught up with Taiwanese illustrator An Chen, whose unique, vector-based work has appeared in a number of publications in Taiwan and the UK. Currently residing in Cambridge, An will be bringing a range of work with her to ELCAF this year. Here's what she had to say!
BROKEN FRONTIER: First of all, I LOVE your aesthetic! How would you describe your style?
AN CHEN: I really appreciate hearing you say that! To be honest, I don't really think much about style. When I'm creating something, I never have a particular style in mind. My aesthetic can be described as a mixture of the things I love; geometric shapes, vintage toys and games. So perhaps when I'm creating, I subconsciously draw on all of these elements.
But I can say that I am not yet satisfied with my illustrations and I will continue to experiment and allow new techniques and content to inform my work. Recently I've started drawing toys. I want my illustrations to bring the viewer joy and portray a sense of playfulness.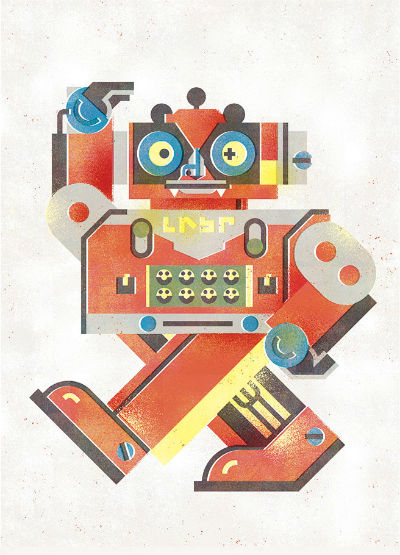 BF: Your colour and lines are so precise, yet still look soft and organic.
How do you create your images?
AN CHEN: I am the type of illustrator who doesn't rely on the traditional tools of an artist to draw. I normally start creating my work directly in Adobe Illustrator – primarily with the pen tool to create shapes, and colour blocks. That is why my work often looks so precise and mechanical. But, honestly, I don't like the coldness this technique brings to my work so I try to balance it with textures inspired by the early era of commercial printing.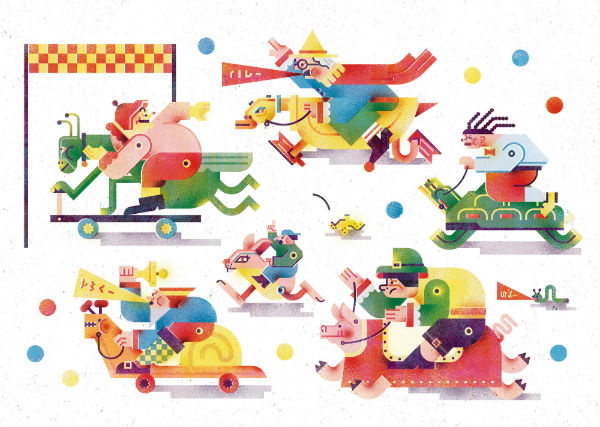 BF: How did you get started in illustration?
AN CHEN: I first began experimenting with digital graphics when I was around 15 or 16 and soon fell in love with it. Back then, the internet was still evolving, and acquiring design information and inspiration was much more difficult than it is today. My only resource at the time was the IdN magazine, and I think that really, really affected my aesthetic which developed later on. I still remember creating my first digital drawing using Microsoft Paint, it was really crazy.
Then in 2012 I started my first job as a graphic designer. I didn't have much of a chance to create my own illustrations until the 5th year. I was assigned to a project in which I used geometric shapes to create a series of images. The project was selected by an international publication and received a lot of attention on Behance. This period was the most influential time in my early career and soon I made the decision to switch my career path.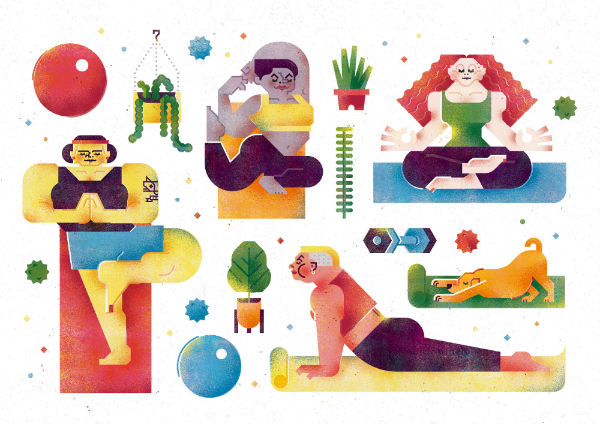 BF: Who are some of your influences?
AN CHEN: I think our generation is lucky to be able to get inspiration and keep up with current trends through sites like Behance, and Dribble. For me, I really love Henning Wagenbreth, Raymond Biesinger, and also Taiwanese illustrators Inca Pan and Teng Yu.
BF: Would you say that your Taiwanese background infuses your art?

AN CHEN: That's a question that I been pondering myself for quite a long time. I would definitely say that when I was younger, the Japanese comic and cartoon aesthetic really defined what we thought of as illustration – at least for Taiwanese of my generation. But I think I still have a deep fondness for local Taiwanese cultural elements such as Taoism and the strong neon colour palette which sometimes appears in my work.

BF: I see that you're currently based in Cambridge. Is there much of a comics art scene there?
AN CHEN: I studied a Master's degree in illustration here at Cambridge School of Art. I think Cambridge is more attuned to traditional art events like printmaking, and sketching clubs. I always attend the Urban Sketcher event to meet up with other illustrators.
BF: What will you be bringing with you to ELCAF this year?

AN CHEN: I'll be bringing my first risograph zine Sneeze, as well as a short activity book I've titled The Monster Apartment. And also, a series of prints based on the subject of vintage toys.

BF: Are there any other exhibitors or events on the programme that you're looking forward to seeing?
AN CHEN: ELCAF's participating artist list is really so intriguing!! There are so many artists that I am looking forward to seeing!! Icinori, Jon McNaught, Tom Haugomat, Triciclo, David McMillan and many more!! Just too many to name them all!!
BF: What are you working on next?
AN CHEN: I will continue to create new children's books, primarily works of non-fiction, which is really my favourite genre.
For more on the work of An Chen visit her site here and follow her on Instagram. 
For more on ELCAF 2019 visit the festival site here and follow them on Twitter here.