ELCAF FORTNIGHT!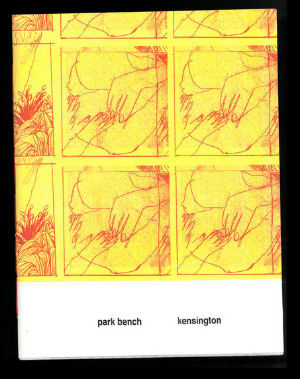 The last time I reviewed Peony Gent's comics at Broken Frontier I said of her work "that Gent's practice crosses media isn't in itself unique but what does mark her out as one of the most important newer voices in the small press world is the pioneering manner in which she adapts the storytelling tools of the medium to her ends; breaking free of the self-imposed and self-defined confines that limit others and re-imagining the canvas of the comics page."
Over the years that I've been covering her graphic poetry (Gent was one of our 2017 'Six Small Press Creators to Watch') I've come to the firm conclusion she genuinely takes the form into entirely new narrative territory with a pensive, abstract lyricism that represents some of the most exciting, boundary-pushing and challenging approaches to the medium in contemporary UK indie comics.
Gent will be running a workshop with fellow small presser Mhairi Braden at this year's ELCAF and, as is customary, she has some new work out in time for the festival. Park Bench Kensington presents in fragmentary visual snatches half a conversation conducted on a park bench in London detailing "the difficulties of immigration, the pain of love." That we are privy to only one side of the interaction gives an added layer of poigancy to the account, focusing our attention entirely on the plight of its subject and asking us to approach that "filling in the space between panels" reading comprehension of comics to new interpretive levels.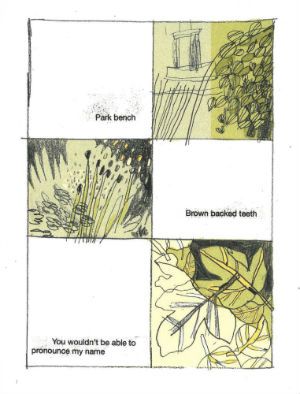 As with much of Gent's work its physicality plays a vital role in its thematic delivery with blank facing pages inviting the reader to linger longer after the page turn; to not just absorb her fractured imagery and displaced dialogue but to visually consume them. Her now familiar abstract representation of events moves from the moment and the environs of the park through place and time, as the anonymous speaker talks of his original home country and his past, including the break-up of his relationship. It's an account of one person reaching out in a moment of existential crisis; a spotlight on self and a reminder of the vital importance of empathy in a world currently so lacking in it. One otherwise forgotten small story speaking with a profound eloquence.
Gent adopts a six-panel grid structure for Park Bench Kensington and then immediately subverts its supposed conformity. Characters are scored through as mood and depression escalate, figures overlap and seep through panels, and scenes slowly fade out as page structure acquiesces and eventually submits to Gent's narrative will. Use of colour is carefully sparing with sudden bursts of vivid hues making the emotional tones of key sequences all the more effective.
Park Bench Kensington is, then, an impression of an experience and one that becomes so resonant for a detachment that ironically makes it all the more compelling. If you're ELCAF-bound this weekend then a stop at the table of one of the most important new voices in British comics is an absolute must.
Review by Andy Oliver
Peony Gent will be exhibiting at ELCAF and co-hosting in the 'Panel to Page' workshop with Mhairi Braden on June 7th. For more on Peony Gent's work visit her site here and follow her on Twitter here. and Instagram here. You can visit her online store here.
For more on ELCAF 2019 visit the festival site here and follow them on Twitter here.