ELCAF FORTNIGHT!
Dark and light swirled together, a delicious metaphor baked into stories of unspoken angst and longing mixed up with moments of peace and pithy dialogue.
Some people are really into Granola these days, but if you want to eat chips for breakfast in your own home, then more power to your elbow. After all, you can order them for breakfast down the café.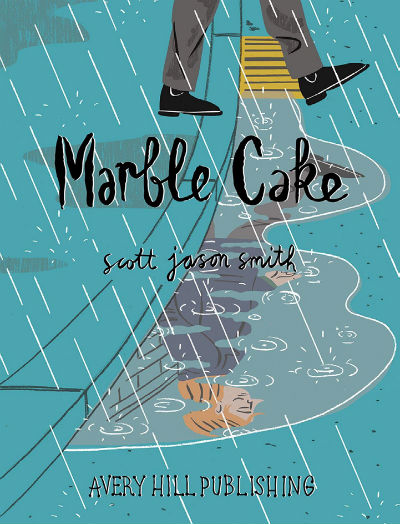 Marble Cake is an ensemble comic which follows a number of disparate, loosely connected characters as they amble through life in South London. The art has a pleasing economy of line and colour and sits mainly within a round cornered 9-panel grid that gives a sense of casual voyeurism. The backgrounds are largely uncoloured but uniformly grey with sketchy but well-proportioned scenes, making the people the central focus while setting a muted tone. The characters are all pretty much miserable, introspective, and not particularly nice to each other, but Scott Jason Smith's light touch and the immediacy of his art bring each of them a sympathetic aspect. The loves and lonelinesses of a seemingly random queue of supermarket customers in the opening chapter play out over the rest of the book, framed by Tracey, the cashier with a toothache who wonders about their lives. As an opening gambit, it doesn't feel particularly necessary but it does set up the tone for slice of cake, I mean life.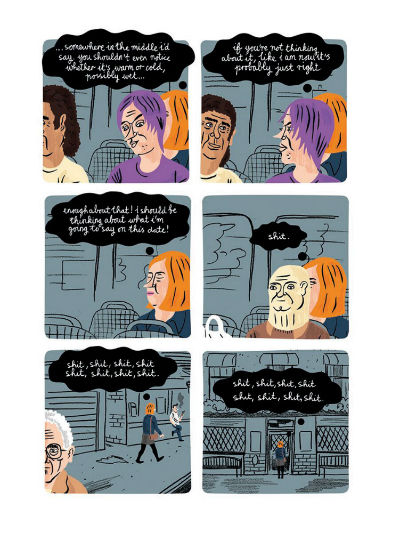 Although Tracey definitely shows a preference for men with a larger helping of melanin than she possesses, I don't think the titular cake which mixes vanilla and chocolate batter is meant to be a metaphor for inter-racial love. Or at least not exclusively. I read it more as a comment on how life gives us the light and dark moments, always, and mixes them up together. Marble cake is Tracey's favourite, but can she embrace its zen message? Or will her life and that of those around her fail to be, ahem, bitter-sweet?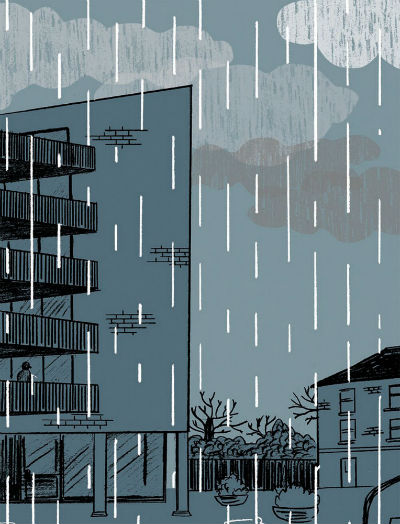 Avery Hill have long had a taste for exploring the territory between the everyday and the absurd, and Marble Cake is a magnificent example. Scott Jason Smith constructs instantly believable characters with a light touch that had me on the edge of my seat over whether or not one character would be able to get up early enough to brew his own instant coffee to pour into his takeaway cup. Alongside the nail-biting breakfast or kitchen sink drama a sense of creeping menace also begins to weave itself into the parallel narratives. Someone is attacking people with backpacks on the tube, and people begin to disappear in other, mysterious ways.
Repeating motifs do underline a theme of collective humanity, but it's the way that the author playfully invokes and subverts narrative tropes that kept me turning the pages here. The central concept is explained in the blurb: How can we be sure if we are the main character in our own story, or just the bit part in someone else's? By showing us these people, seemingly randomly batted about by fate, Smith reminds us of the power we actually do have over our own fates and relationships.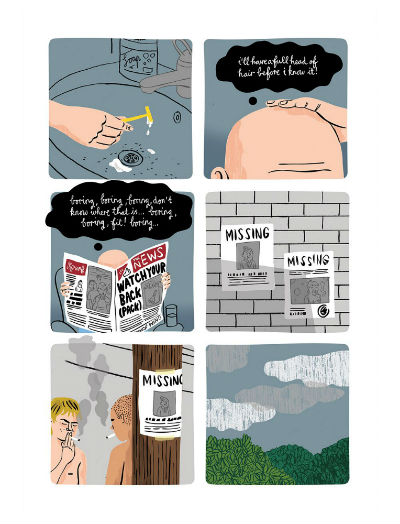 Marble Cake launches at ELCAF, so make sure you check it out on the Avery Hill stall if you're around at the festival. Or you can find it on their website here.

Scott Jason Smith (W/A) • Avery Hill Publishing, £11.99
Review by Jenny Robins
You can find out more about Scott Jason Smith's work on his wensite here. Avery Hill Publishing will be exhibiting at ELCAF on Saturday June 8th-9th. For more on Avery Hill check out their website here and their online store where you can pre-order Marble Cake here. You can follow them on Twitter here.  
For more on ELCAF 2019 visit the festival site here and follow them on Twitter here.