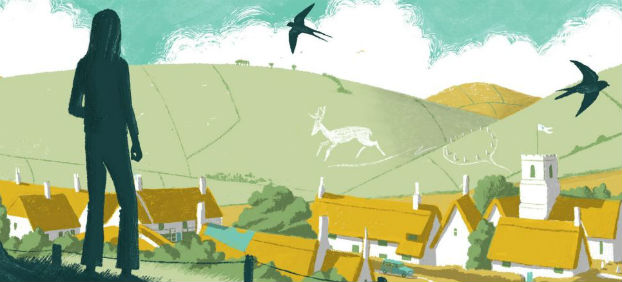 ELCAF FORTNIGHT!
There's something about Frances Castle's Stagdale that is very reminiscent of classic children's British TV serials of the Seventies; which is rather fitting given its 1975 setting. To begin with we have a displaced protagonist in 12-year-old Kathy who has recently moved from London to the remote country village of Stagdale, and is struggling to fit in. Then there's the environs of Stagdale itself ripe for exploration, so vividly realised here that it becomes a character in itself. And, finally, there's a good old mystery sitting right at the heart of proceedings in the shape of the local Saxon Jewel, stolen in the Second World War; an event that has ties to the cottage that has become Kathy's new home and one that will in its own way will bring together the stories of two children decades apart…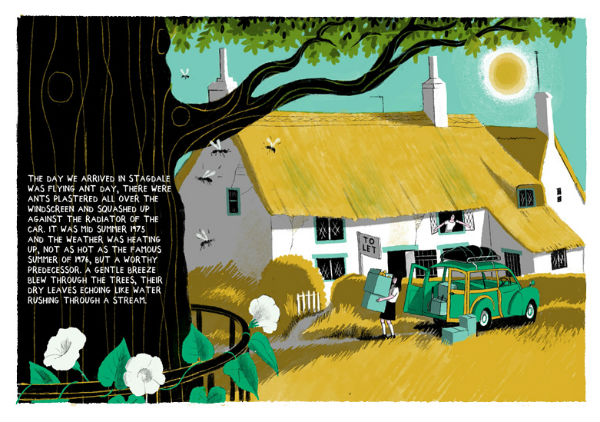 What immediately strikes the reader about Stagdale is how deftly Castle uses its landscape format in her storytelling. From its opening scenes, giving an overhead view of Kathy and her mother in their car approaching Stagdale, to its regular breakouts into sweeping single or double-page panoramas it's a subtle masterclass in creating a sense of space, place and time. Stagdale comes alive in these shots but Castle also makes full use of the opportunities of landscape presentation in her panel-to-panel storytelling with tighter pages with many images speeding up the action, and in one memorable scene Kathy's figure travelling through multiple panels.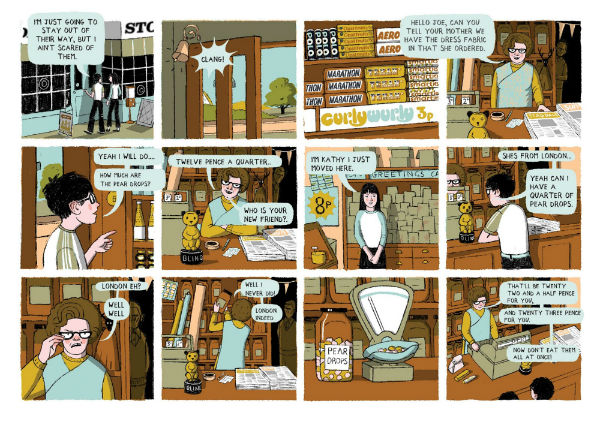 Much is set up in this opening chapter including Kathy's friendship with fellow outsider Joe and introductions to locals like eccentric Lord Ethelbert and the troublesome Bloat family. But while the story itself catches the reader's attention immediately it's the sheer sense of craft on offer here that impresses most. Sumptuously coloured in vivid hues that further capture those long, dreamy, childhood summer days that never seemed to end, it's a joy to see Castle utilising the specific tools of the form to their full potential. From speech balloon symbology to cutaway panels within other panels, from supplementary descriptive captioning to recurring motifs hinting at what is to come, Stagdale constantly reminds us of the ways in which comics and comics only can tell stories.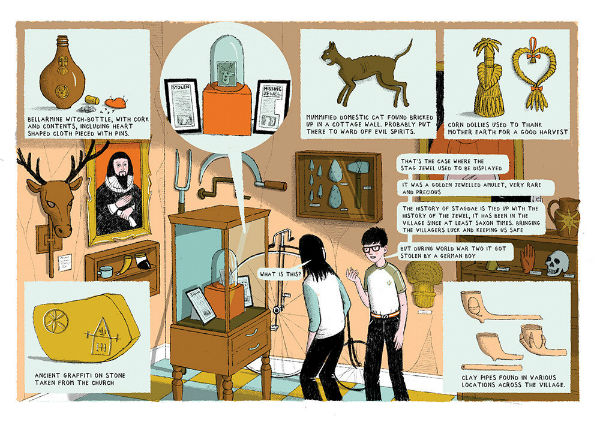 Packed with incremental background details (Wombles, Marathon bars and so on) that build up its period feel, Stagdale is a wonderful evocation of a past that is tangible but still seems slightly alien in its comfortable simplicity. We get to see many exciting new projects here at Broken Frontier at their inception but this one is very, very special. Check it out now (or at ELCAF!) and say you were there long before it became the sensation it's clearly going to be.
Review by Andy Oliver
Frances Castle will be exhibiting at ELCAF on Friday June 7th. You can follow Frances on Twitter here, visit her site here and her online store here. For more on ELCAF 2019 visit the festival site here and follow them on Twitter here.