ELCAF FORTNIGHT!
While there's a common thread running through the three stories in Ellinor Richey's one-shot anthology, Twin Hike Adventures, all are very different in realisation. Detailing perambulatory adventures in the company of her twin Emma (Ellinor, by the way, is also the creator of webcomic Junkwraith) they cross timeframes and continents but are all drawn together by Richey's enthusiastic, busy and amiable cartooning style.
The first story 'Goblin Roots' (below right) hearkens back to the wonder of childhood wonder and recounts the Richeys' friendship with fellow twins Natalia and Anna. It blurs the lines of reality and fantasy as we follow this quartet at play. We see a world of magic and awe around them – replete with witches, goblins and other fantastic denizens – where adults would see only suburban normalcy and peaceful woodland. It's an evocative reminder of that innocent period in our lives when imagination seemed boundless and the next big adventure was only just around the corner.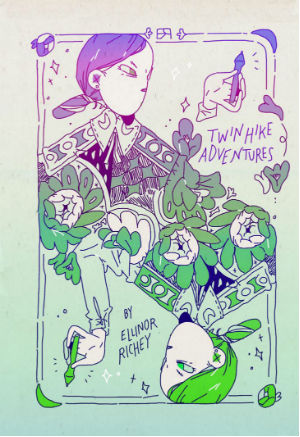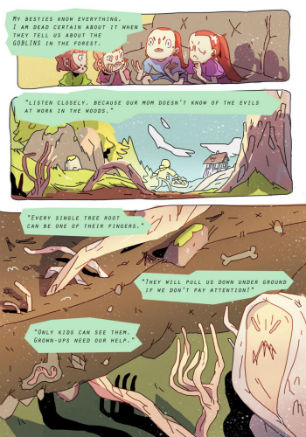 In the second story the twins, at an older point in their lives, take a trip through the canyon-like Narrows (below left), determined to prove their independence. But they slowly become overwhelmed by the astonishing environment they are moving through and are almost subsumed into the experience. Richey's use of colour here is kaleidoscopic and brilliantly captures the heightened emotions of the piece; trepidation and a sense of family both at the heart of the story.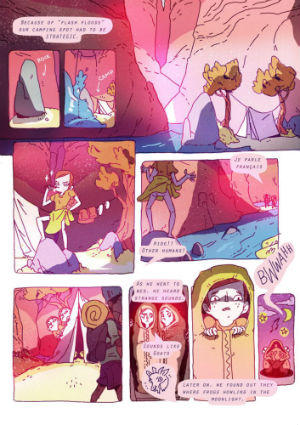 Finally the third story 'Harajaku Dreamin'' (above right) details a trip to Japan and is written by Emma. While the second story was an experiential offering – more about recreating the intense emotion of a moment in time – this one takes on more of a travelogue approach, detailing pop culture and customs and adopting more of a diary approach than its predecessor. The twins are amiable hosts, allowing us to experience the sights, sounds and smells of their environments from their perspective with Richey's deliberately distorted and energetic artwork having a massive appeal throughout.
Ellinor Richey's name is admittedly a newer one to me outside of social media but it's one I'll certainly be checking out in future. There's something instantly likeable about her cluttered pages and alluring use of colour. ELCAF is as much about discovering new talents as it is celebrating known quantities and Ellinor Richey is certainly a name for your must-catch lists at the festival!
Review by Andy Oliver
Ellinor Richey is exhibiting at ELCAF on Friday June 7th. Visit her online store here to get your copy of Twin Hike Adventures and follow her on Twitter and Instagram.
For more on ELCAF 2019 visit the festival site here and follow them on Twitter here.