ELCAF FORTNIGHT!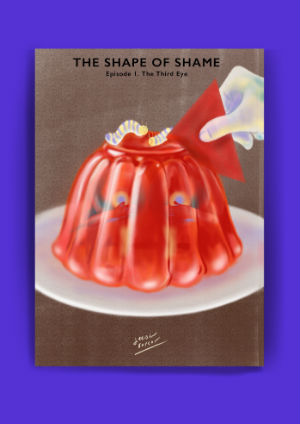 Based in Seoul, illustrator and cartoonist Leebinsoyeon may just be one of South Korea's most prolific artists. Her stunning work spans a range of formats, techniques and themes, while nevertheless maintaining a recognisable aesthetic. Ahead of her appearance at ELCAF, we spoke to Leebin about her background, process, and inspirations, as well as the many exciting projects she has on the go! Here's what she had to say…
BROKEN FRONTIER: How did you get started as an illustrator? How long have you been drawing and creating art?
LEEBINSOYEON: I self-published my first graphic novel, <Stay the Same>, in 2016. The book introduced me to JJOKKPRESS, which is a small press publisher in Korea, and I began my career as an illustrator by working on their book covers. Before that, I ran a graphic design studio called Understand and Misunderstand. Since quitting the studio in 2017, I've built a career focusing on illustration rather than design, and have naturally gone on to draw cartoons, making friends not only with other illustrators but also with cartoonists.
BROKEN FRONTIER: What themes and ideas inform your work?
LEEBINSOYEON: I think my big theme is ambiguity, but there's a bit of a difference between when I'm doing illustrations and when I'm doing comics. I personally feel satisfied with my illustrations when I manage to create a scene that hides a suspicious sense of wonder, within an image composed of seemingly ordinary people. If an ambiguity of situation is what I pursue for my illustrations, then in my comics, I try to show the ambiguity of humanity, and of women's lives and new types of families, to inspire my narratives. I guess the atmosphere of conservative culture in Asia, in which a family is only considered a "proper family" when formed from marriage and childbirth, also affected me a little.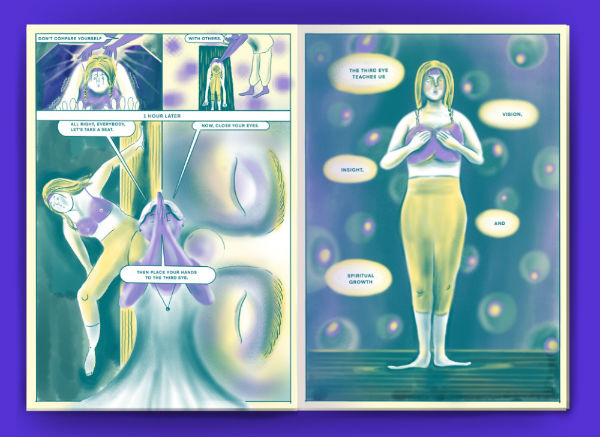 Above and below – Sample art from Shape of Shame
I initially experienced great confusion being in a relationship with my boyfriend, who doesn't believe in marriage. Because, it sounds silly, but life without marriage was different from the way I'd been taught to live. I experienced anxiety of living in Korean society as an unmarried woman, however this confusion in my relationship gave me a broader point of view about life, and feminism helped me to deal with the anxiety. What I want to strongly communicate in my work is that 'feminist' is not necessarily synonymous with 'good women', or 'morally right women'. The female characters in my comics can be reckless, immature, immoral, violent and incomplete. I go out of my way to blur the lines of whether my characters are 'good' or 'bad'.
BROKEN FRONTIER: Can you tell us a little about your process? I love the translucent colour quality in pieces like 'A Shape of Shame', and 'Gloves (December Track List)'. Do you achieve this effect digitally?
LEEBINSOYEON: I'll introduce you a little bit to my process. First of all, I decide which story to tell. I have a journal in which I gather funny jokes and mistakes I hear while hanging out with people. I combine sentences I spontaneously come up with and parts of the journal by browsing through. The whole story is then made by drawing a continuity, and sketching is always done by hand. I changed my usual process a little doing <Shape of Shame>. I used to be very obsessed with showing my drawing skills. I put myself under quite a lot of stress until it looked perfect, or if it didn't work out. But with <Shape of Shame>, I decided to admit to myself if I couldn't draw everything well, and had to leave it or find another way quickly.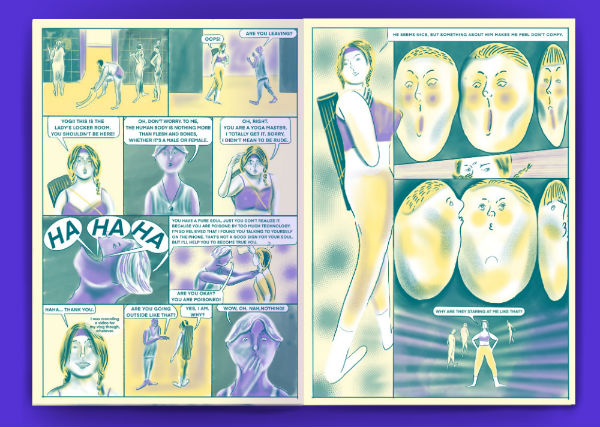 Previously, I had been taught that what to draw comes first, and that the style comes naturally afterwards. Maybe that's why someone might think that I have many styles. I think it will be resolved naturally as I continue to create work going forward. However, establishing a little bit of a style process is not a bad thing, and <Shape of Shame> added some new elements to my repertoire. I chose three or four colours from a limited palette, intertwined parts filled with varying transparencies, created both realistic and surreal backgrounds, and added in a few ugly drawings. My early works were almost all created using a black brush pen. As I've been doing more commissioned work, I've moved more into drawing digitally to make it easier to modify, and now I'm working to create the best quality illustration using my iPad to work while on the go.
Illustrations with the translucent qualities you mention, such as <Shape of Shame> and <Gloves>, seem to lend more weight to mystery or ambiguity; the theme of my work. At the same time, I use digitally intense colours, while also leaving an overall vintage feel, to confuse people as to whether it's digital work or not.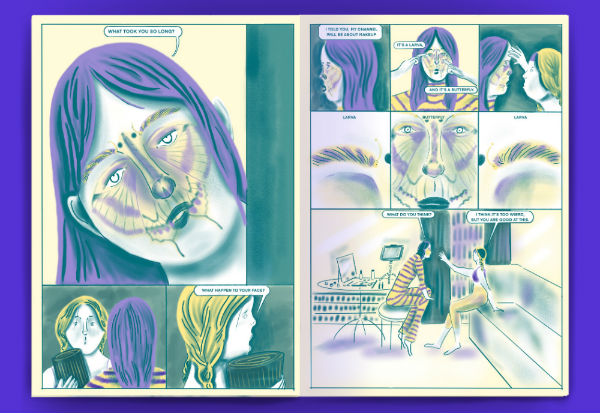 BROKEN FRONTIER: Who are some of your favourite artists and cartoonists?
LEEBINSOYEON: Jean-Jacques Sempe; I like his moderately cynical, warm view of the world and humanity. I hope that as I get older I can make art that delivers wit and emotion like his art does. Daniel Clowes has been an inspiration since I read Ghost World, especially when I started working on my early graphic novels. Marjane Satrapi is another artist who has influenced how I conceive of graphic novels. A few days ago I found this tremendous comic, Parallel Lives by Olivier Schrauwen, in Fatbottom books in Barcelona. I had only seen part of his works in Lagon Revue, and it completely fascinated me even then. Excited by the fact I could see so much of his work in the book, I bought Parallel Lives right away even though I don't understand Spanish. One last person would be my boyfriend. My boyfriend's attitude toward work (such as how to create my own routines as an artist and motivate myself, constantly thinking about works and working) has given me a sense of diligence and passion as an artist.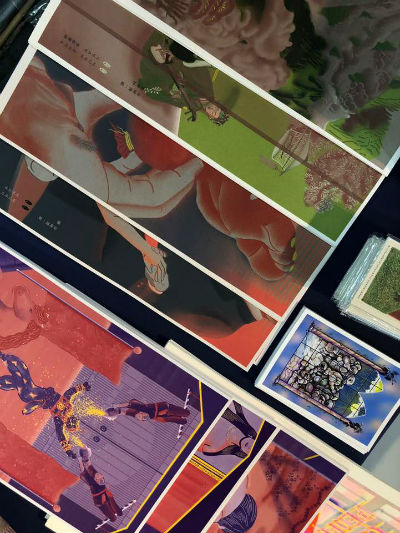 BROKEN FRONTIER: What is the art scene like in Seoul? Is there much of a comics culture?
LEEBINSOYEON: If you are someone in Korea who is interested in art and culture, I think self-publishing, riso printing, and small bookstores would be familiar concepts to you. There are already many art fairs of various sizes and personalities in the country, and the number of participants and visitors at these is likely to increase. In my opinion, not only in Seoul but also in Korea more widely, there are a lot of talented illustrators and cartoonists, and this is on the rise as the number of artists is increases.
Also, there seem to be many diverse communities. There's a lot of collaboration between artists like making small presses and zines. Even if they're not necessarily collaborating on projects, there are also many groups that study or get together and interact to be inspired by each other. Myself, I'm involved in a study group with my friends called Flexibility Club, and also participating as an editorial staff member for an illustration newspaper, Elur.
BROKEN FRONTIER: What will you be bringing with you to ELCAF this year?
LEEBINSOYEON: I will bring my new graphic novel sitcom <Shape of Shame : Pilot episode -The Third Eye>, which was just published a few weeks ago. I was considering making a YouTube channel, but I was struggling to find a decent theme to make it about, so I planned to make comics about a YouTuber's life instead of making an actual YouTube channel first. The sources of the story were based on the little things I experienced and heard. For me, YouTube is like a real-time Netflix, in that you can watch a lot of videos, but they're more realistic, and are like a window to how social culture and phenomena are used and reflected. <Shape of Shame> is planned to run in a series.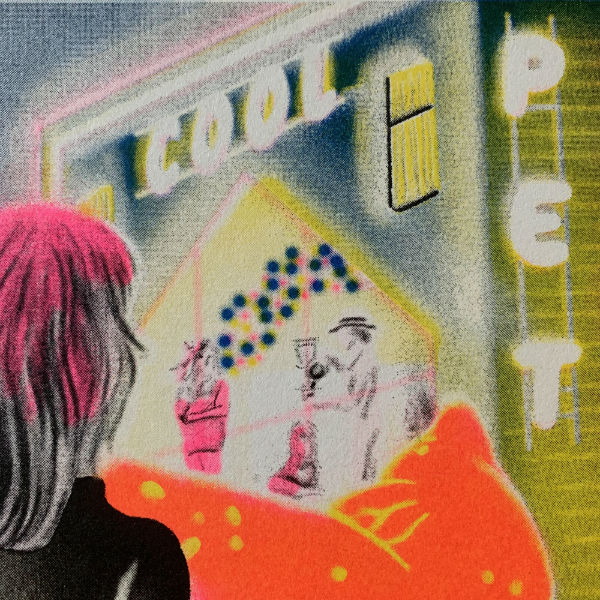 Different to my previous books (<Stay the Same> or <Time of Everything>), <Shape of Shame> tried to comically portray the questions and worries I had on my mind. One of the features of my graphic novel is that it's a cute and at the same time violent way of solving problems. I'm planning to combine these features with the strange and sometimes out-of-the-way phenomenon of YouTube to create an episode. Additionally, I'll be bringing my 2019 calendar, Piggy's House (in Korea it's the Year of the Pig), <Stay the Same>, and some posters.
BROKEN FRONTIER: Are there any other exhibitors or events on the programme that you're looking forward to seeing?
LEEBINSOYEON: I'm definitely going to go to the Pinata event. I've never experienced it before, so it's going to be an interesting experience. I'm thrilled to be participating in ELCAF itself and meeting many artists there. A few days ago, I met Apa-Apa Comics briefly at Gutter Fest and, I'm looking forward to seeing her again. I will also make sure to visit the booths of Dominic Kesterton and O Panda Gordo. And it'll be a lot of fun to participate in ELCAF with my friends JJOKKPRESS.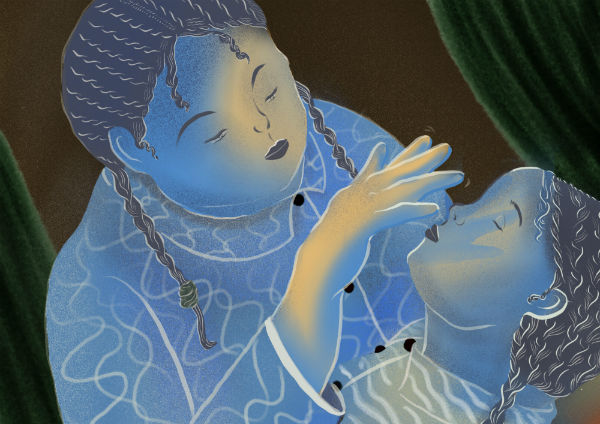 BROKEN FRONTIER: What are you working on next?
LEEBINSOYEON: I will stay in London for about three weeks to work on my next book. It will probably be the second episode of <Shape of Shame> or an Illustrated Art Book. If I have the chance, I would like to produce a small quantity of it at a riso printing shop in London. I will complete book cover art for a new Tanjaki Jun'ichirō collection published by Minumsa which is Korean publishing house, and I am also working on a promotional animation for the second issue of illustration newspaper Elur. I'm also envisioning the final episode of <Funeral Trilogy> with JJOKKPRESS. The Trilogy revolves around two old bodybuilders. The last episode will capture the moment that they are preparing for death and their funerals, in a beautiful scene. I'm also designing a candlelight exhibition with 12 illustrators and cartoonists in December. Each will make a short graphic novel and the objects that appear in the work will be displayed with candle shapes (of course, with candles on!) at the end of the year. It will be so beautiful. Other than that, I will participate in some book markets and fairs, both in Korea and abroad, from time to time.
Interview by Ally Russell
For more on the work of Leebinsoyeon visit her site here and follow her on Instagram. 
For more on ELCAF 2019 visit the festival site here and follow them on Twitter here.