ELCAF FORTNIGHT!
No doubt many Broken Frontier readers will already be familiar with the work of Kristyna Baczynski with last year's well-received Avery Hill Publishing graphic novel Retrograde Orbit earning her a nomination in the Best Artist category in the 2018 Broken Frontier Awards. Recognition in awards is no rarity, of course, for this Eisner-nominated creator…
Baczynski is also a noted self-publisher though with her zine-style autobio adopting a different approach to graphic narrative. Her travelogue 87,000 Steps: Five Days in Amsterdam got a glowing review here at BF a couple of years back for its ability to bring the reader so directly into her sense of excited exploration, and her minicomics detailing the changing of the seasons have an undoubted visual charm all of their own. Once Around the Sun collects material originally available as part of her Patreon in print format.
As at home then in longer-form slow-build comics narrative as she is in the tangible immediacy of diary comics, Baczynski skilfully adapts her approach to the page to suit the individual needs of the work. Even for the slice-of-life diarist though, Once Around the Sun has an endearingly idiosyncratic appeal. Twelve months of her life are presented in single page drawings – each done in less than a day from a list of key events – that capture the pertinent moments of each four-week period, ranging from more challenging times challenges to joyfully ephemeral recollections of podcasts and films watched.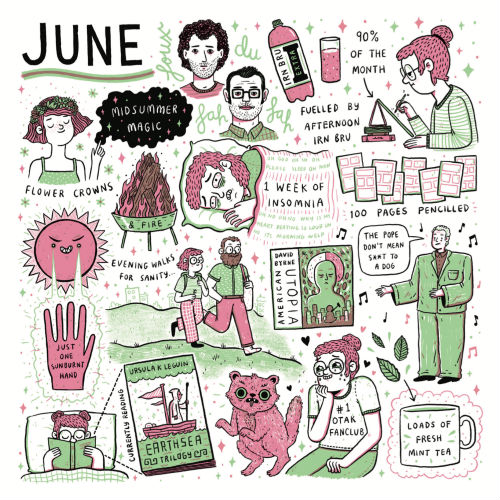 It's a kind of comics without panels that allows events to flow freeform into each other, perfectly capturing the pure emotional essence of Baczynski and her partner's experiences and allowing us to connect with them on a far more intimate level than a more perfunctory sequential storytelling could ever allow for. There are the small victories (winning at the arcade); the creative achievements (watching that first graphic novel moving to completion over the months); and the everyday insights into her life (homemade lemonade, glimpses at travelling, the extended family). It all coalesces into a gloriously inviting scrapbook of memories, pivotal moments and the everyday.
When it comes to autobio and the small press scene there are also those meaningful intersections I had reading this when the narrative would weave through our wonderful UK indie comics community and I'd realise I was seeing re-creations of events I'd attended. In these isolated shards of memory Baczynski's amiable cartooning style becomes all the more accessible in communicating the emotion of the scenes depicted. You know there's something special going on when in such a short space of time you're feeling fully invested in the "characters", feeling their pain at the unexpected tax bill or the joy of a couple with birthdays two days apart. Undoubtedly, your top feelgood comics offering from this weekend's ELCAF.
Kristyna Baczynski will be exhibiting at ELCAF on Saturday. For more on her work visit her site here and follow her on Twitter and Instagram.
For more on ELCAF 2019 visit the festival site here and follow them on Twitter here.