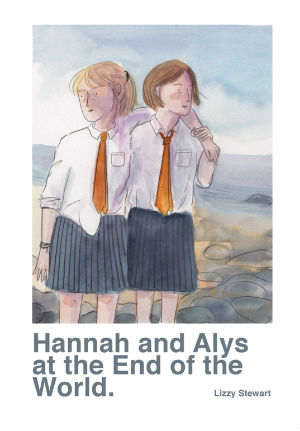 ELCAF FORTNIGHT!
Illustrator Lizzy Stewart has displayed a marked ability in the past to take us back to that pivotal moment in our lives when childhood was largely behind us and adulthood was looming on the horizon. Hannah and Alys at the End of the World revisits that theme and follows the two titular schoolgirls as they take refuge in their own personal sanctuary at the beach. Told with the hindsight of years, it's a reflective comic that looks back on our younger days not with fond nostalgia or cloying sentimentality but with an unswerving realism and a quietly devastating truthfulness.
Hannah and Alys's childhood home is a small dying coastal town; a boundary that separates them from a wider world they have yet to discover and one whose confines and limitations are becoming more evident to them. In one memorable scene they listen to Morrissey's apposite 'Everyday is Like Sunday' on tape on a Walkman, with the grey washed feel to the pages complementing that musical choice and also emphasising a sense of time and dreariness. Bordering on the psychogeographical, Hannah and Alys at the End of the World looks not just at how we shape our environments through our perceptions of them but also of how our surroundings shape us.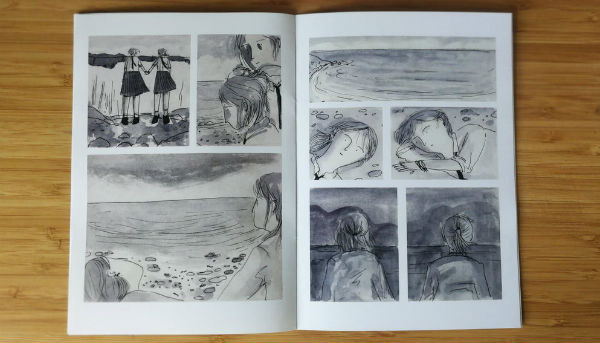 Told in a mix of narrated panel-to-panel storytelling and expressive wordless sequences, Hannah and Alys at the End of the World displays both Stewart's revealing visual characterisation and her gift for evocative and mood-setting prose. It's a coming-of-age story specific to individual characters and yet universal in theme; the importance of the girls' companionship unstated but self-evident. Throughout, though, there's that ever present wistful and inevitable feeling of something coming to an imminent end. Hannah and Alys at the End of the World is a raw and honest piece of melancholia that touchingly talks of unspoken truths and the times and places that mould us.
Review by Andy Oliver
Lizzy Stewart will be exhibiting at ELCAF. For more on Lizzy Stewart's work visit her website here and follow her on Twitter here and Instagram here. You can find her online store here. 
For more on ELCAF 2019 visit the festival site here and follow them on Twitter here.