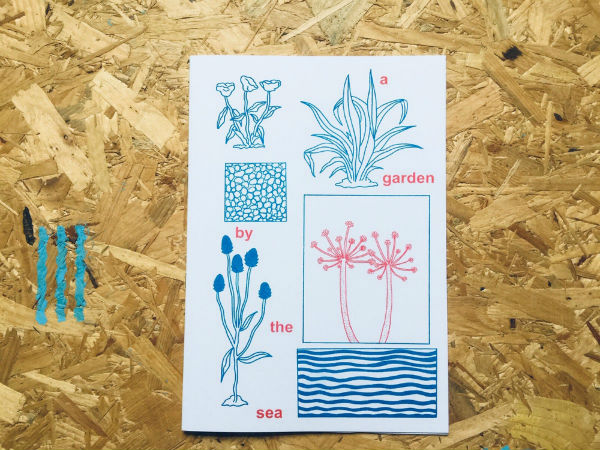 ELCAF FORTNIGHT!
Micropublisher Black Lodge Press have become a crucial part of the UK small press scene over the last few years, giving us comics and zines with a DIY culture ethos by queer and feminist creators. CJ Reay's A Garden by the Sea was published by the Northwest outfit earlier this year and illustrates selected passages from the diary of film director, activist and artist Derek Jarman. Written in 1989, towards the latter part of Jarman's life, they detail his time living in Prospect Cottage in Dungeness, situated in coastal Kent.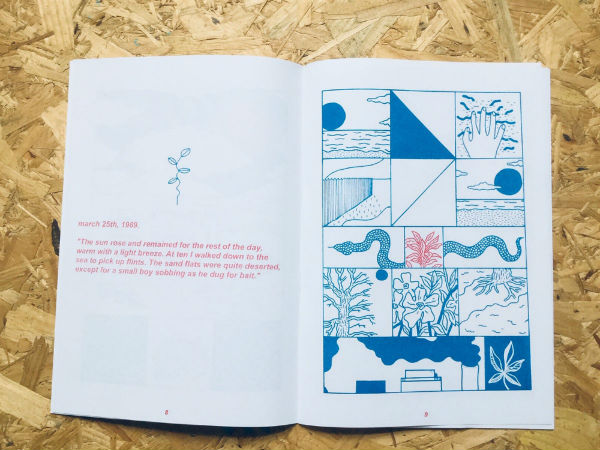 The sections Reay has chosen to represent here focus on the garden Jarman created at Prospect Cottage and seaside life, with prose sitting across from visual interpretation on facing A4 pages. Perhaps less sequential art than multi-perspective art, Reay illustrates Jarman's words in a series of individual images that sit within traditional panels but are more akin to a patchwork collection of elements capturing the essence of the accompanying source material.
There's more than a hint of the psychogeographical here – human interaction with, and encroachment on, the natural world self-evident but their actual presence only fleetingly observed. Instead, Reay opts to create a picture of Jarman's experiences in visual increments; multiple fragments building up into somethimg far more expansive in theme and tone; a sparing use of red on blue pages emphasising key symbolism in each entry. Haunting and atmospheric, with a poignancy that is ironically embedded in its visual compartmentalisation, A Garden by the Sea is a highly recommended starting point for those wanting to investigate the publications of Black Lodge Press further at ELCAF in June.
Review by Andy Oliver
Black Lodge Press will be exhibiting at ELCAF. For more on their comics and zines Black Lodge Press visit their online store here.
For more on ELCAF 2019 visit the festival site here and follow them on Twitter here.