Back in 2020 I took a look at Tony Pickering's Diabetes: Year One, a very distinctive piece of graphic medicine that could best be described as a collection of graphic poems, created in response to Pickering's diagnosis of type 1 diabetes. What stood out in its pages was Pickering's constant inventive experimentation with page and panel structure; sometimes sequential, sometimes freeform, with shifting colour schemes giving it both alt and dreamlike qualities. Like today's subject Mental Goblins, it fit in the graphic medicine strand of comics storytelling.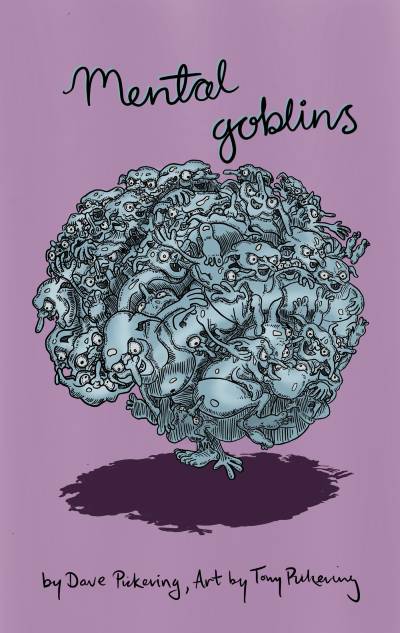 That latest work is a double Pickering affair – Mental Goblins is writer Dave Pickering's representational account of "learning to live with anxieties, traumas and other things that like to attack our brains" and is an appropriate book to be focusing on today given that we are at the tail end of Mental Health Awareness Week. Tony Pickering illustrates with a more traditional panel-to-panel style than the one adopted in Diabetes: Year One, reflective of the conversational approach that Mental Goblins adopts.
The metaphor is perhaps an obvious one but that does not in any way weaken its effectiveness. Dave Pickering gives manifestational form to his doubts, worries and anxieties as invasive goblins who wreak havoc in his daily life. The accommodating tone of the narration is one that immediately puts the reader at ease. It's honest and forthright in delivery, reminding us of the shared nature of the experience. The mix of humour as the goblins begin to infest every part of his life in an almost slapstick manner is matched and mirrored by the stark reality of how they begin to incapacitate and overwhelm.
It should be noted that some pages are extremely text-heavy and could have benefitted from being broken down into further sequential segments, and there are sections that are more illustrated essay than comics in that regard. But, equally, Tony Pickering is inventive at arranging page constructions to best reflect theme – panels overlap and their contents leak out, visual metaphor brings vivid life to events, individual images are often striking (a goblin puppet master in particular), and whatever the mythical equivalent of anthropomorphism is when applied to goblin symbolism it certainly works here in its depictions of the intrusive nature of anxiety. Most importantly, though, in a year when mental health worries have engulfed many this is another comics offering that reminds us we are not alone in our struggles. We can never have too many of those.
Review by Andy Oliver