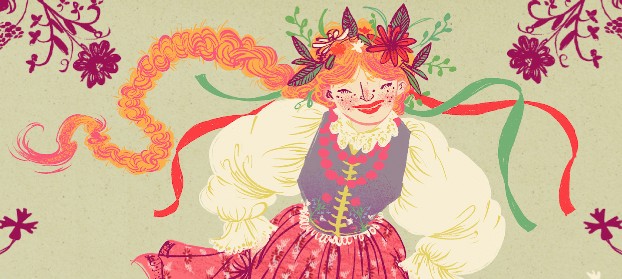 One of our 2020 'Six Small Press Creators to Watch' UK-based Polish artist Kamila Król, aka Pigeon, is very much at the start of her comics journey. Pigeon's comparative lack of published output was of no relevance though when it came to choosing this year's six artists to make up our annual initiative. I instantly recognised the promise in her online posts with my attention immediately captured by her often eerily haunting compositions and gorgeous use of colour.
Earlier this year I reviewed Pigeon's graphic medicine minicomic Floating here at BF calling it "a concise, understated and yet powerfully resonant piece of visual storytelling." What continues to strike me about her practice is its dreamy, lyrical quality and imaginative use of panel-to-panel storytelling. Today I chat with this exciting comics prospect about learning her comics craft, the importance of fantasy elements in her practice, and the indie comic scene in Poland…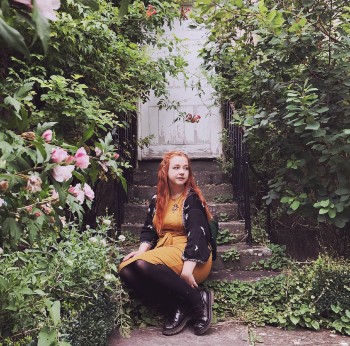 ANDY OLIVER: Before we speak specifically about your current comics practice and projects can you tell us a little about your wider artistic background?
PIGEON: Sure! I've been making up stories and characters since I can remember, and I feel like I spent majority of my childhood daydreaming about falling into the rabbit hole and waking up in some fantastical land.
In terms of education, getting into an art high school back in Warsaw was a super formative experience and it made me fall in love with illustration and independent publishing. As illustration wasn't available as a separate course in Poland, I decided to move to the UK and study in Wales (an adventure of its own!). Living in the UK opened the door into the art scene and zine culture which I'm super grateful for!
AO: An obvious early question but is there a story behind your artist name of Pigeon?
PIGEON: I just have a soft spot for these creatures – they're a bit unassuming but if you take a closer look they're terribly charming and can survive a lot.  I don't exactly remember when I started using "Pigeon" as an artist name but somehow it felt right…so here I am!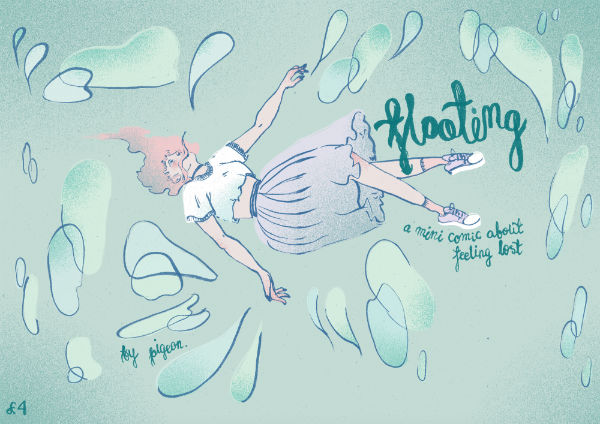 AO: As a Polish artist residing in the UK how does the comics world in Poland compare to here? How are comics regarded as an art form in Poland? Is there a burgeoning scene there?
PIGEON: Poland has a very strong tradition of satirical cartooning and a lot of love for witty and beautifully creative children's comics (Titus, Romek and A'Tomek being a legendary series). The illustration scene is pretty big and a lot of artists explore the sequential visuals and storytelling. Among my recent favourites is a feminist comic anthology The Being and artists such as Katarzyna Borkowska (@trichlorometan), Joanna Karpowicz (@joannakarpowicz) and Katarzyna Witerscheim (@panna_nibi).
I feel that despite the long tradition of beautiful art books and illustrated publications, the zine and graphic novel culture is still relatively small in Poland and currently it's being explored by various artists and activists. I'd love to see this community grow!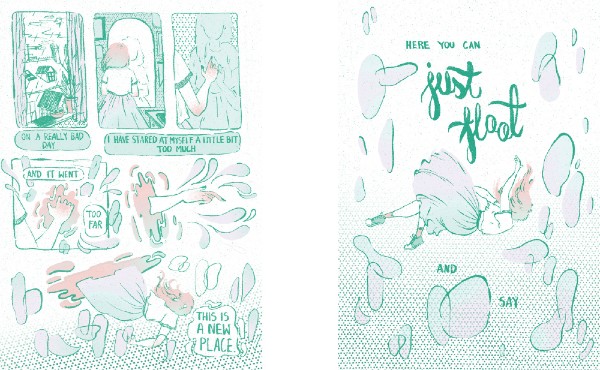 AO: We recently reviewed your minicomic Floating (above) at Broken Frontier calling it "a timely and topical reminder that we are never really alone." Floating fits into the graphic medicine side of comics. For those yet to read it can you tell us about its premise and origins?
PIGEON: Floating is a small capture of a moment in life when things seem to fall apart. The overwhelming feeling of being lost transports the protagonist into a new surreal dimension where she can realise something new about herself. I think that I wanted for this project to evoke both a sense of melancholy and comfort, because – as previously noted – after all we're never completely alone with our experiences.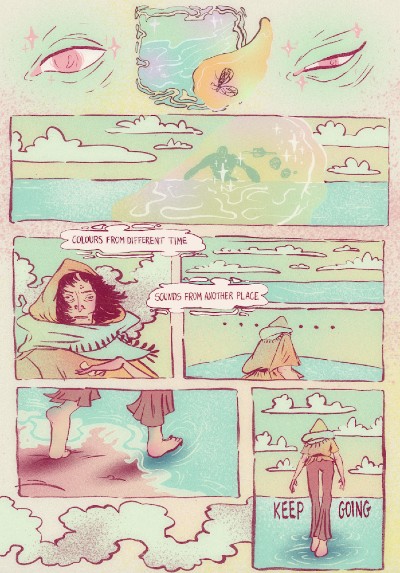 AO: Was there an element of the cathartic in creating Floating and exploring its themes on the comics page?
PIGEON: There certainly was, as the creation of the zine was aligned with a lot of uncertainty happening in my own life. I love how fiction and visual art can be a huge help in processing difficult things, and Floating has that meaning for me.
AO: Something that intrigues me about the sample comics you've posted to your site is how they play with page and panel structure so atmospherically to reflect tone and theme. Would you say you are still exploring the possibilities of the form as you find your comics voice? What is it about sequential art that makes it the perfect medium for your storytelling?
PIGEON: I feel that I learn and explore with every image I make and I hope this process never stops! While I'm still discovering the comic form, I love how varied it can be and how visual storytelling doesn't have to be bound with strict rules, it can be anything.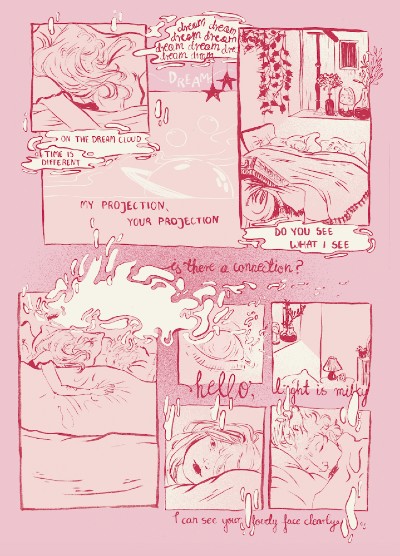 Personally I like it when an image encapsulates a thought or a change of mood – or a moment that otherwise would pass unnoticed. I feel that comics as a medium allow me to express myself in the most genuine way and it's a great platform for unusual stories, which probably wouldn't translate so well into film or photography. Another amazing aspect of sequential images is their accessibility; it helps in reaching a very diverse audience. It still blows my mind that I can speak to people through my images and I can't wait to tell more stories specifically through zines and comics.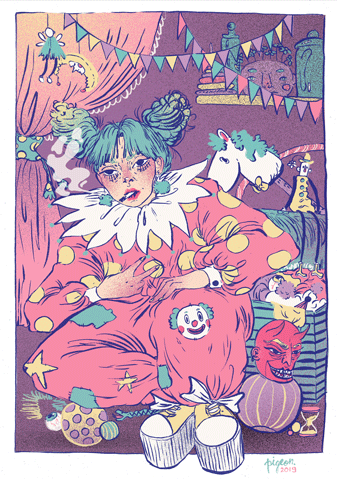 AO: Imagination and fantasy seems to be a central theme of your illustration. I've described your work in the past at Broken Frontier as encapsulating entire narratives in a single image. Who/what do you count among your inspirations?
PIGEON: The fantastical themes are important to me and I've always been drawn to the artwork, which mixes elements of everyday life with something magical or slightly out of place. As a teenager I discovered surrealists like Dali or Magritte and was amazed by the way these artists can create separate escapist worlds and impact a viewer through their images. I also always have been a huge bookworm and I still come back to the titles which played a huge role in shaping my imagination such as Alice in Wonderland or Neil Gaiman's amazing fiction.
I've acquired a bunch of influences, which I still revisit when in need. I look up to so many hard-working, creative women – any work from Tove Jansson and Yuko Shimizu gives me an instant motivation boost. I also really admire contemporary illustrators like Alice Bloomfield and Camelia Pham and swoon over graphic novels drawn by Jillian Tamaki. (This list could go on and on!)
Another big inspiration for me is diving into folklore, especially the (often forgotten) Slavic tales.
AO: The use of colour in your illustration and comics is simply stunning. Could you tell us a little about your creative process and the mediums you work in?
PIGEON: Thank you! Actually, colour is something I used to struggle with and it took a lot of experiments to find the process and palettes that worked with my ideas. These days I really enjoy using digital colour and textures, but my lines are always hand-drawn with ink brush pen – working with it seems most natural and I love little imperfections and the soft flow of these lines.
Alongside my digital images I always keep a sketchbook for trying out ideas, noting quotes and thoughts. If I ever feel a bit stuck, going back to it helps organise things in my mind.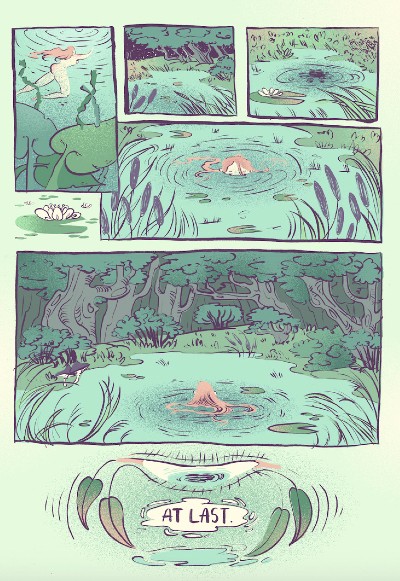 AO: Given the challenges that 2020 has had for us all how have the last few months impacted on your practice? In what ways have you had to adapt to the ever changing realities of this year?
PIGEON: It's an interesting year for sure. All its challenges have kind of forced me to completely re-frame everything I planned to do over past months – I imagine I'm not the only one still learning the new rhythm! Interestingly though, despite a plethora of cancelled events, I feel that I'm using this time to gather a lot of new ideas  (all the beautiful films and books consumed during lockdown certainly helped!) and learn – one of the things I'm looking forward to is starting my masters course in autumn.
I think a lot of people found themselves somehow separated from the art scene earlier this year – I feel that one of the biggest challenges these months is to keep creative community together and find new ways of translating social activities into the digital sphere.
AO: And, finally, are there any other projects either in comics or outside that you're working on that you can tell us about?
PIGEON: In the illustration area I'm creating editorial images for an indie Polish magazine ZiŚ – they write on different social and cultural issues and I really enjoy working with them.
Currently I'm also gathering materials for few short stories, which will become small publications at some point this year, however I'm not going to reveal too many details just yet. Once everything is ready, I'll be posting about it on my social media!
You can visit Pigeon's site here and her online store here. You can also follow her on Twitter and on Instagram.
Interview by Andy Oliver