Now fortnightly due to popular demand!
Our D&D community has spoken! And due to your continued enthusiasm for the online version of our monthly Gosh! Comics and Broken Frontier Drink and Draw we're back this week, and coming at you twice a month for the foreseeable. This Thursday May 14th you can once again find us at 7.30pm GMT on Twitter (and we'll post the themes on Instagram too). The last two digital D&Ds have been a roaring success, keeping our crew of regulars who usually meet at The King's Arms in Soho every month in touch and simultaneously extending the reach of our community of imbibers and illustrators across the globe.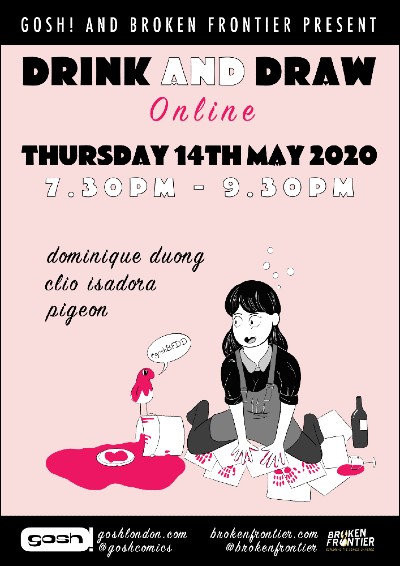 We're using our regular pub format, adapted for a digital platform so if you've never attended one of our monthly sessions this is how it will work. Our guest artists will each choose a drawing theme for three sessions across the evening. We'll post each of these prompts with the hashtag #GoshBFDD in three batches at 7.30pm (GMT), 8.15pm and 9.00pm from both the Gosh! Comics Twitter account and the Broken Frontier Twitter account. You have 30 minutes to draw something fitting that theme, after which we'll spend 15 minutes picking a winner before the next round begins.
Don't forget to post your drawings with the #GoshBFDD hashtag so everyone can see and join in. And also so we can easily retweet! If you also add the words "ok to publish" to your tweet we will know you're fine with us reproducing it the day after in our Drink and Draw round-up article at Broken Frontier.
Let's introduce you to this month's guest artists, two of whom are from this year's Broken Frontier 'Six Small Press Creators to Watch'.
The versatile Dominique Duong is as at home working in autobio or slice-of-life work like The Truth of Being Bi as she is with genre comics practice like The Flower Maiden, adapting her style, pacing and approach to the themes of her work with a quietly intuitive consideration. One of this year's BF 'Six to Watch' she has been featured in a number of small press anthologies like Come Together, The Dark Lady Returns and Lilies.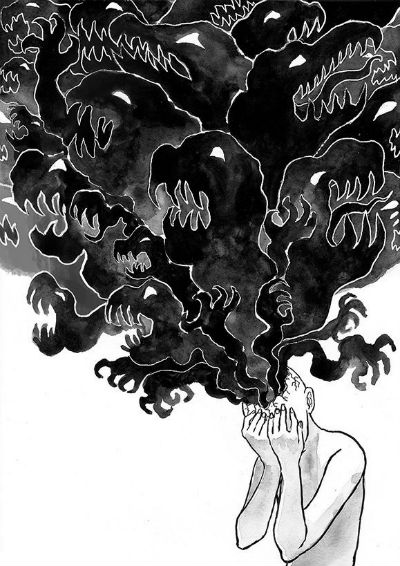 Earlier this year I reviewed her graphic medicine zine The Black Cloud, dealing with themes of anxiety and depression saying; "The Black Cloud is not comics as such – it's a procession of single illustrations – but like comics' own "reading-between-the panels" comprehension Duong asks us to adopt a similar "around-the-image" interpretation of events, teasing or filling in a greater narrative surrounding each individual and situation. Characters literally crack and fall apart before our eyes, are weighed down by their stresses, or have their worries seep out of them in varying degrees, incapacitating or immobilising them."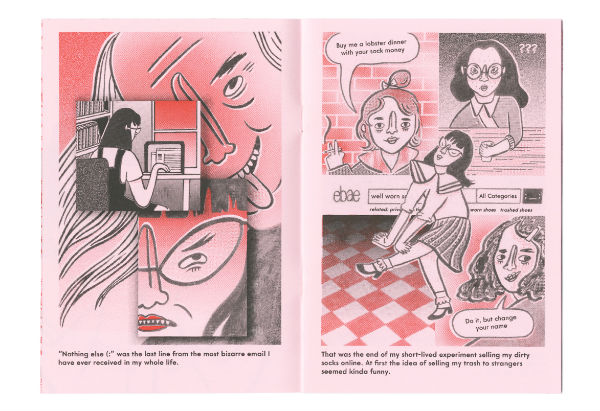 Clio Isadora who has been featured in Style Bubble, Beware Magazine and Printed.com and has self-published such comics as Damp Candy – Dribble Kisses, Damp Candy – Mouldy Feels, and Soiled Fantasies.
Last year at Broken Frontier I reviewed her comic Is It Vague In Other Dimensions? as part of our annual ELCAF coverage. An account of growing up raised by anti-vaxxer, conspiracy theorist parents. I said of it then "the almost morbidly voyeuristic appeal of this story [is that] the stranger it gets the more captivated the reader becomes. From her mother's accounts of her past life as an alien insect on Venus (where she met Jesus) to the strange rituals of conspiracy conventions, events just get odder and odder in a rising narrative crescendo of the paranoid and the delusional. And as this catalogue of extreme eccentricity grows ever more unbelievable so too do our sympathies with its protagonist become all the more pronounced."
Finally this time around we have another 2020 'Six to Watch' artist Pigeon joining us for the night. I've said of her work before at BF that I'm drawn to the imaginative way in which she embeds whole potential narratives within a single illustration, and how her use of colour to emphasise mood, theme and tone in her work is so expressive.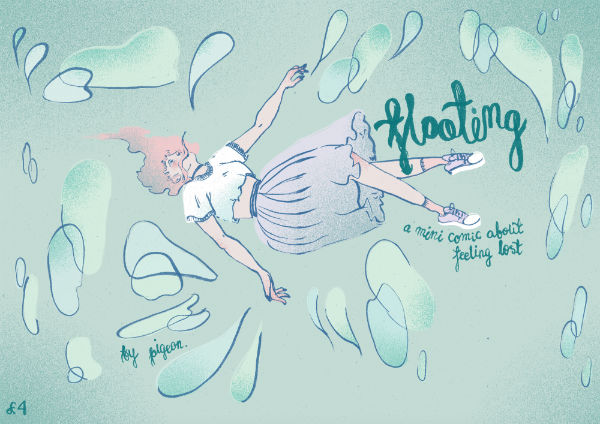 Recently I reviewed her minicomic Floating, a comic "about feeling lost"  and said "what Pigeon achieves here is to encapsulate feelings we will all have at some point in our lives in a concise, understated and yet powerfully resonant piece of visual storytelling. The pastel colouring adds to the haunting quality of events with the gradual transition from traditional page layouts to irregularly structured and freeform pages accentuating the feeling of her central character's gradual detachment from reality."
We'll see you all on Thursday! In the meantime make sure to check out our pals at Gosh's new online store for all your comics and graphic novels needs.