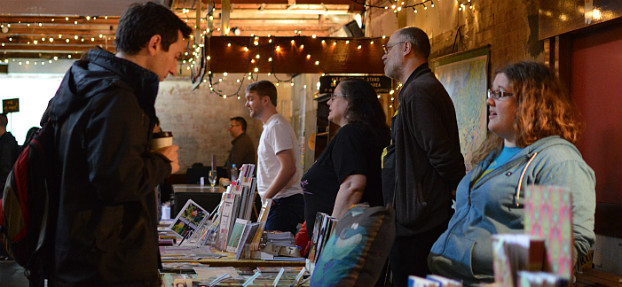 Sean Azzopardi has long been not just a vital fixture of the London small press scene but also one of its most important activists. Having self-published something in the region of fifty comics in the last two decades (including the very favourably received autobiographical 50 last year) his first graphic novel The Voice of the Hall will be published by Soaring Penguin in 2018.
Four years ago Azzopardi founded CECAF – the Crouch End Comic Arts Festival – with an emphasis on local artists. CECAF has become renowned for its laidback and friendly atmosphere, its eclectic mix of small pressers, boutique publishers and Big Two creators, and its unique venue!
In preparation for this year's CECAF 2018 – one of the very few events Broken Frontier will be tabling at this year – I spoke to Sean about his aims for the show, the evolution of the small press scene in the time he has been a part of it, and the undeniable benefits of a comics festival that takes place within the environs of a pub…
ANDY OLIVER: Before we talk in more detail about CECAF can you give us a little background on Sean Azzopardi the artist and the areas of comics you've worked in to date?
SEAN AZZOPARDI: I've been actively making comics for around 16 years. In that time I have self-published over 50 comics, I think ( I haven't counted them for a while ); worked with a couple of Pro publishers to bring out a few books, 1st Comics (Necessary Monsters, with Daniel Merlin Goodbrey), and Soaring Penguin (The Voice Of The Hall); and collaborated with other cartoonists on a variety of projects. The most recent being Sightings of Wallace Sendek with Douglas Noble.
CECAF has been running now since 2014 (with a gap year last year). What was the genesis of the fair back in 2014? What were your aims in setting it up four years ago?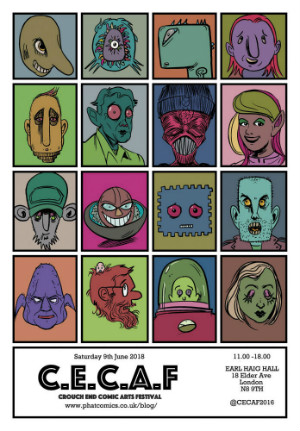 Around 2012 I was going though a period of not enjoying the con circuit. I was burnt out and it all seemed like a cynical cash cow exercise that had comics and cartoonists low on the list of priorities. I was fed-up with the rising cost of tabling at conventions and tickets for attending. If you were a family some events seemed really gouging. It would have been cheaper to have a family holiday.
I was also pissed off at events advertising their main pull was maybe someone who played a Stormtrooper in Return of the Jedi, or an orc in Lord of the Rings, whatever, and failing to promote the actual cartoonists who are exhibiting. Just writing this still makes me froth at the mouth. There was a recent event I took to task about a similar thing – z-list film talent presented as the face of a comics festival – and they argued the cartoonists were listed on the back of the flyer. I rest my case.
Exhibitors, don't forget, you pay for this. Say something if you are not happy. If an event fails to list the exhibitors, or fails to promote them in some way, or just use your table money to fly over some event organiser's personal favourite, they need to be told. After all, even the most appalling show has never offered a refund.
I decided that rather than taking this online and just sounding bitter, I should try to do something constructive. I was inspired by Bristol Comic and Zine Fair. It seemed to get the balance right, being well organised and promoted to a receptive and knowledgeable audience. Events like TCAF and SPX had a vibe that I hoped to reproduce as well. So I decided to organise my own event. It had to be manageable and affordable. Luckily a venue presented itself, The Earl Haig Hall, one that allowed me to try something, to see what was possible. CECAF was the result (creator Sally-Anne Hickman came up with the name ).
My overall aim was to provide a low cost option for exhibitors, and a free event for the audience. To my mind this would allow everyone involved to relax and enjoy the day.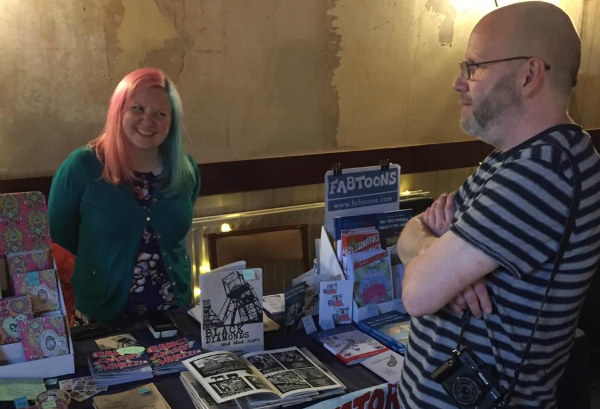 Sally-Anne Hickman and festival founder Sean Azzopardi at the last CECAF in 2016
One of the notable elements of CECAF is that it feels very rooted in the local community. How does the festival tie into the wider Crouch End Festival? Are you also looking to take comics to entirely new audiences as part of its remit?
That's right, all of that. I wanted to operate locally and give comics a presence in Crouch End, an area of London that is populated with cartoonists, but in 2014 had yet to have a cartoon festival. I had previously tried smaller events, basically me and a table in a pub, and there was definite interest from the regulars who brought comics and wanted to talk about them. There seemed to be a genuine response and I stored this away as something to explore again.
I felt that it would be interesting to see if it was possible build new audience of non-comic readers for an untested event. I thought that exhibitors may find it refreshing to deal with an audience different from the regular festival-goers. An untried audience for creators prepared to take a risk on a new event. One without Stormtroopers.
After the first CECAF the decision to embed it as part of the Crouch End festival was made. A two-week festival that had a flow of thousands of potential new readers and punters seemed an easy decision.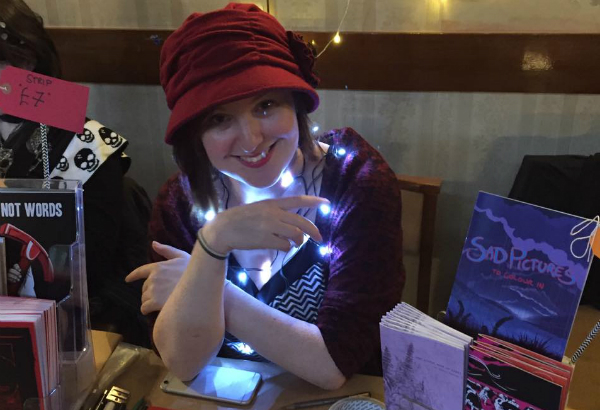 British Comic Awards-nominated Sarah Gordon at CECAF 2016
CECAF is notable for showcasing creative talent from many different areas of comics over the years – from Big Two contributors like Roger Langridge and David Baillie to top micropublishers like Avery Hill and Breakdown through to the cream of self-published talent. Can you tell us a little about how you go about curating the festival and the balance of creators you're looking to achieve?
It's difficult to curate as there are only 16 tables and I want to have thousands of people exhibiting, so it's invite only. My initial idea was to have a mix of people whose work I respected, and to get as many people local to N8 as I could fit in. It was really nerve-wracking approaching people like Roger or Breakdown for the first gig. How do you sell the idea of tabling at an unknown venue in a part of London that is only accessible by bus? Also the venue had very little lighting, and it was the middle of November. But I drew up a list of friends, locals and a few celebs and mailed them. I was amazed at the response, and how open people were to the idea. I still am, to be honest.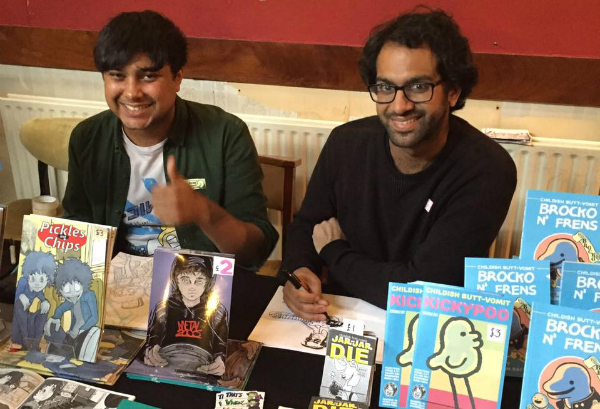 Shane Melisse and Sajan Rai of Backwards Burd with their CECAF table displays
Who are just some of the folk we can expect to see at CECAF this year and who will be new to the line-up in 2018?
There are quite few returnees from 2016, so International Legend Roger Langridge, Breakdown, Avery Hill, local legend Zoom Rockman, Sarah Gordon, Claude TC to name a few. Also David Baillie. Newbies include Kagulia Media, Andy Williams, Centrala, Soaring Penguin and Decadence.
There was a lot of churn with this year's selection, a few exhibitors had to pull out. It's fine, it happens. There has been that much interest this year that there was plenty of talent to offer any space that became available.
What have been some of the highlights of the last few years of CECAF for you?
That is difficult to answer, in some ways. Anyone that has organised an event knows that there is so much going on before, during and after it's hard to take on board anything that isn't dealing with whatever challenges are happening at that moment. That said, the first event was mad is many ways. Terrible weather meant that the roof leaked, and there were buckets everywhere to catch the rain. The lighting was so bad you could hardly see the exhibitors, never mind the work. But it was exciting, and random and had an energy that felt like No Bar Codes way back in 2008. An event and period of time that I still draw inspiration from.
It's been great to hear the response from locals, that's always special. Really anytime that a CECAF has gone down well is a highlight.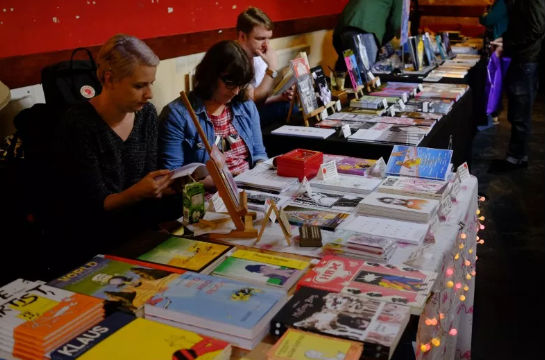 One Beat Zines and Avery Hill at CECAF in 2016
The Earl Haig Hall that hosts CECAF is certainly a venue with a lot of character. What does this unique environment add to the atmosphere of the show?
The Earl Haig is a character in its own right. CECAF wouldn't exist without this venue. It wouldn't make sense to host it anywhere else. I did consider trying Hornsey Town Hall for an event, that would have been interesting, I think. The Earl has a lot of challenges as a venue, but it also provides a certain atmosphere that is unique. You can pretty much do what you want (within reason!).
I have so many ideas that could be tried. I know people would like panels, talks, kids workshops etc. All great stuff. But I'm not doing it. If someone approached me and said they would like to do something, great. But this is a very basic format. Comics, people and beer, it's what the Earl was made for.
Also this year, the Crouch End Festival Zombie Walk starts from the Earl. That should be interesting.
The very first CECAF way back in November 2014
Soaring Penguin will have copies of your graphic novel project debuting at CECAF. What is the premise of The Voice of the Hall?
Yes, very exciting news, I'm looking forward to seeing it in the wild.
The Voice of the Hall is my first graphic novel. It's a history of Hornsey Town Hall, the first modernist building in the UK. The story is narrated by the building itself, and ranges through its 80-plus years of existence. From its inception to the current selling off to developers. I was fortunate to gain some funding from the Arts Council for its development, and Soaring Penguin were kind enough to offer to publish it. I really like the finished book, it was great to work on something different, and researching a subject and developing a narrative was very rewarding.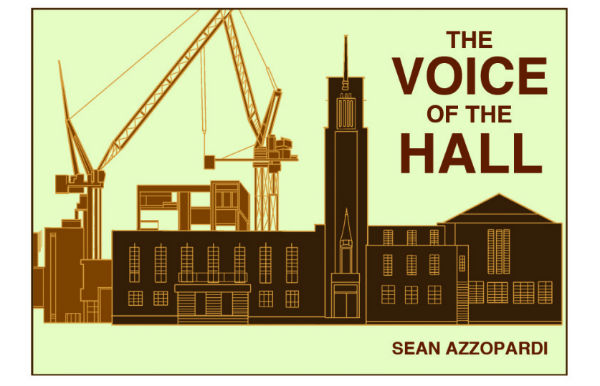 You've been a part of the UK small press scene for a number of years now and recently described yourself on Twitter as "a senior comics maker"! How has the small press scene evolved in London in the years that you've been an organiser/creator? Are there greater opportunities for new comics practitioners now and how does CECAF tie into those developments?
My first event was 2001 in Sevenoaks Library as part of a Paul Gravett-curated event. That feels like a lot of years to now. My answer to how have things changed always seems the same. There is more of it now. More cartoonists, comics, events, opportunities. It's a great time to be into creating comics right now, and has been for a number of years.
That is one view, or it could be seen as overpopulated and that there are not enough structural resources to support and grow the scene. Or it could be seen that as an independent creator there are so many ways to fund and distribute your projects that these structures, existing models, are no longer needed or desired.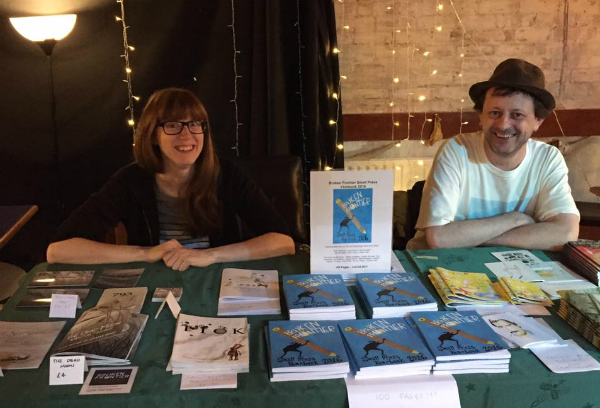 Original Broken Frontier 'Six to Watch' artist Emma Raby and BF Editor-in-Chief Andy Oliver at CECAF in 2016
Whatever choices are made about producing a comic, I still think that is really important to meet people and sell them your stuff. Otherwise, it could become a really sterile and soulless experience. As in make the comic, sell and promote it from your desk, rinse and repeat. Comics, to me are about communication and connection. I'm fairly introverted and this kind of public humiliation is a real struggle. But it has to be done, again and again.
Feel the burn as someone throws your comic back at you and walks off. Everyone's a critic, eh? The point is you have to get out and do the shill. CECAF provides a low risk platform for this. Now there are more events with similar attitude to CECAF. I think we have a new scene. With Small Press Day and the existing zine scene, it's going to be exciting to see what happens. Assuming Brexit doesn't result in us all being moved to poly tunnels in Ambridge to pick soft fruit.
And, finally, if you had to persuade potential attendees as to why they should visit CECAF in a one-sentence soundbite how would you hook them in?
CECAF, cartoonists, comics and beer… it will be amazing.
CECAF 2018 will be held on June 9th at the Earl Haig Hall. Full details on times and travel directions on the CECAF Eventbrite page here. Check out exhibitors here at BF and on the Phatcomics blog here. CECAF is also on Twitter and Facebook.