CELEBRATING BCZF!
The Autumn months in the UK are synonymous with festival season for comics enthusiasts with LICAF, Thought Bubble and the Comica Festival programming all being regular calendar fixtures at this time of year. It's a hectic but thoroughly rewarding couple of months and it kicks off in style on Saturday 3rd October with the Bristol Comic and Zine Fair, which reaches its fifth anniversary this year.
Promoting small press, self-publishing, zine-making and micropublishing, BCZF has built a reputation for embracing all aspects of the grassroots scene. With less than a fortnight to go I spoke to BCZF co-organiser Simon Moreton – an old favourite of this column for his Smoo Comics work of course – about the history of the show, its philosophy, the exhibitors we can expect to see in October, and the current state of play in the UK self-publishing world…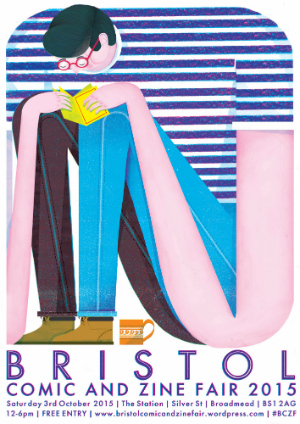 ANDY OLIVER: The Bristol Comic and Zine Fair was established back in 2011. Talk us through the history of BCZF and how it has evolved over the last four years?
SIMON MORETON: Nick Soucek, Esme Barnaville and I started BCZF to build a new audience for people who made work like we did.  The only comics game in town that we knew of was the Bristol Comic Expo. Nick and I exhibited there a couple of times and noticed that the work we were interested in making wasn't really being supported in those kinds of shows. So we started our own.
Our first fair was at Start the Bus, a bar in Bristol. We had maybe a dozen or so exhibitors, mostly drawn from friends and people we knew from the comics circuit. The following year we moved to the basement of Café Kino, a great vegan/vegetarian co-op café and venue. It was good fun – we had more artists than before, and I have a fond(ish) memory of unloading trestle tables from the back of a van in the rain.
In 2013 we decided it was time to go big. We had noted a growing interest from artists wanting to exhibit at the fair, and felt demand could be high enough to warrant a move to a bigger venue. That was pretty scary, because the Fair had always been free to exhibitors at that point. Suddenly, we had to find a venue big enough and cheap enough for our needs, while raising money, and charging for tables at a rate that wouldn't alienate the community we were trying to bring together. We chanced upon the Station, a former fire station in Bristol city centre that has become a venue, and amazing youth centre.  So we took the plunge! We've stayed at the Station ever since, and slowly increased the number of artists who we can support. We're up to about 70 now, just in time for our fifth birthday.
This year's BCZF poster (top right) is by Michael Driver. Above are posters from previous years including designs by Lando, Nick Soucek and Isabel Greenberg
Who are the team behind BCZF and what are the roles they play in its organisation?
This year the team comprises me, Nick, Ali and Amy. Esme helped kick things off, and then took some time out to complete her Masters in Authorial Illustration down in Falmouth, which she aced by all accounts. We do have different bits of work we each tend to do – communications, event organising, logistics – but we also muck in and do whatever needs doing as and when it arises. We all volunteer our time to organise the fair, and so we do it around our everyday lives – jobs, education, family, allotments, those kinds of things.
This year we're also teaming up with Sophie, James and Kate, the team behind Papergirl Bristol, to organise a pre-fair Drink and Draw as a bit of a launch party the night before BCZF.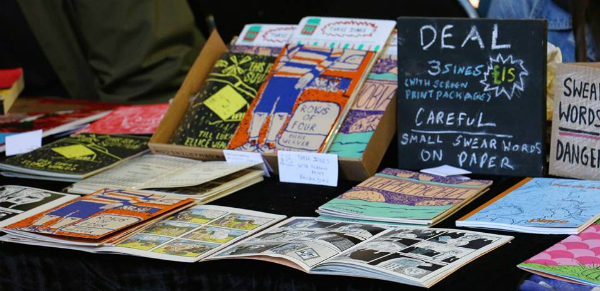 Photographs from BCZF 2014 by Chris Duncan
Bristol has a thriving creative community where comics are concerned. You've been involved for a number of years with the local anthology comic Bear Pit. How do you feel that anthology has succeeded in its aim to connect practitioners in the area since 2010?
Bear Pit has helped us become clearer on our own creative values and given us the confidence to do our own things. It's taught us a lot about how to put together zines, pull together people, and so on. I don't think the fair could never have happened if it wasn't for Bear Pit. I don't know what if any legacy Bear Pit has had or will have outside of the group we currently support. I do feel lots of other people must be doing similar things – finding ways to group together and make things the way they want to see them made – and I don't know if Bear Pit has catalysed any of that. I think it's probably more of a case of timing rather than anything else. However, I hope Bear Pit has helped, and continues to help, people feel connected and give them the confidence to make and explore their creative voices. Issue twelve will be out soon!
What distinguishes BCZF from other events on the self-publishing circuit? Have you consciously attempted to give it an identity of its own? Is there a specific philosophy that you are trying to promote?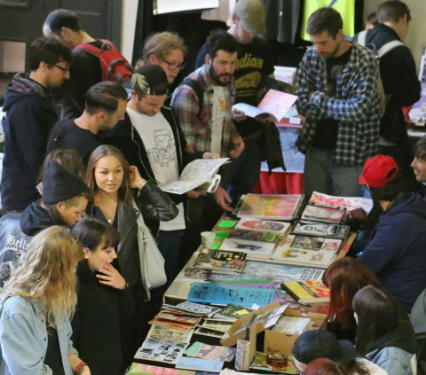 We've always wanted to organise a fair that's free to get into, with a range of work on offer, and that feels inclusive and welcoming to as broad an audience as possible. We've also been to a lot of shows over the years, as exhibitors or punters, so we try and bring back the things we like from those and put them in to the fair, from the friendly, crossover zine/comics spaces the Alternative Press Fairs in London, to the exhibitor focused approaches of a couple of the large North American shows. Often it's just little things we try and bring to the ethos of the fair, but we hope that they help.
I think we all share a belief in getting up and doing things for yourself, and I think that's probably what unites us as friends and organisers, but to be honest, the thing that makes any fair, is the exhibitors. It's their enthusiasm and passion and sense of fun and hard work that gives the event its atmosphere. We just do what we can to support them and hope they have a good day.
What have been the challenges in arranging a fair like this over the years? Has it been a learning curve and are there any particular lessons you have learnt since 2011?
It's hard work, and it takes time, and money, and you need to be prepared for that. But it's worth it. It's probably already a bit harder to start something than it was when we started, just because there are loads of shows now, and loads of makers. So you need to know a bit about the kind of work you'd like to support, who might be interested in it, and how you can bring those people together.
All that being said, we had no idea what we were doing when we first started, and we're still learning now. So if you're living somewhere where you want to start something, just do it. You'll learn as you go. And if you want any tips, get in touch with us and we're more than happy to share our experience!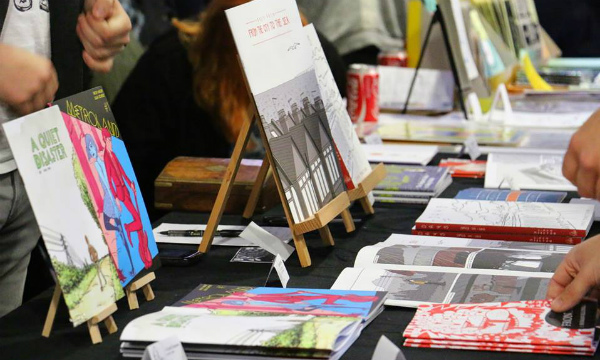 How important is a sense of curation when approaching something like BCZF? What are your criteria when considering exhibitors?
I know there's a lot of contention about curating in the comics and the zine scenes, but we feel it's an important and valid approach to ensure you get a good mix of creators in what is a limited physical space. Our key aim is to get a wide range of appropriate work from people who are both new and established creators.  We welcome applications from cartoonists, illustrators, writers and artists who primarily self-publish, and small press or independent publishers, and tend primarily to look for exhibitors who have a good range of zines and comics to sell.
We approach the selection process by looking across the board at all our applicants, and try and make sure we have a balance of work that runs from small zines to glossy books. We try and accommodate a range of personal, aesthetic and stylistic approaches, though we tend not to support conventional genre stuff, because we feel that is well supported by other events around the country, both locally and nationally – there's an anime con in Bristol the same weekend as BCZF, for example. We're not necessarily doing creators any favours by accepting them into an event where their work doesn't fit in.
We also try and make sure people have enough stuff to sell, too, encouraging people with only a few items to team up with others, or apply as a collective. We run a communal table where we sell zines on behalf of people who may not have enough stuff to have a table by themselves. Curation isn't easy, and it's horrible saying no to people, but we try and do it as fairly as we can, and we hope we can improve that process with sensitivity every year.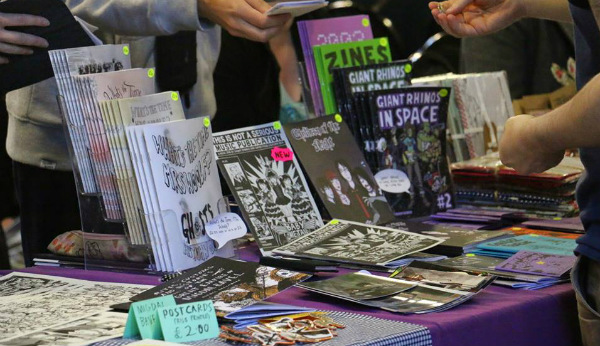 You're celebrating the small press in a broader sense with both comics and zines given equal billing. How crucial a part of your "mission statement" is it to be bringing a broader sampling of the world of self-publishing to a potentially new audience?
This is at the very heart of what we want to try and do. It's part of the same DIY ethos we've been talking about. I think as creators we're less interested in the delineation between zines and comics, and more about the idea that people are making amazing things that could do with more exposure. So whether its comics, drawings, poetry, photography, reportage, writing, fiction, illustration or whatever, it's stuff produced by people because they care that's what we want to support.
Can you give us an overview of some of the exhibitors involved this year in terms of both the more familiar names that Broken Frontier readers may recognise and those newer to the scene that we should be looking out for?
We have exhibitors making beautiful and unusual comics like Otto Press (below left), Ellice Weaver and Till Lukat, science fiction and post-apocalyptic speculative work from Decadence collective, narrative comics, autobiography in zine and comic form, illustration collectives like Flapjack, Ink Soup and others. There's art zines like Indestructible, and independent magazines like Foxhole and The Modernist (below right). There's names familiar to the UK small press circuit like Philippa Rice, Gareth Brookes, Sean Azzopardi, and Paul Ashley Brown. And there's collaborative and anthology producers like Jazz Dad, One Beat Zines, Dirty Rotten Comics (below centre) and Melon Shrub.
We've got UK publishers Avery Hill and Breakdown Press, and we're excited to welcome European work from publisher Centrala, and small press imprint Perropanda, too. I'm excited about a number of more zine-based exhibitors, too, like the Bristol Zine Team who are a group of people who get together and support one another to make zines on a monthly basis, as well as exhibitors making a range of of perzines, examining sexuality, intersectionality, gender politics, ethnicity and more.
We have representatives from student courses at Plymouth and the University of the West of England bringing what they've been making in an educational setting, as well as a number of exhibitors making stuff for younger audiences, including younger exhibitors too, like Bark, a couple of nine year olds who make comics to raise money to save tracts of threatened rainforest land. We've also got a toy maker and a record label tucked in there too.
The best thing to do is to look through our exhibitor list, and spend a bit of time exploring the links to their amazing work.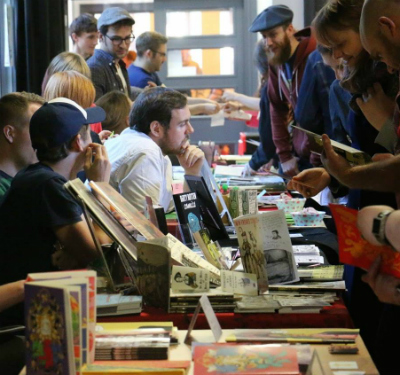 Thinking more broadly for a moment, what are your feelings about the state of comics self-publishing in the UK in 2015? Are you a subscriber to the idea that we're in a new golden age for comics in terms of DIY culture or do you have a more cautious viewpoint about where we are as a scene?
I do think we're seeing a high level of high quality and varied output, and I'm excited about that.
However, inertia and complacency and entitlement will kill any progress we make. For example, we don't – and maybe can't – have proper distribution networks. The items many of us trade in are not designed or imagined to be things that can be mass-produced to make money for us. You can't call yourself an illustrator or a cartoonist and expect a living, and I worry that we need to continue to work together to make systems and opportunities to support us. They don't exist without our hard work.
I think there are still problematic attitudes to promoting comics within the scene that would rather create a new canon of classic works which just replaces one old guard with another, and still a huge array of prejudices and barriers facing makers and readers based on their ethnicity, sexuality, gender, and intersectional identities. We need to challenge those at every opportunity.
So don't rest on your laurels! Make things – but don't shy away from the conversations about how to make things, how to sell things, how to share things, where to put them, why you make, and who you make for. Collaborate. Work with people around you. Share your work in different places and different ways.
Your creative work shouldn't end with making a piece of art; you've got to build the world around that art that you want to see.
Making is a political act, and I think we forget that at our peril.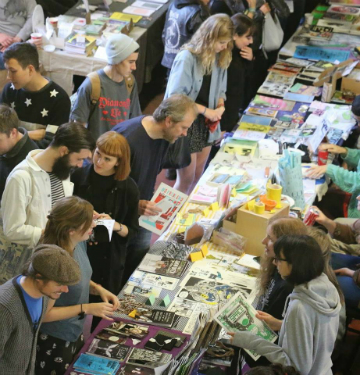 It would be remiss of me not to ask you about your own upcoming projects as well while I have the opportunity. So what can we look forward to from Simon Moreton in the near future?
I've just finished a split zine with my friend Jason Martin, a Bay Area cartoonist and zine maker who makes these amazing and understated autobiographical comics. The zine is called Bright Nights and it's four stories by me, and four by Jason about the night; sunrises, parties, late night drives, growing older.
Plans We Made my new book is due out from Uncivilized Books in the US this September, so I'm hoping to have copies in time for BCZF. I'm also working on SMOO #10 to be out in time for Thought Bubble. I have plans for next year, too, but I'm keeping them under my hat for now.
And finally how do you see the fair developing in the years to come? Would you ever consider additional programming like accompanying panels or creator presentations?
We tend to plan the fair one year at a time. Programming things like talks and workshops is something we've always been passionate about. We believe not just in creating a marketplace for makers, but also spaces where you can actually work with people to make things and experience that side of creative practice. However, we've never quite had the organisational capacity, in terms of time, money, space, to work out how to do it. We'd love too, though. We'll just have to see what happens when we all sit down again once the fair is done and dusted!
The Bristol Comic and Zine Fair will be held this year on Saturday 3rd October at the Station on Silver Street in Bristol between 12-6pm. Entry is free. For more on BCZF visit the site here and follow them on Twitter here.
You can find out more about Simon Moreton's work here, order his comics online here and you can buy copies of Bristol-based anthology comic Bear Pit here. 
For regular updates on all things small press follow Andy Oliver on Twitter here.