Comics-maker Simon Moreton is a bit of a favourite here at Broken Frontier. That's why, when we heard he was running a Kickstarter campaign in tandem with Grimalkin Press to fund his new book, 'Plans We Made', we sent Matt Badham to have a chat with him. The following interview is the result.
BROKEN FRONTIER: Could you please (re-)introduce yourself to our readers?
SIMON MORETON:  I'm an artist based in Bristol, UK. I've been self-publishing comics for about eight years. My regular series is a zine called SMOO and it's mostly memoir.  I'm also the co-founder of Bear Pit Zine, a Bristol-based artist network and comics anthology, and co-founder of the Bristol Comic and Zine Fair, which will be celebrating its fifth birthday in 2015.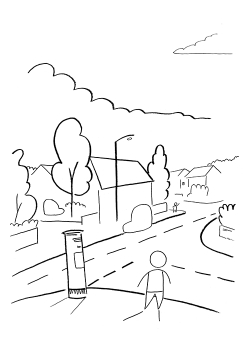 How would you describe your art to those who aren't familiar with it?
People have described my style as minimal and that's a good start. I get worried that the term might make my stuff sound a little bit austere or clinical, when I like to think my drawings are much warmer than that. But in the sense I'm trying to find meaning through simplification, I guess minimalist fits. I just want to put just enough on a page to connect with the reader, and ask them, 'has this happened to you? Have you felt this way too?'
Please tell me about your new Kickstarter-funded project.
We're raising funds to print my first ever full-length book, which is being released by US micro-publisher, Grimalkin Press. It's called Plans We Made and it's a 160-page comic-meets-picture book about growing up in a little town in South East England.
It isn't really about those 'golden years' of being a teenager. It's about the bewilderment of getting older, and how (years later) we try and work out who we are with the little anecdotes we tell that make up 'our story', like memorable nights out, shared moments with friends, that sort of thing. I guess it's more a comment on how stuff never really makes sense, and how that's OK.
Why should people back it? (Horrible question and phrasing, I know…)
I feel weird asking people to 'make my dream come true' but if they like the look of the book and want to take a punt on pre-ordering it through the campaign, it would be doing just that.
We need the money sooner rather than later because Grimalkin Press has got a great chance to distribute the book through Uncivilized Books. Uncivilized are an amazing publisher with proper international reach, who can get work into shops in a way that neither Jordan [Shiveley of Grimalkin] nor I could manage on our own. There's also the chance that this book might not happen at all if we don't get this money together.
Backers would be helping a small publishing house and a small press artist raise our profiles and get our work into new places, as well as supporting independent arts. There are books and zines and original art up as rewards too.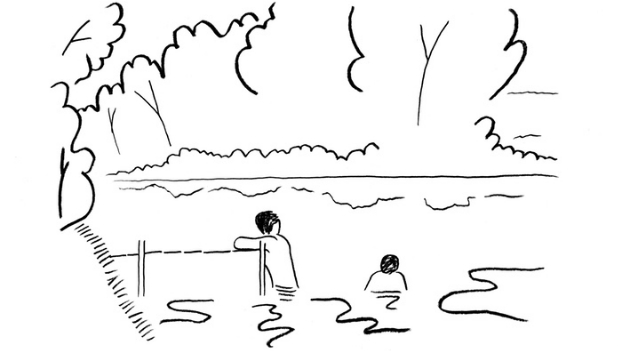 I got the impression from the previous Broken Frontier interview with you that you 'found' your way of making comics by actually making them, without too much thought beforehand. Is that a fair impression?
In my first few years of making comics, I was trying really hard to make comics the way I thought you were supposed to make them.  So I spent ages drawing stuff and writing scripts and planning layouts, then pencilling, then inking, and getting all sad or angry when they weren't 'as good' as someone else's.
But it wasn't sustainable: I have a day job and if I was spending 6 hours on a page I was never going to get anything finished and, crucially, it was never going to give me the time and space to grow as an artist. I realised I didn't want to be a draughtsman who could draw 'perfect' comics, because that's not who I am. I just wanted to draw how I wanted to draw.
So my approach came about from a combination of practical choice, evolution and chance; I just started drawing quicker, drawing more things from what I saw 'out in the world' rather than from photo reference, and paid more attention to what if felt like to draw, not whether, objectively, what came out was any 'good'.
Personally, I think everyone can find their own voice through drawing; a style of drawing that is their own and enables them to say things that are important to them. That isn't about drawing 'well', but drawing 'honestly'; it's not about being able to draw 'better' than someone else, but about drawing as truthfully to your own voice as you can.
Your style has clearly evolved as you made more work.
Oh definitely. I think my comics have always been about the same themes – about how we come to be who we think we are, and all the things that contribute to that, like our memories, events, the places we grow up. But it did take a while to find a way of exploring that stuff that felt right to me. I certainly never set out to be 'minimal' in the beginning; it's just sort of what happened.
Nowadays, the thing you see on the page more often than not is either a first or second take of a drawing – and I try hard not to overthink things. I don't 'pencil' then 'ink' things – I just draw straight away with a 4B or 8B pencil on to the blank page.
I did redraw many of the pages for Plans We Made more times than usual, because I wanted to strike a balance between that spontaneous sketch feel and a consistent storytelling style. But I guess that's another step in the evolution of how I'd like to tell stories.
I'm sure I read that you have an interest in the health benefits of making comics, (which is an area I'm very interested in). Is that correct?
Well, my experiences with depression and anxiety have been a big part of my teenage and adult life, and because my zines are all autobiographical my experiences are a recurring theme in them, whether they are referred to explicitly or not.
This led me to become involved in the Graphic Medicine community, and I've given talks about my own experience of drawing and mental illness in a few different places. I also do occasional workshops where I work with people to explore the link between drawing, comics and storytelling about illness.
I also founded 'Better, Drawn', a website where people can share their stories about long-term mental or physical illness in the form of comics. That sort of linked together my belief that given enough encouragement anyone can draw, and the idea that sharing and talking about your problems can sometimes be a way of making them better.
I wouldn't, however, suggest a link between making comics and improving one's health. I know making comics has at different points in my life had negative and positive impacts on my mental health and personal life. I just think it's being open to using it as a way to explore yourself, if that's something you're ready for, or feel you need to do.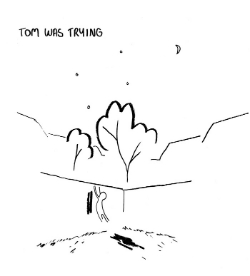 What next for Simon Moreton?
In the short-term SMOO #8, my new zine, is available for pre-order now. It's all about a weird year of my life and features woods and birds and landscapes and sad bits and hard bits and good bits. I'm working on a split zine with a cartoonist from California called Jason Martin, who is great. I'm also working on a piece for an anthology coming out of South America in the Spring. Then it's time to crack on with SMOO 9, which I've already started thinking about. Plans We Made should be out in the Autumn. I've also got a plan for something bigger up my sleeve, but we'll have to wait and see whether that happens.
In terms of shows, I'll be in Toronto at TCAF in May exhibiting, and I'll hopefully have SMOO 9 ready for then, and I've got fingers crossed I'll get a table at ELCAF, LICAF and Thought Bubble. I might make it to Autoptic in Minneapolis, this year too.
Finally, the other big task this year is co-organising the Bristol Comic and Zine Fair.
The fair is being held on Saturday 3rd October 2015. We're returning to the Station, a city-centre space run by The Creative Youth Network to provide a place for young people to meet, develop their talent, and get advice and support.
It's a really great venue – light, airy and roomy without being too empty. The first fair was in a bar in Bristol with about a dozen artists in 2011, and we moved to the Station in 2013. We now have space for about 60 exhibitors. It's always really busy and really fun, and it's free to get in!
We're going to open up for table applications in the Spring. If your readers are interested in the fair they should visit our website where we have lots of contact info and social media links, follow us on Twitter and help us spread the word!
The Plans We Made Kickstarter runs until March 4th and you can back it here.