Simon Moreton's work has always been an enduring reminder that the seemingly smallest moments of life can be the most profound, that the fragility of existence can be captured in the quietest instant, and that constancy is the most fleeting of illusions.
His long-running Smoo Comics redefined autobiographical comics over the last few years by emphasising an emotional connectivity with his readership over structured narrative and by adopting stark, stripped back visuals to emphasise mood and theme.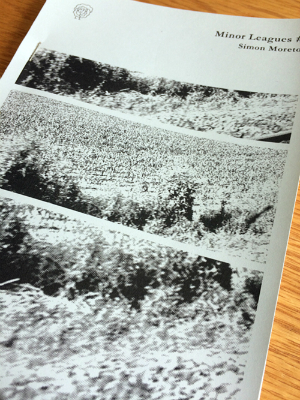 When Moreton announced the end of that series with issue #10 his audience could have been forgiven for feeling that an end of an era had arrived in UK small press comics. But, in reality, Smoo has proven to be the chrysalis from which something of an equally delicate beauty has emerged…
When I reviewed the final issue of Smoo here at Broken Frontier I noted that with its mix of comics and prose it seemed like a transitional issue and, indeed, Simon Moreton's latest project Minor Leagues feels like an expanded version of in terms of presentation.
Moreton has always described his publications as "zines" rather than "comics" and that's more fitting than ever with Minor Leagues which includes comics, sketches, written reflections, sketches, poetry and a touch of photography as well. All unashamedly hand-stapled with a "THIS ZINE BELONGS TO…" sticker at its front enhancing the invitingly personal air of DIY culture that permeates its pages.
Throughout this first issue, Moreton is constantly experimenting with the most effective storytelling techniques to convey his pensive thematic monologues. An early graphic narrative 'Paris' counterpoints sketches capturing transitory moments in time with fuller descriptive text recording his day there; the ephemeral pointedly juxtaposed with the literal. There's a contradictory air of immersion and dislocation here that is echoed in Moreton's on-page presence questioning his own simultaneously contrasting feelings of joy and solitude in his surroundings.
Where Minor Leagues perhaps digresses dramatically from Moreton's previous offerings is in the written work within its pages. Not for any obvious reason of working in a different medium but for the more direct way in which he communicates that recurring exploration of the links between memory, place and time that is such an integral part of his work. In Smoo the reader was invited to empathise through inference and a sense of shared experience; to interpret, to interact with and to immerse themselves in each sequential vignette.
With prose and poetry those reflections become more direct and immediate. A poem 'I hope when I go' musing on mortality, for example, that is oddly jaunty and apprehensive at the same time. Or a look back at a long-gone friendship in 'Matt' which provides not just a compact character portrait in prose but also proves that Moreton is as adept at creating the most tenderly resonant moments in words as he is in imagery. Similarly his observations on dead media prove to be both throwaway and yet surprisingly profound, feeding into a subtext throughout the issue of the impermanency of everything that surrounds us in life.
Many will have come to Minor Leagues for the trademark Moreton minimalism though and in this collection, perhaps more than ever before, we are asked to infer a narrative from the page and enticed in to live the moments depicted. A trip to the countryside and coast is open to the readership's own emotional interpretation. 'Motel Recall' – a short on travelling through America – emphasises the visual poetry of Moreton's work with words drifting ethereally into panels and narration hanging dreamily in the air.
Minor Leagues is full of moments like this. Walking through a rainstorm is brought to evocative life by Moreton's restricted linework becoming more frenzied and chaotic as the weather changes. Failing to keep a bonfire going becomes a wordless monologue on dejection and comfort, while a later combination of prose and comics finds life-affirming humanity in something as simple as a snowball fight.
Once again, Moreton shares small but recognisable splinters of existence with his readership, reminding us with a measured acceptance of the way in which lives connect and then inevitably drift apart again. Minor Leagues marks an evolution in the practice of Simon Moreton and an essential and accessible entry point for those yet to have discovered the work of this singularly vital presence in self-publishing.
You can read an interview with Simon Moreton about Minor Leagues at Broken Frontier here.
For more on the work of Simon Moreton visit his site here and buy Minor Leagues from his online store here priced £4.00.
You can also follow him on Twitter here.
For regular updates on all things small press follow Andy Oliver on Twitter here.