June is a big month for Becky Cloonan. Not only is she drawing the spectacular The True Lives of the Fabulous Killjoys, of which the first issue hit last week, but she's also releasing her third and (momentarily) final mini comic, Demeter.
Demeter is a love story set at sea underscoring the universal truth that even love can't escape the circle of life. Set free from editorial shackles, Cloonan uses the freedom found in self-publishing to great effect. She wonderfully experiments with panel compositions and lettering techniques to turn up the drama of the comic, but as always her art itself is worth the meal ticket by itself.
Cloonan spoke openheartedly about the book, its creative process and finding her voice as a writer on the eve of its release.
BROKEN FRONTIER: The writing in Demeter has a very poetic beat to it, seemingly to stress the mythological and universal qualities of the story. Is that why you wrote it the way you did?
BECKY CLOONAN: I always worry that sometimes I'm being too flowery or poetic with my narration and dialogue, or not poetic enough. But my mini comics in particular call for a little poetry I think, when the themes running through the book are about finding beauty in tragedy, and how that is inherently linked with the supernatural elements of the story.
I always tend to be light with my dialogue also – not that there's much talking in these stories, but I'm always afraid of over-writing – among other things, I need to work on not be scared of words. Maybe when I have a book that is more dialogue-driven I'll go easier on the poetics.
I always think of the art first: how I will tell the story visually, and how my words will help facilitate the reading experience? It wasn't a conscious effort, but something that the comic demanded from me.
Did the story dictate you to go places you hadn't thought of before?
CLOONAN: The overall story arc that I want the characters to travel is there as a guide from the beginning. I know the beginning and the end of the story – I think those are the most important parts – but I don't think there is a correct way to get there.
With Demeter in particular, the guts of the story changed a lot. Originally the characters' roles were switched, and it wasn't until about a month of writing that I decided it wasn't working. You still have the same overall story, same end and beginning, but switching the roles definitely led me to explore their relationship in a different way.
Because the story is so short, I find that I often get tangled up in panel-to-panel details. I feel like every panel serves a purpose in these stories, so I have to make each one count. I'm constantly re-arranging them, flipping them backwards in Photoshop, moving sequences around to see if I can make it read better… I did a lot of that with Wolves, and again with Demeter. Not as much in The Mire, but that book just came out easier for some reason.
At the end, you cite the closing stanza of Alfred Tennyson's The Sailor Boy. Was it the poem that inspired you to create this story?
CLOONAN: Was that too much poetry? [Laughs] Actually, that was added for the digital release – I didn't have the space in the printed version, and it was definitely an influence. There were also sections of a collection of old Norse poems called the Poetic Edda that struck a particular chord with me, and I kept those feelings in mind as something I wanted my readers to experience.
There is so much that inspires me to write and it's not necessarily the content, but an ambiance that I want to capture in the story. I chose the Tennyson quote in particular because of its watery subject matter. And it's simply a beautiful poem.
Are there any things in particular that inspire you to write?
CLOONAN: There is so much! I've always loved books, and growing up, fantasy novels were a huge part of my life. I also love folktales and scary stories, so for this trilogy it made sense to weave these elements into my comics.
Music is another big one for me. Ask any cartoonist and you'll find that almost everyone has certain albums they listen to for different jobs. I'm no different – I love soundtracks and ambient music for writing, and I love throwing on metal when I ink. On another level, a lot of the music I've always gravitated towards is songs and albums that tell a story – I wonder if that's just inherent. I find myself thinking about the song after it's played, and trying to decipher what happened in between the verses.
When I started Wolves, I tried to think of the story like that. Not that I've ever written a song, but I like the idea of leaving the reader with an urge to "listen" to the comic again, and leaving the book with a certain feeling. I'm big on creating a mood, and trying to create atmosphere. My stories don't give up all of their secrets, and there are some conclusions I want you to come to on your own.

Maybe more than anything else, history is what inspires me. It was a subject in school that I always did well in even when I was failing science and math. History will show you stories you could never have even imagined – and they really happened! Some of them are even more outrageous than the fantasy books I read as a kid!
I love traveling too. A few years ago I went to the UK and drove around the countryside for a few days. The castle in The Mire is actually Raglan Castle in Wales. Seeing stuff like that in person is awe-inspiring, and every time I go anywhere new my mind just lights up with ideas.
Demeter is the Greek goddess of harvest, yet, this is a story set at sea. How does it tie to the original myth then?
CLOONAN: The title was almost an after-thought. I have a hard time with titles, especially if they don't hit me right away. The story has several parallels with the Greek myth, including how Demeter's lover was Poseidon, reflected in Anna tending the crops and animals while her husband is at sea and how Demeter's daughter Persephone was abducted by Hades. So, the idea of the underworld and abductions run through the book as well, not to mention that the ship which brought Dracula to England was called the Demeter.
The title works on several levels. It's not based on the myth, but the ties to it are strong.
Considering your love for history and the ancient, are myths and mythology something that inspire you too?
CLOONAN: Definitely. I've always loved Greek and Norse myths in particular. It's myth to us, but for so many people it was religion and fact! I love learning how different cultures are shaped and affected by these stories, and vice versa.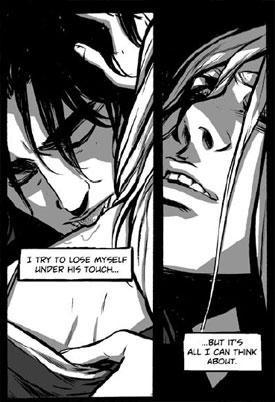 Folk tales are a big part of this- they reflect life and belief, but are often a lot more personal and always tinged with the supernatural, the tragic and the weird. There is so much I want to explore, but don't get me talking about this stuff; I'll just start telling you ideas for my next comic! [Laughs]
Because of the omnipresence of sea and water, did you ever consider doing the book in dark blue hues as opposed to black and white?
CLOONAN: Color was never an option for me. My mini comics were always meant to be black and white; I love the purity of it. I always think in black and white first – which isn't always a good thing when I'm dealing with color, but for these books it was always how I envisioned them. If they were in color, I also wouldn't be able to afford printing them!
I did play around with the idea though, and thought it might be cool to try and get a few pages colored, just to see if I like it. Maybe I'll put something special together for the eventual trade, but that won't happen for a few years at least.
One of the nicest touches about the comic is how you play with lettering and panel compositions. Are those the parts of the creative process you get the biggest kick out of – fully controlling how everything looks on the page?
CLOONAN: I love the whole process! And I've learned so much doing these books – from picking paper stocks with my printer to lettering and laying out the book, and on the other side of that setting up an online store and reaching out to retailers and fans to build my readership. Not to mention my first foray into digital comics. I've met so many cool people and learned so much; it's an experience that has taken over my life but I don't regret it.
The mini comics are a great platform for me to experiment on as well. I try and do new things in each: playing with time and narration, using montages and playing with layout and lettering… It's a great exercise that I think has really helped me find my voice again.
Did you feel you 'lost' it somewhere?
CLOONAN: I guess I always knew the type of stories that I wanted to write; I've had some comics in my head for years and years! I've been really lucky to work with some amazing writers – Brian Wood in particular who is just … anyone who is lucky enough to have worked with him knows what I'm talking about. But after a while I felt like I had forgotten how to write myself, and I wasn't confident enough to approach a longer format story.
A lot of this is process. I learned a lot about the way I work by doing these mini comics, and I feel more confident that I can get an idea across clearly, create mood and develop characters that readers care about. It's been over five years since I wrote anything of length, and after doing these short stories I think the thing I gained most was confidence in my own writing.
Demeter is the end of a trilogy of self-published comics. You're now busy working on The True Lives of the Fabulous Killjoys for Dark Horse, but do you have plans after that to do more creator-owned work?
CLOONAN: After three years of self-publishing, I think I need a break! [Laughs] The whole reason I started these is so I could become a better writer, a plan that quickly spiraled out of control and has taken over most of my life!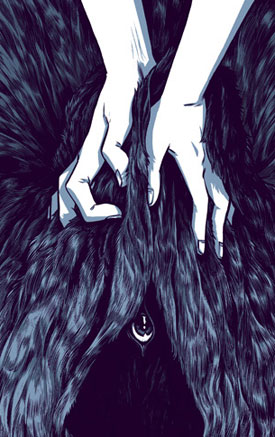 However, I'm ready to start thinking about longer creator-owned stories, and as much as I want to keep working with writers in some compactly just because I enjoy the collaborative process, I want to start working on longer comics of my own.
What types of stories or genres do you want to explore?
CLOONAN: Like so many people I have an "opus," and through the years it's gotten so long that I'm feeling the pressure to start working on it. This particular story is historical fiction – heavy on the fiction!
I have one or two ideas for period pieces as well, kind of in the vein of Jane Eyre or Wuthering Heights, one of them with a modern angle. I've done outlines and character design for all of these stories, and even thumbnailed a few sequences. These are the stories that are the most developed – I've even pitched them before, but I really don't think I was ready at the time!
After Killjoys, I'll be adapting a classic novel for First Second, so I'm jumping back into graphic novels, and I hope that it bridges the gap, and enables me to start working on these guys. I have so many stories I want to tell. The time is right!!!
Demeter is out June 19, 2013 and available digitally at Comixology and Graphicly for $0.99. The print edition ($5.00) can be ordered here along with Beckly Cloonan's other mini comics.