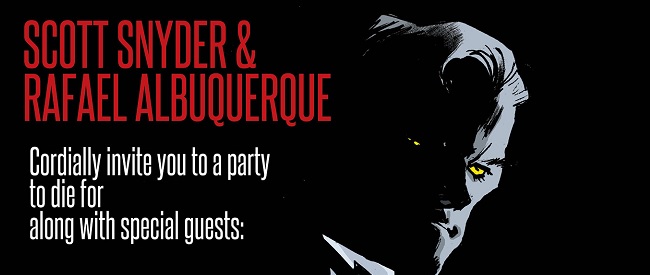 For longtime fans of the series and newcomers alike, American Vampire Anthology delivers a pack of bloodcurdling tales with style and flair.
Have any of your comic-reading friends ever told you that they just don't make good vampire comics anymore? That there are scarcely any truly entertaining or well-made horror books on the market at all? If someone's told you this, then you can be sure that they've never picked up an issue of American Vampire. Lamentably, this is a series that has been on hiatus for quite a while, with writer Scott Snyder currently rampaging through the ranks of Big Two creator stardom, now famed for a well-received run on Batman.
Right here, though, are no less than eighty pages of brand new American Vampire material, comprising a total of ten short stories. With a creative line-up including Jeff Lemire, Jason Aaron, Francesco Francavilla, Gail Simone, Becky Cloonan, Fabio Moon, Gabrial Ba, and Greg Rucka, the book isn't short on star power. As it turns out, it isn't short on quality storytelling either.
A pair of Skinner Sweet tales by none other than series creator Scott Snyder and artist Rafael Albuquerque bookend the issue, providing a nice sense of continuity and completion to a book that may otherwise have felt a little scattershot with its myriad styles and settings. As the stories weave through a variety of times and locales, there are a few times when things feel a bit rushed. Perhaps some of the shorter stories may have benefited from a few more pages of exposition, and it's easy to see how some could have easily formed the basis for a full-sized issue of their own. What we have here, though, is more than satisfying enough, and certainly most of the stories stand quite well as they are.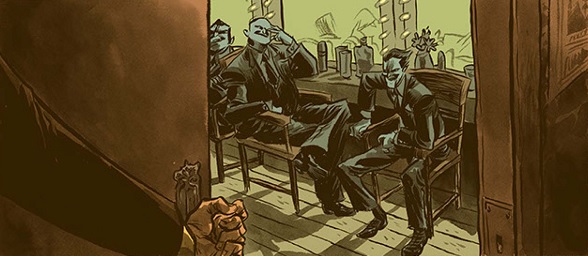 From the Wild West of the 19th century to the golden age of Hollywood, the stories here are many and varied, often straying from the series' common focus on the characters of Pearl and Skinner Sweet. "Essence of Life," Gail Simone's tale of the early misadventures of Hattie Hargrove, stands out as one of the best pieces here. Even with a host of creative teams, every story feels wholly a part of the same universe, the narratives weaving in and out of one another to lend another layer to the already rich world of American Vampire.
Overall, this one-shot anthology offers a great, if occasionally hectic, set of stories. If you're a fan of American Vampire, it will be sure to quench your thirst, if only momentarily. And if you have yet to try the series out, you'd do well to give it a chance; this sampling of material from the book's world makes for a fine jumping-on point. You'll be hooked before you know it!
Scott Snyder, Jeff Lemire, Greg Rucka, Gail Simone, Gabrial Ba, Fabio Moon (W), Becky Cloonan, Rafael Albuquerque, Jeff Lemire, Gabrial Ba, Fabio Moon, Francesco Francavilla, Declan Shalvey (A) • Vertigo Comics, $7.99