San Diego Comic-Con International, the industry event of the year has arrived! New titles, rumors, chatter, art reveals, cosplay and major announcements … it's all taking place inside and around the nuthouse that is the San Diego Convention Center.
To make sure you don't miss a beat, here's a round-up of today's news.
Amazing Spider-Man 2 Teaser: Jamie Foxx as Electro
Sony Pictures is holding its panel on Friday at Hall H, and most comic fans are looking forward to news about Mark Webb's Amazing Spider-Man 2. In anticipation of the panel, the studio has released the following teaser, starring Jamie Foxx as the infamous Electro.
Dark Horse, J. Michael Straczynski and Pete Woods bring Terminator back to Comics
Terminator: The Final Battle is to be a 12-issue mini-series in which Straczynski and Woods will pit John Connor against the evil AI mind of Skynet as it looks to wipe out the human race. The series ties together many of the plot points from the various Terminator films and takes place after the events of the last one, Terminator: Salvation starring Christian Bale.
JMS has been a Terminator fan since seeing the first film in theatres many many years ago, so doing this book for him feels special, even though it's a different kind of creative project than the original concepts he's creating over at Image with Sidekick and Ten Grand.
"[I really want] to explore that universe in more detail, broadening out what we know and seeing if we can challenge a bit what we think we know. I especially want to focus on the relationship between Skynet and the humans it is trying to eliminate, especially John Connor. It's kind of symbiotic in a sense: he wouldn't be here if not for the time door and Skynet, and Skynet's survival is dependent on getting rid of John. So it's a cool dynamic to explore."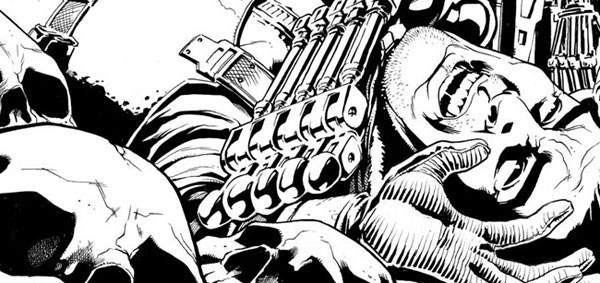 The writer's also quite clear on why you shouldn't think this is a lame, quick-money licensed comic:
"One of the problems with licensed books is that they can are sometimes perceived as the bastard child of comics publishing, seeing them as generally done well but a bit prosaically in terms of the art and storytelling. How many times can you have a Terminator on a cover holding a gun in the classic pose before it blurs into all other times we've seen that image? So we kind of want to jack up the volume a bit in that respect."
A release date for the project has yet to be announced. [Comic Book Resources]
Francesco Francavilla Working on New Black Beetle Adventure, Necrologue
In other Dark Horse news, the publisher is releasing a new Black Beetle comic, Black Beetle: Necrologue, written and drawn by the amazing Francesco Francavilla. The five-part noir adventure follows on the heels of the hit mini, Black Beetle: No Way Out. [Comics Alliance]

DC Releases 'Necessary Evil' Trailer
The bad guys are about to take center stage in the DCU with Villains Month coming in September and Geoff Johns and David Finch's Forever Evil event. Further underscoring the badass qualities of the rogues in their Universe, DC has unveiled a trailer for the Necessary Evil: Super-Villains of DC Comics to be released on DVD October 25. [DC Comics]
Other highlights
• Bleeding Cool and SuperHeroHype have some nice photo galleries from Preview Night up on their sites.
• Major media outlets like CNN and The Guardian have released their must-see lists at the show, but naturally it's all about movies and tv.
• BF readers know we're quite big fans of David Petersen and Mouse Guard. Here's the man's complete SDCC schedule.