It's almost Wednesday, and you know what that means: a fresh load of comics and graphic novels! With so many publications hitting your local comics store or digital storefront, BF is here to lead you through the woods. If you want to know which books should be on your pull list, look no further…
Comic of the Week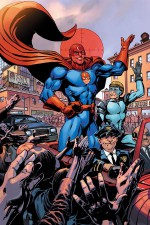 Sidekick #1
Following Ten Grand as the second title released under his Joe's Comics imprint, JMS teams up with the inimitable Tom Mandrake for the total and utter deconstruction of one of comics' most polarizing conventions: the teenage sidekick.
In this latest series published by Image Comics, Straczynski and Mandrake put the assassinated Red Cowl's stalwart partner Flyboy through the emotional and physical ringer, not to mention push him deeper into depression and depravity as he struggles with life without his mentor. Desperate to regain the love and trust of the city he used to protect, is there anything Flyboy won't do to feel like a hero again?
Love 'em or hate'em, sidekicks have been around almost as long as their superhero mentors. Can you guess which side Straczynski comes down on? Pick up this sick, twisted superhero satire to find out!
J.M. Straczynski  (W), Tom Mandrake (A) • Image Comics, $2.99
– Jason Wilkins
Trillium #1
Ever since the end of Sweet Tooth I have patiently waited for a new title written and drawn by Jeff Lemire, and Trillium will surely be worth the wait. Telling "the last love story ever," Lemire's cast of characters spans thousands of years and millions of miles across the galaxy, all of which is beautifully drawn the the fantastic creator.
Trillium's eight-issue run begins this Wednesday, and it is surely a must to get in from the start.
Jeff Lemire (W and A) • DC Comics/Vertigo, $2.99
– Jason Clyma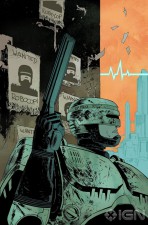 Robocop: Last Stand #1 (of 8)
With Robocop: Last Stand, Boom! Studios brings us a vision of the second Robocop sequel, as screenwriter Frank Miller intended. Last Stand features art from talented Turkish newcomer Korkut Öztekin and a script by Steven Grant (Punisher: Circle of Blood, 2 Guns), adapted from the original Miller-penned screenplay for Robocop 3.
Times are bad in Detroit. Law and order have broken down and officers of Omni Consumer Products are the closest thing the town has to a police force. The company's dream of fully bringing about the corporatocracy known as Delta City is one step closer to reality, and if Detroit is to survive, Robocop must make his last stand. For fans of Frank Miller and the Robocop franchise, this is an installment not to be missed.
Frank Miller, Steven Grant (W), Korkut Öztekin (A) • Boom! Studios, $3.99
– Evan Henry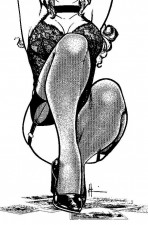 Satellite Sam #2
Matt Fraction's Satellite Sam #1 was one of last month's most unique titles on the stands.  The book's mix of "sex, death, and live tv" ensured it stood out amongst every other title on the stands.  This month sees the fight between the East and West Coast for control over television as a whole but how some racy photographs will play into that battle is yet to be clear.
Fraction is one of the most fun writers currently working in the industry, and Satellite Sam adds to that ever-growing catalogue.
Matt Fraction (W), Howard Chaykin (A) • Image Comics, $3.50
– Jason Clyma
Superior Spider-Man #15
The Superior Spider-Man's life has been going in a very interesting direction ever since he was able to fully expunge Peter Parker from his brain. Now Otto Octavius is living up to the "superior" part of his name.
In recent issues Otto has gathered henchmen, gained a secret lair, and has his own army of villains under his control, all in Spider-Man's name. The line between hero and villain has already faded, though it is difficult to argue with his results. In this issue, the first of two parts, Otto sets his sight on the new Hobgoblin.
Dan Slott (W), Humberto Ramos (A) • Marvel Comics, $3.99
– Levi Hunt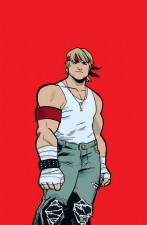 Burn the Orphanage Born to Lose #1 (of 3)
Image Comics' Burn the Orphanage: Born to Lose makes its debut with the over-sized first issue of this three-part limited series. Our protagonist is Rock, an orphan bent on avenging the destruction of his childhood home. Together with his friends Lex and Bear, Rock sets out to bring those responsible to justice, but as you might have guessed, justice won't come easy.
Inspired by 1990s side scrolling games like Street Fighter II and Streets of Rage, Burn the Orphanage is co-written by Daniel Freedman (Undying Love) and artist Sina Grace (Books with Pictures, Not My Bag). A creator-owned tale of the all too familiar revenge story persuasion, for sheer beat 'em-up video game nostalgia, Burn the Orphanage can't be beat.
Daniel Freedman, Sina Grace (W), Sina Grace (A), John Rauch (C) • Image Comics, $3.99
– Evan Henry