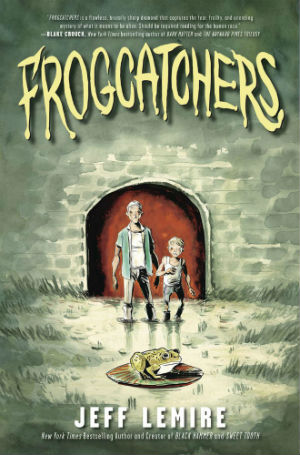 A young boy spending a hazy summer's day collecting frogs in a tin sets the scene for Frogcatchers, Jeff Lemire's new graphic novella from Simon and Schuster imprint Gallery 13. It's a seemingly ephemeral sequence but it's one that will hold great significance as it merges into the wider mystery of this haunting journey into one man's psyche.
Waking in a strange hotel with no idea how he arrived there, an older man finds the eerie structure is abandoned and he is its only guest. An early encounter with the frog-catcing lad both elucidates and confuses matters as forbidden rooms and underlying secrets come to the fore. What is the nature of the sinister Frog King and his operatives who menace the duo? What is the truth behind the Edgewater Hotel? And just why is the old man trapped within this frequently fantastical and yet simultaneously often mundane reality?
To talk in depth about the twists and revelations of Frogcatchers would be an inappropriate way in which to discuss a book that the audience relates to on a strikingly symbolic and representational level. It's a story that reveals itself gradually to the reader without exposition but through Lemire's dreamy pacing and visual metaphor. In that regard our connection to the protagonist is perhaps more immediate, more immersive, than the careful character studies we have become more accustomed to from Lemire in recent years, whether that be in the overt super-heroic fantasy of Black Hammer or the more down-to-earth magic realism of Royal City. But the almost freeform narrative approach here suits the story's premise and themes, as we find ourselves pondering on our own mortality and the transitory nature of existence in solidarity with the central character.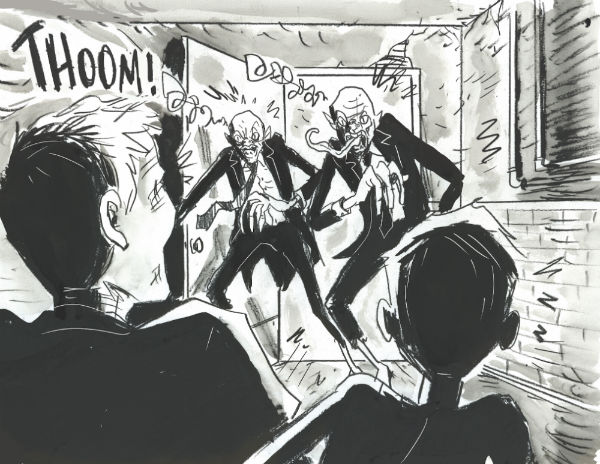 Lemire's looser, rawer art here and very limited use of colour is highly effective in creating a sense of the disconcerting and the detached but conversely also emphasises feelings of the familiar and the universal in its protagonist's plight. There is much here that is in the reader's own remit to piece together and discover for themselves and, while Frogcatchers may feel slight in plot on a first reading, there's something recognisably existential in the pages of this allegorical graphic fable that will ensure constant revisitation and rediscovery.
Jeff Lemire (W/A) • Gallery 13, $22.99
Review by Andy Oliver