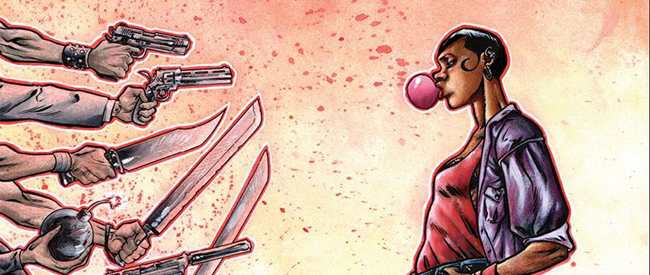 In the energetic, enjoyable opening issue of Mystery Girl, Paul Tobin and Alberto Alburquerque introduce us to Trine Hampstead – a feisty young Londoner with a very special gift and a taste for adventure.
Writer Paul Tobin and his collaborator (and wife) Colleen Coover have been sweeping up the kudos over the last couple of years for their all-ages crime series Bandette. In his new print project for Dark Horse, with artist Alberto Alburquerque and colourist Marissa Louise, Tobin offers a different take on a similar theme, with another tale of a capable and resourceful young woman in an 'exotic' city.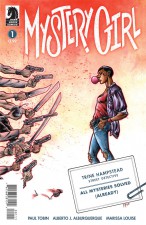 The Mystery Girl at the heart of the book is one Trine Hampstead – a young Londoner with the ability to answer intuitively any question put to her. Running her business from a deckchair on the pavement, her business card spells it out: "All mysteries solved (already)".
However, Trine lacks the same sort of clarity about her own life. In fact, most of it is lost in a fog of amnesia, apart from a vaguely remembered meeting at a party and her subsequent awakening with her gift.
The plot steps up a gear with the arrival of an academic who wants Trine to help her solve a decades-old mystery. And, as Trine packs her bag for a trip, we find out that she's heading into a heap of danger.
I'm always a bit ready to wince when 'strangers' depict London in comics, but Tobin and Alburquerque (based in Portland and Madrid respectively) don't do a bad job. There are one or two bum notes – the repeated use of 'sidewalk' becomes a bit like a stone in your shoe after a while – but the photo-reffed splashes lay a solid foundation and the creators give the issue enough ooomph to capture something of the city's vibrant energy. And given the possibilities thrown up by the book's high concept, it's nice that they're not scared to keep things at street level – for a while, anyway.
Alburquerque's busy, slightly cartoony art and Louise's colours aren't as easy on the eye as Coover's distinctive work on Bandette, and a couple of female characters in particular strike the occasional unlikely pose. However, as we see her do her thing, Trine herself certainly looks the part as the sassy face of the diverse city. I'm loath to take part in the 'fantasy TV casting' game, but it's very easy to see the stellar Zawe Ashton as our protagonist.
The book's exposition is handled reasonably smoothly; one slightly contrived set-up allows for a bit of back story (and, also, a strangely off-tone depiction of a pole dancer doing her thing), but generally Trine's character is revealed through what she says and does, and the people around her.
Mystery Girl doesn't quite give out the same silky smooth pleasure as Bandette, but this first issue sets up a pleasing balance between a likeable and intriguing character and a whole wide world of adventure. Grab your passport!
Paul Tobin (W), Alberto Alburquerque (A), Marissa Louise (C) • Dark Horse Comics, $3.99