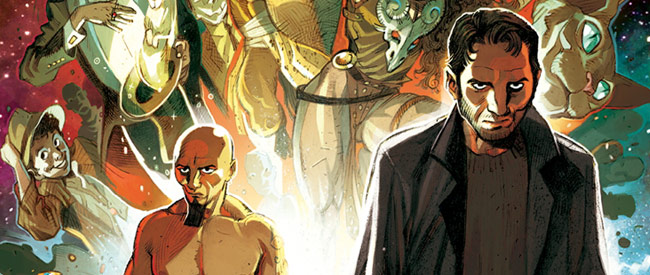 Inside Look is Broken Frontier's director's commentary-like feature in which creators take you behind the scenes of one of their latest comics to hit the stands. In this edition, Fred Van Lente discusses the first issue of his new Dark Horse ongoing series Resurrectionists, a book about people who can not only remember their past lives, but become them.

by Fred Van Lente
Resurrectionists is one of those projects that had a long gestation period. While researching, of all things, a Marvel Adventures Fantastic Four issue featuring Rama Tut, years ago, I came across a passage in a book about ancient Egypt that tomb robbing was a pretty serious profession back then. In those days, there were essentially "Afterlife Assassins" who were robbing and defiling mummies to destroy their clients' enemies in the afterlife.
I developed a version of the series that was set entirely in the past, and I was talking to Vertigo about doing it, but they passed and I set it aside for years until for reasons I don't remember I hit on the idea about incorporating past lives into it, the idea that our world, modern times, was the Egyptian afterlife, and immortality was simply perpetual reincarnation.
With that idea, I realized we could cut back and forth in between the past and the present, which gave the original pitch something it lacked. I pitched it to Dark Horse, they paired me with the amazing Italian artist Maurizio Rosenzweig, and here we are! Doing an "Inside Look" for the fine folks at Broken Frontier.
Cover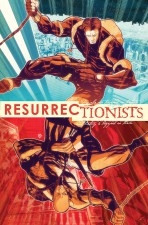 The Dark Horse design team is amazing. Take a close look at the logo, and you'll see there's a James Baldwin quote incorporated in it, which neatly sums up the theme of the series.
With that theme in mind, I've chosen to discuss a couple of sequences which introduce the two people who are on that cover, modern-day thief Jericho Way and ancient Egyptian architect Tao…
Page 5
We see Jericho for the first time in 2015, with his partner, Gardner, casing a museum for a job. Maurizio did his best to make Jericho and Tao's facial features somewhat similar — in fact, he modeled them on an Egyptian breed of cat! See if you can't notice the resemblance…
Page 6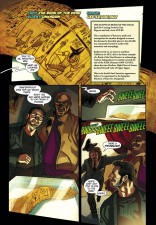 These "loot" tags were something I developed with Super-Letterer Nate Piekos, and will be a feature running throughout the series. I find readers love fun, helpful info-graphics like this.
As we will soon learn, Jericho is a disgraced architect who turned to a life of crime when his employer turned on him. Something he has in common with…
Page 12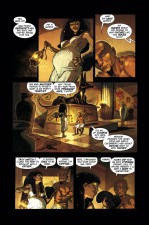 …his past counterpart, Tao. The Egyptians, like all ancient people, were fascinated with dreams and believed them to be portents of the future, so here we cleverly foreshadow that Tao knows about his future counterpart Jericho Way, as Way has started to dream about Tao.
And the Egyptians really were obsessed with wigs. They were mandatory fashion accessories for men and women.
Page 13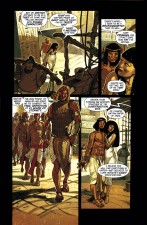 This scene takes place in Deir El-Medina, the "Tomb Workers' Village" across the Nile from Thebes, in the Valley of the Kings, where most of the nobility kept their tombs for thousands of years. For reasons that will become obvious shortly, the rich were completely paranoid about protecting the secrets of their resting places, so Deir El-Medina was, in essence, an internment camp into which the workers were locked after their work was done, so they could not share what they knew with the outside world.
Page 14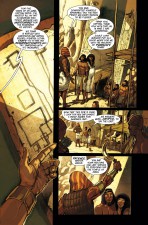 Once an upper class person attained a certain station in life — got married, got named to an important political office — they were expected to start designing and building their "House of Eternity," or tomb. Think of it like starting a 401(k) or retirement fund … except one that was supposed to last forever.
"Resurrectionists" is actually an old-timey English word for grave robbers, which I stole (no pun intended) from a screenplay Dylan Thomas wrote about the famous 19th century cadaver-stealers Burke & Hare. The ancient Egyptians never used it (to my knowledge).
Page 15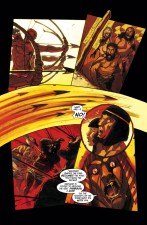 Maurizio did his usual amazing job with this page. I love the way the arrows bend as they streak, which really accentuates the horror of the scene.
Do Tao and his wife die here, and how can Jericho Way avenge them in the present? How do these two lives reach back through the gulf of time to help each other? You'll just have to get Resurrectionists #1 to find out!
Resurrectionists #1 is out now from Dark Horse Comics.