Smoke/Ashes boasts not one but two truly great full-length stories of despair and murder-for-hire in a dystopic future Britain.
With this 250-page monster of a trade paperback, Dark Horse Comics presents a reprint of writer Alex de Campi's dystopian tale (or, more accurately, duo of tales), focusing on the young and eager reporter Katie Shah. The first half of the book, Smoke, kicks things off.
Thrust into the middle of a pro-obesity terrorist takeover in the heart of downtown London that is secretly part of a corporate plot to seize control of the world's petroleum trade (yes, you read that right), Katie quickly finds herself in over her head. Her typical investigations into political corruption get her in enough trouble as it is, but now, behind the lines of the Right to Beauty Brigade, more than just her job is on the line, and the smallest of mistakes could blow her cover and cost Katie her life.
Meanwhile, Rupert Cain, an assassin for the Ministry of Defence, is investigating the death of a friend. When the man's untimely demise turns out to be more than mere coincidence, the trail of breadcrumbs leads back, unlikely as it may seem, to the ever-growing OPEC conspiracy, and Cain rushes in full-tilt to find the truth and deal out justice to those responsible.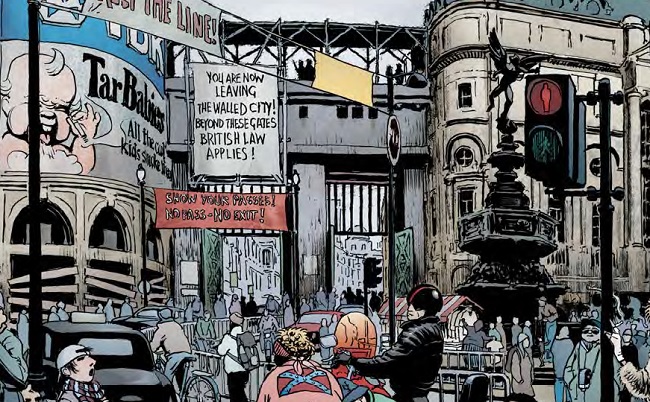 Igor Kordey's art weaves a richly detailed, thoroughly emotive tapestry, emphasizing the human angle of the story and keeping the narrative going when exposition or protracted dialogue scenes may have otherwise bogged it down. His style is consistent in a way that some might (wrongly) label generic, using uniform line weights and even shading to bring out the details of a scene. Rather than making the comic feel dull, though, this adds a stability to the book that might have otherwise been lacking, smoothing over the transitions from scene to scene and from character to character.
Ashes, a sequel to Smoke funded via a Kickstarter campaign in 2011, follows with many of the same themes, but outdoes its predecessor on the art front, boasting a line-up of illustrators that includes such industry big-names as Colleen Doran, Bill Sienkiewicz, and Finder's Carla Speed McNeil. Five years later, Cain and Shah have found themselves pulled into an entirely new scenario, one which might mean the end of the world itself.
The world of Smoke is bleak, run-down, and decidedly not of the sci-fi persuasion, on the whole. All that changes in Ashes, when a military computer program goes rogue, threatening to wreak havoc with the world economy. This is an enemy that is simultaneously intangible and omnipresent, a situation that stretches both Cain's simplistic shoot-'em-up solutions and Katie's journalistic sensibilities to the limit.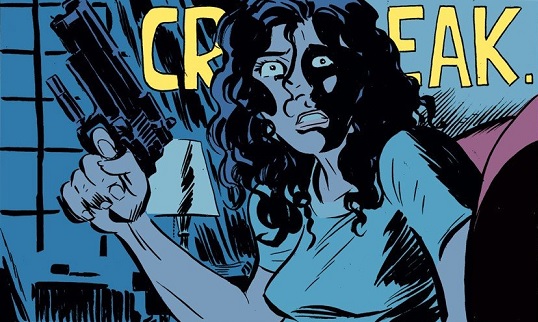 The art here represents a myriad of styles that nonetheless blend perfectly to complete the world of these two stories. When Ashes switches artists, it can sometimes take a while for the reader to adjust to the new look, but the transition is never jarring in the way some books with multiple artists can be.
Whether in Smoke or in Ashes, de Campi has crafted a densely structured narrative, packed with intrigue and misdirection from beginning to end. In her characterization and dialogue there are echoes of past British works like V for Vendetta and Transmetropolitan, but de Campi's world is anything but unoriginal. With the writing and the art working together in a way rarely seen in modern comics, there is no doubt that both Smoke and Ashes rank among the best-executed independent comics in recent years.
Alex de Campi (W), Mack Chater, Alem C'urin, Colleen Doran, Alice Duke, Tim Durning, R. M. Guera, Jesse Hamm, Igor Kordey, Dan McDaid, Carla Speed McNeil, Richard Pace, Bill Sienkiewicz, James Smith, Milton & Felipe Sobreiro (A) • Dark Horse Comics, $29.99, September 18, 2013.