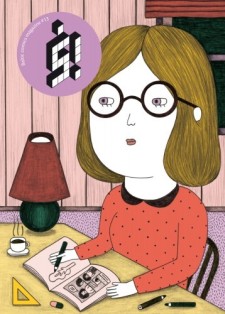 Founded in 2007, the aims of Latvian publisher kuš komiksi are twofold: to provide a showcase for the art form in a country with little tradition in comics, and also to promote the work of Latvian creators abroad. Their print projects take the form of the rather economically titled anthology digest-sized comic š spotlighting the work of a host of international creators each issue, and their minicomic-style mini kuš! giving individual creators a chance to shine.
The latest kuš anthology –  š! #13 – has the loose theme of "Life is Live", allowing its contributors to take on the slice-of-life comics strand with approaches that range from the strictly autobiographical to the weirdly representational. Anyone who's been following this column since its inception back in 2011 will know I have a particular fondness for this form of graphic storytelling; the openness and honesty that is an intrinsic part of a good autobio tale often leading to an intimacy between author and reader that is rarely replicated in other comics genres.
š! #13 is a delightfully eclectic collection of shorts with a truly global feel: nearly thirty offerings from creators and countries in Europe, South America, North America and Australasia. Some of these are incredibly brief; more throwaway moments than stories but presenting often seemingly inconsequential, yet resonant, scattershot glimpse into the lives of others is often the joy of this type of narrative. I'll attempt now to show just how varied the comics included here are in both content and style by mentioning just a few of my favourites.
One of the true standouts of #13 is Italian artist Bianca Bagnarelli's subtly hued 'January the First' that looks at the aftermath of a New Year's Eve in a story focusing on trust betrayed for thoughtless cruelty. Diametrically opposed to that, and underlining the diversity of material available in any given edition of a kuš comic, is the wonderfully gross-out humour of 'Snot Dome', Ian Andersen's tale of nasal mucus gone awry.
Ana Albero's '2012', Bianca Bagnarelli's 'January the First' and Mexican artist Ines Estrada's tale of a childhood encounter with a jellyfish in 'Aguamala'
I was also rather touched by Spain's Ana Albero and her look at living with agoraphobia in '2012' and Argentina's Berliac provided a haunting 6-pager combining prose and single illos that I can say no more about for fear of spoiling beyond saying it is absolutely chilling in its execution. And Anna Vaivare's 'Awkward Goodbyes' is a perceptively witty look at the clumsiness of social mores (below right).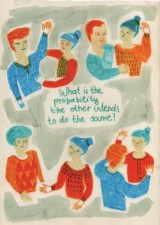 What really impresses me about about š!, though, is just how much of a platform it is for international artists to emphasise the infinite possibilities of the medium. Latvia's Anete Melice, for example, uses the premise of forgetting your PIN number to present a stream-of-consciousness trip through the memory that could only work on the comics page. It's the same with fellow Latvian Karlis Vitols whose 'Ikarls' is a essentially a metafictional slapstick gag that plays with the confines of the comic strip to great effect.
If you haven't investigated the output of kuš komiksi to date then I can't recommend their back catalogue highly enough (and I guess I should underline all these books are in English!). It's a great opportunity to become au fait with the work of creators from across the world whose art you will almost certainly be unfamiliar with. Pick up this latest anthology as a taster and I guarantee you'll be scouring their website for more kuš and mini kuš on a regular basis thereafter!
Find out more about Latvia's kuš comics on their website here and visit their back catalogue at their online store here.