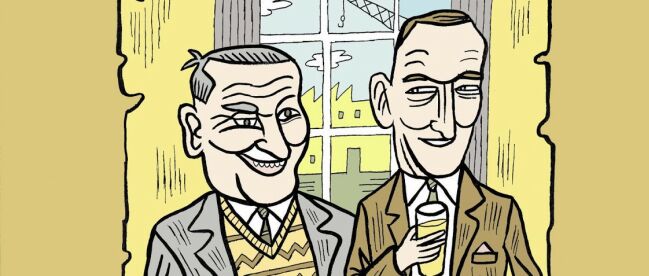 Knitting with Coalsmoke collects a selection of the "pleasantly musty" strips of John Bagnall – small press veteran of the heady 1980s days of Escape and Fast Fiction – and comprises self-published work originally published over the course of the last decade. Bagnall's art is currently on show at the Comics Unmasked exhibition at the British Library and he will also feature in the Mammoth Book of Cult Comics, edited by Ilya, due out at the tail-end of 2014.
The first word that comes to mind when discussing Knitting with Coalsmoke is "quirky" but, in many ways, that much over-used term seems a woefully inadequate description of the quietly idiosyncratic work on offer here. Bagnall's world is one that is slightly removed from our own – a Britain that positively embraces our regional foibles but existing in some indistinct and nebulous timeframe fifty or so years behind our own.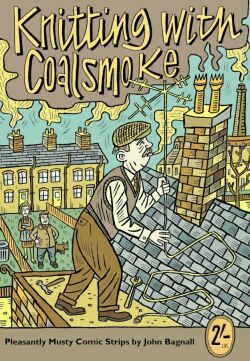 These vignettes of provincial life offer a knowingly romanticised view of the quaint and the oddball – bizarre customs, tall tales and observational humour are all favourites for Bagnall's understated wit. The opening four-pager 'Police Bottle', for example, is an account of an old-time pharmacist's remedy for colds in Northern pit villages, the primary constituent of which was morphine. It's a strip that showcases the way so much of his work revolves around a disappearing cultural landscape and seems to be attempting to record that for posterity. Similarly, a later entry 'Dad's Eye' celebrates those family stories passed down the generations (and no doubt embellished along the way) recounting the loss an ocular organ to darkly comedic effect.
Interspersed throughout the (marginally) longer work Bagnall gives us an eclectic mix of retro trades posters, random fun facts, visual representations of British idioms, tales of old school comedians and reflections on industrial life. In that regard this is very much a collection that transcends the sum of its parts. In isolation many of these strips would seem slight and inconsequential but together as a compilation they become something far more splendid – a tribute to British eccentricity both real and imagined, well served by Bagnall's angular cartooning with its evocative echoes of chronological displacement.
Bagnall's gentle mocking ranges from the silliness of aspects of organised religion, to rites of passage, through to long-held British traditions. All are sent up but with a genuine fondness that makes the whole exercise seem rather endearing in execution and utterly impossible to take offence at. To give one example, the newspaper-style strips, while knowingly funny in delivery, dress up the absurdity of their subject matter in an unflappable earnestness. Bagnall is no fool when it comes to underlining the ridiculous and the nonsensical that can sit at the heart of "everyday life", realising that often playing it straight is the best way to carry off the ludicrousness of the situation.
I suspect that these distinctively British anecdotes, remembrances, and tales of regional wisdom may well be most appreciated within the confines of these shores but there's something really rather jolly about Bagnall's propensity for cataloguing in comics form the particular peculiarities of our customs and heritage. One of those books that will have you online the instant you have finished it looking for more examples of this unique creator's approach to the form.
For more on John Bagnall's work visit his blog here. You can buy Knitting with Coalsmoke online here priced £5.00.