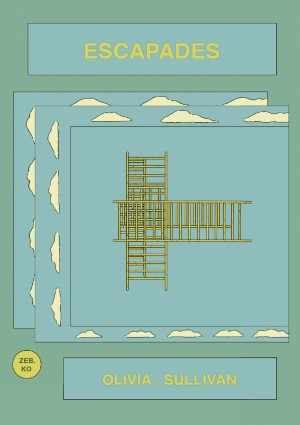 In my most recent interview with artist Olivia Sullivan (one of our 2017 Broken Frontier 'Six to Watch' creators) she spoke about her creative process, explaining that her inspirations for her work "comes from either a random word I wrote, or a short story I had while being half asleep." Earlier this month, in a comprehensive profile of her practice to date, I repeated my belief that her "importance as one of the contemporary pioneers of the UK indie comics scene should not go unrecognised."
What's so exciting about Sullivan's abstract comics is that they continue to challenge our definitions of sequential storytelling, interrogate our understanding of page structure, and constantly ask us to reconsider our perception of both the form's between-the-panels reading comprehension and its boundaries.
At nearly 30 pages her latest comic Escapades is one of her longest offerings to date and is a return to the alt comics practice she has, perhaps, become most renowned for in the years since she burst onto the UK small press scene in the pages of anthology Dirty Rotten Comics. Described as a "visual poetry exploration" it follows a similar line in experimental stream-of-consciousness to her short comic Muscle Memory from 2018.
There's narrative here but it's an oblique narrative, and it's in that ambiguity – that need for a more studied and intense interaction with the page – that the essential appeal of Sullivan's comics lies. Lyrical narration accompanies a procession of  imagery that encompasses both the mundane and the symbolically majestic, as parallel explorations both literal and thematic unfold across the pages.
Fragmentary depictions of a camping trip run into a visually metaphorical sequence that has echoes of Moebius; inner monologues embrace both the actual and the conceptual; and allegory and reality are constantly juxtaposed. What always intrigues about Sullivan's approach is the knowledge that authorial intent does not take precedence over reader interpretation; that what we take from the page is as valid as what Sullivan brought to it. It's the reactions that her careful use of language and the considered rhythm of her inextricably interlinked yet superficially disparate procession of images evoke in us that become paramount.
The relationship between text and art here is a far more complex one than a traditional comics narrative could hope to accomplish then. Our instinctual responses to her ever shifting page compositions being as crucial a part of the experience as the haunting, fractured monologue that accompanies them. A journey and its related passage of time can be represented in slivers of observed moments and the detritus of its passing, while scattered thoughts that begin with the memorable line "The subtle violence of an open invitation…" are expressed visually with an emblematic collection of ideas.
Escapades is the perfect embodiment of the evolution of Sullivan's work over the last few years for those wishing to investigate her comics for the first time. With every new comic she continues to remind us that we have only so far scratched the surface of what the language of sequential art can achieve in terms of communication and conceptual representation. The joy of an Olivia Sullivan comic is not simply that the reader can take their own meaning from its pages but that they can continue to take multiple meanings from it on each re-reading. In her own quiet way she continues to push the boundaries and possibilities of this medium with considered invention and an intuitive grasp of its possibilities that is spellbinding in its abstract execution. It's time that contribution was recognised by a far, far wider audience.
Follow Olivia Sullivan on Instagram here and on Twitter here. For more on her work visit her website here and you can buy Escapades from her online store here priced £8.00.
Review by Andy Oliver