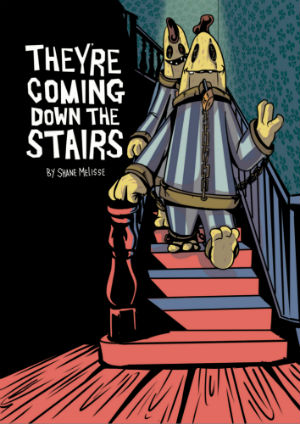 THOUGHT BUBBLE 2019!
It's Halloween and Megan is trick or treating with her younger siblings Andy and Luna, with the three of them showing varying degrees of enthusiasm for the festivities. When they stop at an Addams Family-esque creepy mansion the trio are invited in by the seemingly kindly old lady who lives there. But they soon find themselves trapped in the environs of this bizarre structure being pursued by the woman's sons whose Halloween garb just happens to resemble two giant bananas in pyjamas from a certain favourite children's song…
Shane Melisse's seasonal comedy horror story combines a familiar spooky narrative framework with incongruously unsettling imagery in what is arguably his most assured piece of storytelling to date. It's a darkly witty affair full of jumps and twists as the banana duo hunt down their prey and the children look to outwit them with the aid of an unlikely ally whose role in the story will help reveal hidden secrets and the dark truth behind what is really going on.
Melisse's colouring choices are always carefully made to enhance the tone, theme and atmosphere of his comics (see The Knight and Shane Faced: True Made Up Stories for notable examples of that) and They're Coming Down the Stairs is no exception. Colour switches from the dank to the lurid to match events, with visual characterisation contrasting the sinister qualities of the old woman and the wide-eyed innocence and desperation of the kids to great effect.
While the story itself is perhaps not the most original in terms of its antagonist's motivations (and an almost Scooby-Doo-style expository denouement) it's the sight of the goofy, ludicrous and yet somehow still terrifying "banana brothers" chasing their quarry throughout the house that proves to be such an unlikely visual winner. In terms of plot structure and the rhythm of his storytelling this is undoubtedly Melisse at his most creatively confident.
Review by Andy Oliver
You can buy Shane Melisse's comics from his online store here and follow him on Twitter here.. Shanefaced will be exhibiting at Thought Bubble 2019 in the ComiXology Originals Hall at Table 198A. 
For regular updates on all things small press follow Andy Oliver on Twitter here.