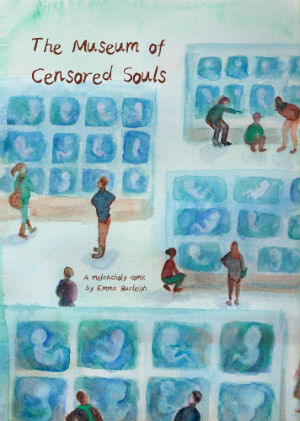 THOUGHT BUBBLE 2019!
In 2018 Emma Burleigh won the first Laydeez do Comics Prize for her graphic-memoir-in-progress My Other Mother, My Other Self, an excerpt of which I reviewed here last year at Broken Frontier. In Burleigh's own words the project is an account of meeting her birth mother for the first time and "the story of how I found her and how our relationship unfolded." Brutally honest and framed in a dreamy visual style, that sample chapter was indicative of a burgeoning talent deserving of far wider exposure.
This year at Thought Bubble, Burleigh will be debuting a new short story. The Museum of Censored Souls is a continuation of the explorations of My Other Mother, My Other Self in minicomic format. Interlinking points in time, it centres on a visit Burleigh made to the Foundling Museum – the London location of the former Foundling Hospital established in the 18th century by Thomas Coram – and juxtaposes the plight of the parentless children who once lived in its environs with Burleigh's own journey of self-discovery regarding the mother she met for the first time in adult life.
The parallels are multi-layered. Forty years previously Burleigh's mother had walked the museum's halls when pregnant with her; something that echoes through the decades and becomes all the more resonant for her own feelings of connection to the long-gone foundlings, with whom she shares an obvious empathetic bond. It's an understated but poignant piece of storytelling with its reflective themes of abandonment, identity and belonging working in perfect chronological symmetry and culminating in a crushingly powerful denouement.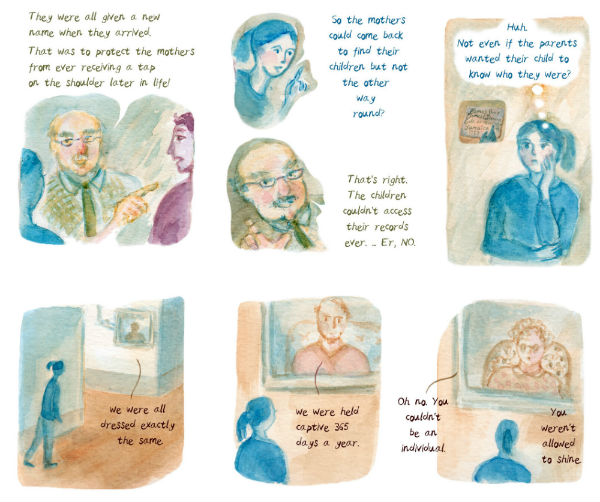 There are essentially just a handful of pages of narrative here but Burleigh's crammed but never regimented page structures ensure an intricate and intimate relationship with the reader; her delicate use of colour complementing the tone of the piece with the now established fragile, often impressionistic qualities to her art. Burleigh's Laydeez do Comics involvement and upcoming book from Liminal 11 underline her growing presence on the indie scene but those following this very personal project in its various iterations will no doubt be hoping to see it appear in a full-length incarnation sooner rather than later. The Museum of Censored Souls may be a melancholy comic, as Burleigh puts it, but it's also one that is captivating in its deep and quietly potent emotional resonance.
Review by Andy Oliver
For more on the work of Emma Burleigh visit her site here and follow her on Twitter here. You can find her online store here. Emma will be exhibiting at Thought Bubble 2019 in the Ask For Mercy Hall at the Gnash Comics Table 159.