A loving homage to the Japanese Kaiju mega-monster genre of science fantasy, Tobias Hamilton and Shane Melisse's The Last Kaiju (published by the Ishan Comics imprint) nevertheless manages to surpass simple retreading of its source material in this uncomplicated but stunningly realised ecological parable.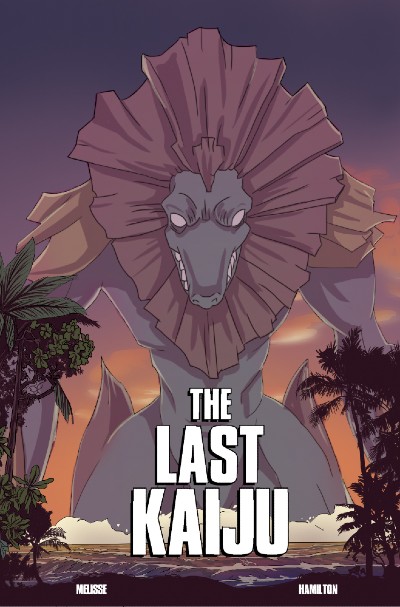 Following the life of the last extant Kaiju – for those new to the term it encapsulates the likes of Godzilla and the Pacific Rim movies – writer Tobias Hamilton and artist Shane Melisse follow its story across the millennia, through its cycles of hibernation and re-emergence. But when this giant reptilian entity awakens in contemporary times its horror at the way in which humanity has destroyed the environment is the catalyst for a battle between homo sapiens and the prehistoric behemoth, with the very future of the planet at stake.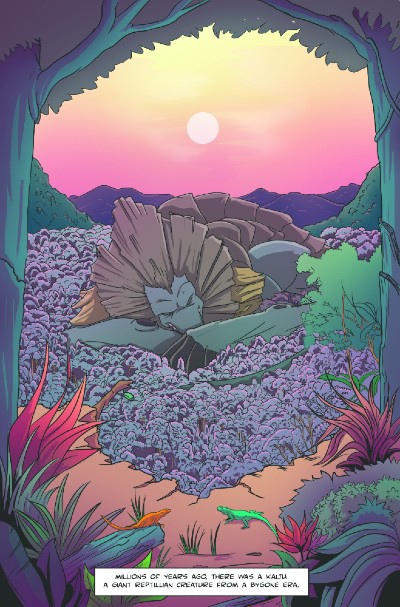 Told in single page illustrations (there's just one sequential page here) with minimal text The Last Kaiju is arguably the finest showcase for Shane Melisse's art yet. We've covered a number of Melisse's comics over the years including The Knight, Shanefaced and They're Coming Down the Stairs and his output is always notable for its multi-genre approach. Here, though, every page is a story in itself with each gorgeous composition rendered in colours that burst with vibrancy, perfectly contrasting the primal world's savage beauty with humanity's reckless exploitation of the globe's natural resources.
This isn't a complex morality tale but it is a striking one and while the story does suffer from occasionally stilted dialogue it also gives free rein to Melisse who is clearly having a ball bringing this force of nature to the page. A fun and diverting read that is a testament to the maturation of Shane Melisse's visual storytelling.
Review by Andy Oliver