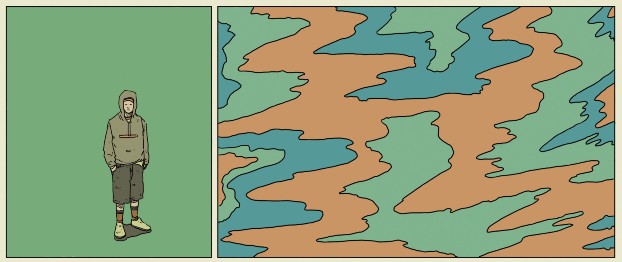 A new feature for Fridays today at Broken Frontier! At the end of each week we will be running a spotlight profile on an artist we believe deserves far more attention, alongside links to their social media accounts so you can follow their practice further. Today we begin with a creator whose importance as one of the contemporary pioneers of the UK indie comics scene should not go unrecognised. Olivia Sullivan is a graduate of the University of the Arts London and the RCA, and also one of our Broken Frontier 'Six to Watch' creators from 2017. Let's take a look at the evolution of her illustrative style and don't forget to give her a follow on Instagram and Twitter via the links at the bottom of this article…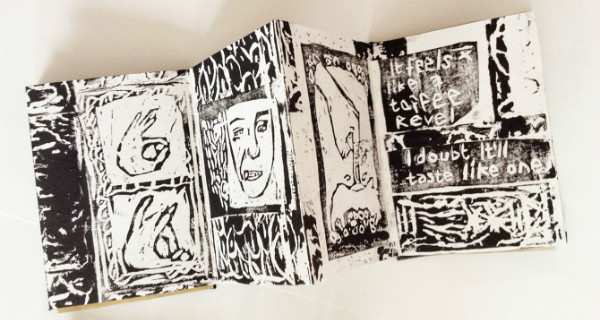 I first discovered Sullivan's comics way back in 2015 when she was using the pseudonym "Zen Bucko". From the outset it was obvious that here we had an emerging talent who was unafraid to experiment with the form in terms of presentation, as in the linocut zine Exponential Growth (above) or in her broadsheet newspaper format-style adaptation of a Nikolai Gogol story The Nose: Uncovered and Annotated (below).
It was something Sullivan touched on in a 2017 interview at BF, saying of those early approaches: I think format can be overlooked in comics, because mainstream comics have this particular look and feel to them, and books for the most part have the same components. To me, comics do not necessarily belong in books, which is what my interest is in at the moment – getting out of the format entirely and seeing how it can work.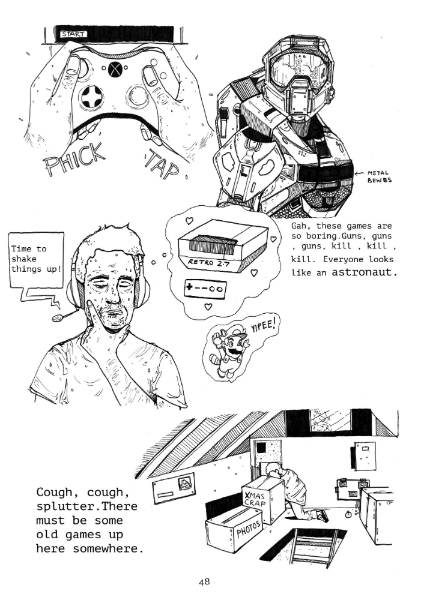 For many readers, though, it will have been her contributions to the much-missed inclusive anthology series Dirty Rotten Comics that will have afforded their first glimpses of Sullivan's work. While, admittedly, her DRC short strips are rawer in their storytelling in relative terms (as in 'Greed' above), the foundations of the voice she would eventually find are still very evident.
It was in 2016 when that promise became something far more concrete when Sullivan self-published another of those early works, I Drank Holy Water, a bleak, stream-of-consciousness, autobiographical account of growing up in the shadow of organised religion, with a graphic medicine colouring.
I said of it then: If such a thing can be said to exist then it could be argued that [Sullivan]'s art has a strangely caricatured realism to it – a distorted verisimilitude that echoes its dark and very personal monologue. Her use of language is equally notable in bringing the reader into her mindset. "It is musty in the church. It smells of dead people. It clings to the hairs in my nose" she recalls in the early sequences. That direct bluntness acting in stark contrast to the lyrical explosion of the final chapter; both mirroring the tone and mood of their respective sections.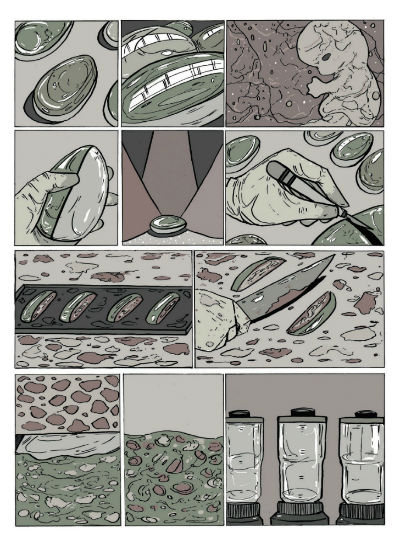 I Drank Holy Water was the comic that led to me selecting Sullivan as one of our 2017 Broken Frontier 'Six Small Press Creators to Watch'. It would be a huge year for her with more work in Dirty Rotten Comics 'Brave New World' (above) and her debut longer-form offering SID from Good Comics (below) seeing further evidence of where her work would go in terms of the oblique, the abstract and her own unique brand of visual poetry.
I described SID (above) as "an intense, sprawling, psychological journey through a fractured mindscape from a truly unique new voice on the UK indie scene" when I reviewed it in 2017, also making it my 'Comic of the Festival' for Thought Bubble and speaking very positively of it on the 'Best Thing I Read This Year' panel I sat on at the festival that September.
The story of the unemployed, delusional Sid and his strange interactions with (and perceptions of) his environment was at the time her most ambitious project to date. Sullivan spoke at greater length about its premise and aspects of the story's setting with us in 2017 at BF saying: SID was partially inspired by Plato's Cave allegory. SID is seeing glimpses of real truth through visions of The Blue Lagoon and The Forest, the cave is his given 'reality' which has deemed him unstable for things that are totally worthy of being driven crazy about: meaning, social status, routine etc. That is essentially fiction, human constructs are insignificant. So, SID is for those outside the cave who want to explore things other than what they are usually presented with, which in this case is the optimism of nihilism.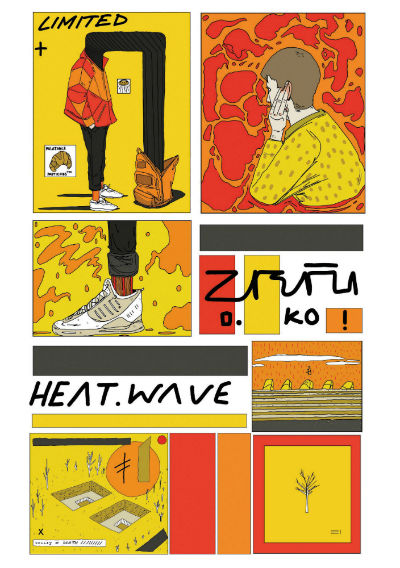 As a 'Six to Watch' creator Sullivan was part of our 2018 showcase Broken Frontier Small Press Yearbook with her story 'Nazareth' (above) being an excellent example of the way her practice had by now evolved into a kind of abstract visual narrative, asking the reader to interact with the page on a far more instinctual level. Her 2018 collection Muscle Memory (below) would continue in this vein.
When I reviewed it at BF I said: Comics [as a form], as we know, relies heavily on the reader's interpretation and an ability to fill in the gaps between images for themselves. What Sullivan does is to take that a step further; to ask us not so much to interpret what's on the page as to immerse ourselves within it, to respond to it on a more multi-sensory level rather than the purely visual. It's a visceral experience. These are comics that you feel as much as you read; the reactions they evoke in the reader of far more importance and relevance than the search for fragmentary understanding.
Last year Sullivan got recognition in the wider arts world when she was shortlisted for the Association of Illustrators World Illustration Awards. Her piece  'Old North, Isle Rocks' (above and below), was a psychogeographical exploration of her connection to Cumbria. It consisted of a "comic panel animation'" within an installation that included  Kendal Mint Cake sculptures alongside wooden designs of lambs, and pagan symbols.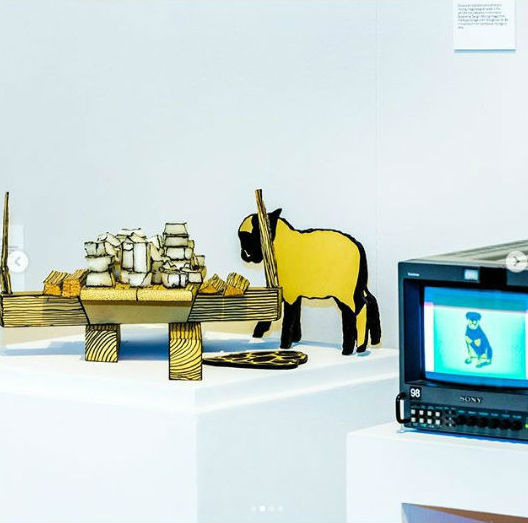 © The Association of Illustrators, 2019. Photography by Cristina Schek
2019 also saw Olivia's residency in Japan as part of the Air 3331 exhibition (below). In her most recent interview at BF she spoke again about her inspirations: My process of creating comics comes from either a random word I wrote, or a short story I had while being half asleep. I write them down and start thumbnailing a rough comic. I find it much harder to decide what 'type' it is going to be, e.g. full colour, digital ink.
Last year saw a return to more obviously sequential narrative in the pages of the self-published Fried Milk Vol. One, (below), of which she said: "Fried Milk is a short comic that introduces more sequence into my work, while still maintaining some experimental approaches. It is the first part of an adventure wanderer story, where the main character finds themselves in an isolated place to seek an ambiguous item. I plan on further instalments of the story, and from there perhaps collate it into one book, or series of storyboards to animate. Although, I see it remaining as single volumes in regard to print, as I want to keep my comics affordable and accessible.
Indeed at just £1.00, Fried Milk was an incredible bargain buy last year. When I reviewed it I said: Like much of Sullivan's work there's a tantalising obliqueness that gnaws at the edges of the reader's comprehension here; one that constantly draws us back to read and re-read in piecing the narrative symbolism together. Olivia Sullivan remains a creator unafraid to challenge her readers and motivate them to interact with her pages on the most intricate and intimate level.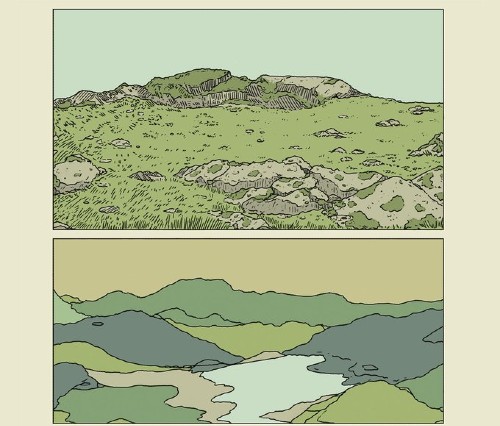 Olivia has recently been posting many tantalising glimpses at comics WIP on social media including the images above and below, and has promised new work coming to her online store soon.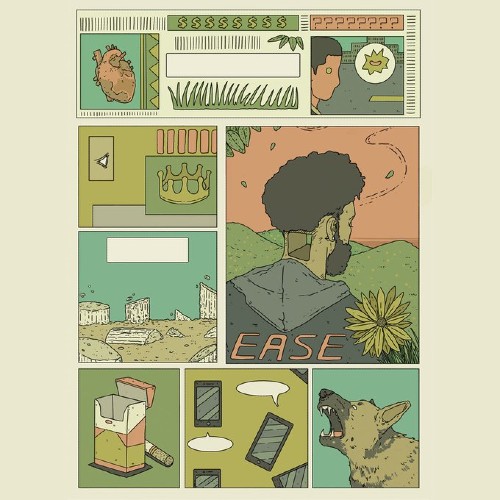 As I've said before at Broken Frontier, Olivia Sullivan is part of a growing movement in UK indie comics who are genuinely pushing the medium into entirely new and unexplored narrative territories. I hope this brief taster introduces more readers to her back catalogue and inspires them to investigate further. Make sure to give her a follow on Instagram here and on Twitter here, and for more on her work visit her website and online store here.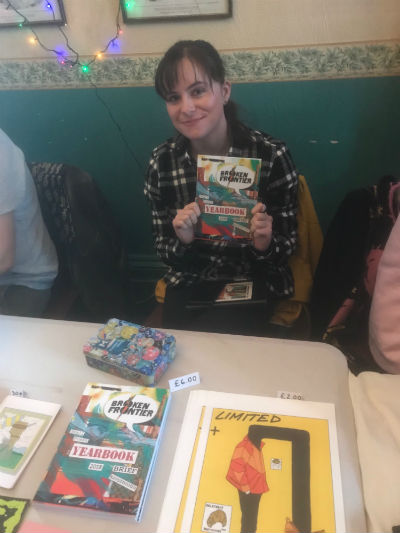 Feature by Andy Oliver