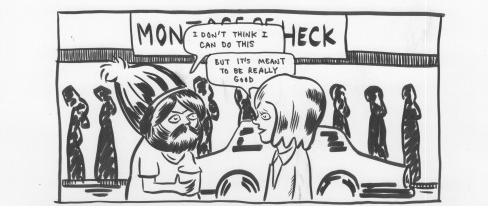 A SAFARI FESTIVAL TIE-IN!
"This was the Nineties. Music wasn't considered free and we played our purchases until they worked for us."
Around a year ago I covered Babak Ganjei's Roadhouse hardcover here in 'Small Pressganged'. I mention it again now because it's a prime example of the artist's unrepentantly idiosyncratic approach to his work… as anyone who follows his always entertaining social media feeds will attest to.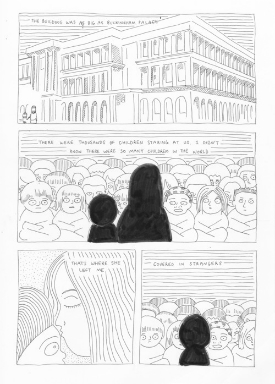 Roadhouse was a bizarre re-imagining of the Patrick Swayze movie of the same name that took around 200 key images from the film and re-drew them as individual panels. Each still re-creation had an accompanying caption that could be a biting observational comment on the plot, a line of dialogue from the cult not-so-classic itself, or a quote from anyone from Baudrillard to Richard Pryor. It was, perhaps, as niche in pitch as it was entertaining in delivery, and as much as I enjoyed it I described it then as a book I couldn't pretend would "have universal appeal, or even microcosmic appeal for that matter."
Ganjei's latest comics project is a very different entity indeed and is far more accessible in terms of narrative. Early Learnings is a meandering piece of autobio comics that moves through the decades from 1983 onwards in a non-linear fashion and is tied together by explorations of childhood isolation and his own self-definition through his love of music – from Wet Wet Wet to Nirvana. References to Kurt Cobain as philosophical role model abound throughout, for example. It's self-deprecating and often unbearably poignant in scope but, simultaneously, Early Learnings is also a very funny piece of comics as well.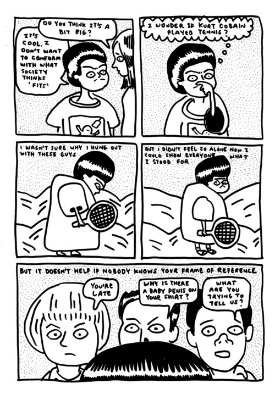 In terms of internal chronology Early Learnings is deliberately disjointed in structure, with a particular focus on Ganjei's childhood years but paralleling them thematically with events in later life. The book's first long-form strip '1983' details the insular young Babak's first day at school and that familiar feeling of incredulity we all felt on initially entering that overwhelmingly terrifying environment. That sensory overload is captured powerfully in terms of both the immensity of these new surroundings visually and also in the evocative narration as Babak's mother drops him off at school for the first time (above right): "There were thousands of children staring at us. I didn't know there were so many children in the world. That's where she left me… covered in strangers."
The world of education becomes a frightening ordeal for our protagonist as he deals with the casual and insidious racism that is part of his daily routine. One of the funniest strips in the book, set ten years later in '1993' (left), deals with his attempts to ingratiate himself with his peer group and break into a closed girls' school to play tennis; his new, billowing, several-sizes-too-big  Nirvana t-shirt leading to social humiliation in a beautifully foreshadowed piece of cringeworthy slapstick.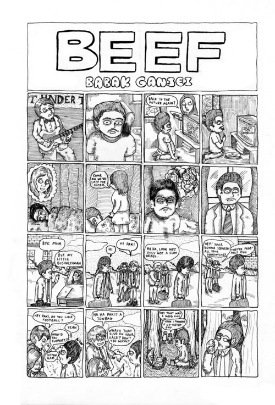 Oblivious parents and more interpersonal calamity are the order of the day in another of Early Learnings's most notable entries 'Dead Poet'. The embarrassment of Babak's schoolyard tormentors being presumptuously invited to a birthday trip to see Dead Poets' Society by his mother and father is compounded by their inappropriately juvenile choice of party bag gifts, his unrequited love, and the indifference of his classmates: "Happy Birthday Fuckface". It would be enough to make any reader squirm were it not for Ganjei's stoic and weary on-page persona dryly accepting every instance of degradation with a blasé passivity.
While Ganjei's visuals are unsophisticated in presentation his panel-to-panel storytelling and, in particular, his comedic timing is excellent throughout, and his expressive visual characterisation pulls the reader fully into his former self's tribulations. Unfortunately there are places, however, where the crammed multiple-panel pages at such a small size means that the art doesn't get the opportunity to breathe that it deserves.
Slice-of-life humour that nevertheless has a tender resonance to it, Early Learnings is one of the most memorable accounts of cavalier childhood cruelty that I've read in comics form.
For more on Babak Ganjei visit his site here. Early Learnings is published by Anti-Ghost Studio and can be bought from his online store here priced £7.00. You can also follow him on Twitter here.
For regular updates on all things small press follow Andy Oliver on Twitter here.
Babak Ganjei and Anti-Ghost Studio will be exhibiting at Safari Festival on August 22nd.