Although, to date, I've covered work from four continents in 'Small Pressganged' Brazil is virgin territory for this feature. For that you have Impossible Books – those fine UK online purveyors of hard-to-find indie and otherwise unobtainable international micropublished comics – to thank. If you are a regular reader of my small press coverage at Broken Frontier, love the worlds of self-published and altcomics, and you haven't checked out their catalogue of comics to date then you are doing yourself a grave disservice…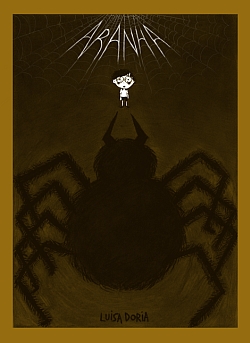 Aranha is part of the Projet Mil books from Brazilian micropress Cachalote. It's a series of comics with a focus on that most difficult of disciplines in the world of sequential art: the silent story. Rafael Baliú and Luisa Doria's 17-page short story examines the ordeal a young boy endures after he discovers an insidious eight-legged presence living in the corner of his bedroom ceiling. Terrorised by this spidery interloper, he quickly succumbs to his fear and becomes a thrall to its malevolent direction.
As the days go by he brings it ever larger offerings  to be consumed in the silkspun clutches of its webby domain, like an act of sacrificial supplication to an awesome arachnid deity. At first the victims are merely small birds and the like but, as the demands of his tormentor increase, so does the gravity of the child's crimes in his doomed efforts to satiate his oppressor's hunger…
Creating an effective wordless comics narrative requires a particular set of storytelling skills. The apparent minimalism of a comic strip told without words being an illusory one adding, as it does, a significant burden on the artist's ability to show and not tell; to communicate emotion and motivation through visual subtlety and not the comfort zone of lengthy, written exposition. Writer Rafael Baliú and artist Luisa Doria show a deft understanding of those requirements in a tale that is slight in plot but magnificently expressive in delivery.
Doria's great visual triumph with Aranha is her capacity to combine the grotesque, the poignant and the darkly witty into one monstrous narrative package. There's a tangible sense of despair about our young protagonist as he falls under the spider's spell; one that intensifies as his tribulations escalate. It sends shivers of wistful recognition down the spine as one remembers those childhood secrets that were so awful in our minds (yet unbeknownst to us so trivial in reality) that we felt we could never unburden ourselves of them to our parents. It's this aspect of Aranha that ensures the reader is fully invested in its central character because, despite the ludicrous unreality of his predicament (there's an ambiguity about the spider's true threat that suggests what we are seeing is a skewed childish interpretation of the actuality of the situation) we can't help but empathise with him.
The sepia-toned pages add another layer of creepiness to this yarn but, make no mistake, this is also a morbidly humorous piece as well. For all the emphasis on childhood terror – and Doria and Baliú are adept at telling their tale from a kid's eye view of the world (Doria's use of perspective employed in a near final double-page spread is sublime in its presentation of the boy's perception of the spider's control over him) – there's something drily droll about Aranha. Especially in the comic's almost casually dismissive denouement…
A macabre evocation of childhood anxieties, Aranha is a gruesomely entertaining and atmospheric short from a creator with an obvious talent for the alluringly melancholic. If you are tempted to investigate further then do think about also checking out the full range of international gems available on the Impossible Books website!
Aranha is still available by mail order from Impossible Books in the UK here priced £5.50.