Jade Sarson's webcomic Cafe Suada – an offbeat, manga-influenced romantic comedy charting the rivalry between Piyo Piyo tea shop manageress Geraldine Grey and Ewan from the next door Dark Moon Coffee House – was one of my picks of 2012 here at Broken Frontier when I described it as "an absolute gem of a strip with true crossover appeal". The very first review of those opening two issues of the print collections of the strip was published right here in this column and since then Sarson has, of course, gone on to far greater acclaim within the UK comics scene. She was nominated in the 2013 British Comic Awards in the category of Emerging Talent and has a place on the shortlist of this year's Myriad First Graphic Novel Competition. That original 'Small Pressganged' tagline of "Unearthing the gems of the small press" was not one that was adopted just for show you know…
When last we left Cafe Suada's eccentric cast of characters we had reached a temporary ceasefire in the hostilities between Gerry and Ewan after a series of ever more desperate attempts to poach customers from each other. Cup 3 of Cafe Suada (as the comic rather endearingly numbers itself) represents a transitional phase for the book as Gerry and Ewan's sparring is pushed to the background and the focus is placed firmly on an expanded supporting cast. Brought to the forefront of the proceedings are writer and customer Lee Vesata – the brother of Piyo Piyo and Dark Moon's owner Cream; bakers Freddie Annpann and Brian Grey (Gerry's brother); Jake Oolong – Dark Moon's new "flair bartender";  and Pu'erh – clumsy Piyo Piyo waitress who appears to have some secrets of her own…
On the one hand this may seem a jarring shift of emphasis and the pacing of Cup 3 does, indeed, suffer a little in places from what feels rather like a rapid staccato burst of character entrances. On the other, however, this fleshing out of the cast allows the comic to evolve from its cutesy but fun adversarial premise to a far more solid ensemble piece. Cup 4 builds on this with a self-contained episode where the entire gang help out Rosette Nucifera, at the Little Nook bookshop after its owner, her grandfather, is taken to hospital. It's an instalment that uses those multi-character intros from Cup 3 as the groundwork for a series of subplots dealing with the crew's inter-relationships, rivalries and romantic attachments, and also adds a couple of extra characters to a now rather sprawling list of players.
The sheer, unadulterated fun of Sarson's writing on Cafe Suada is that the whole package is so unashamedly and unapologetically feelgood in its delivery. Yes, the characters are self-consciously idiosyncratic in conception but in her confident creative hands that charm is never in danger of deteriorating into the twee or the trite. She has a knack of persuading the reader to empathise almost instantly with her protagonists; to present a cast that the audience feels invested in from the outset. From the "will they/won't they?" antics of Gerry and Ewan, to the strangely amiable manipulations of Cream, through to the likeable awkwardness of Pu'erh… the characterisation is so carefully crafted to engage our sympathies that it's impossible not to feel a part of this peculiarly appealing world.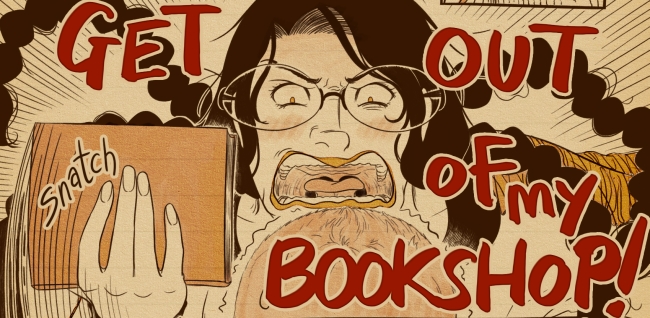 Sarson's command of the medium, though, is the key factor that continues to mark out Cafe Suada as something quite special. This is a book that is replete with playful storytelling devices that could only work in comics: clever page construction, imaginative use of sound effects, cheeky cutaways, the rich tea-stained colouring and an ever inventive array of expressive speech balloons. It's that combination of Sarson's intuitive insight into the mechanics of the comics page with the comic's frenetic but vibrant energy, and the beguilingly good-natured allure of its cast, that ensures Cafe Suada is such a consistently joyous read.
You can read Cafe Suada online here and buy print copies of Cups 1-3 here priced £7.00 each with Cup 4 to be published in print very soon. For more on Jade Sarson's work check out her website here.