This past weekend saw a whole host of events at the British Library as the hugely popular Comics Unmasked exhibition reached its final days. On Friday night Panel Borders' Alex Fitch was in fine form in conversation with Scott Pilgrim creator Bryan Lee O'Malley as a packed auditorium heard the popular artist discussing his past achievements and his recently published new book Seconds from SelfMadeHero.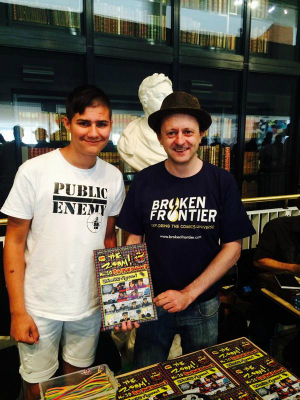 On Saturday, the ever popular Comica Festival Comiket became the very first such event to ever take over the British Library, with the cream of British indie creators and publishers on show over three floors of the space (right – Broken Frontier Managing Editor Andy Oliver picks up his copy of the latest issue of The Zoom with creator Zoom Rockman) . The cathedral-like environs of the BL ensured that there was plenty of room for punters to browse and sample the work on offer and proved a direct contrast to those cramped and difficult to navigate days of the Bishopsgate Institute incarnation of the fair. While post-show conversation did indicate that visitor numbers to tables flowed more noticeably on the lower tiers than it did on the upper one – with a resulting effect on sales – there was a distinctly friendly and relaxed vibe to Comiket with a steady stream of punters circulating around the foyer. And, as is always the case, the social side to this particular comics fixture proved to be as vital as ever with comics creators, commentators and devotees having the opportunity to mingle informally and network afterwards.
On Sunday an entire day was devoted to the programme of 'Comica Conversations'. On the first panel Pat Mills discussed the depiction of the First World War in comics with Beyond the Wire's Alys Jones, To Arms' Karim Iskander Flint and To End All Wars' Sarah Jones. Mills was also on hand later in the day to chat with Dr. Julia Round about the classic girls' weekly comic Misty and to give some exciting news on that front. The first time graphic novelist panel 'New Voices, New Directions' featured, among others, Myriad First Graphic Novel Competition winner Jade Sarson, The Bad Doctor's Ian Williams, and Legends of the Tour's Jan Cleijne, while the 'Sex, Censorship and Sensibility' panel included Robin Ray, Tim Pilcher and Comic Book Legal Defense Fund director Charles Brownstein. A final in-depth interview between Paul Gravett and The Photographer's Emmanuel Guibert completed an excellent and diverse line-up of talks.
Below we bring you a selection of photographs from Comiket and the Comica Conversations, all kindly provided by Dean Simons (with the exception of the final picture). If you're interested in finding out more about Comica events then the festival's website here will keep you up-to-date with all their future plans.
The Myriad Editions table with Jade Sarson, Gareth Brookes and Hannah Berry (left) and Tiny Pencil's Amber Hsu and Golden Campaign's Cristian Ortiz (right)
The Knockabout and Soaring Penguin stands on the left and The Dessinators and their wares on the right
Paul Gravett introducing the Drawing Parade participants including Jade Sarson and Emmanuel Guibert
Bustling punters left, and the splendour of the British Library surroundings on the right
Robin Ray, Tim Pilcher and the CBLDF's Charles Brownstein talk comics and censorship (left) and Ian Williams discusses The Bad Doctor on the 'New Voices, New Directions' panel with Paul Gravett, Jan Cleijne, Matilda Tristram, Jade Sarson and Andrew Rae
Pat Mills and Dr. Julia Round look back on Misty, and Jade Sarson tells the audience about her creative process
Paul Gravett in conversation with Emmanuel Guibert, and Alys Jones signing copies of Beyond the Wire after the First World War panel