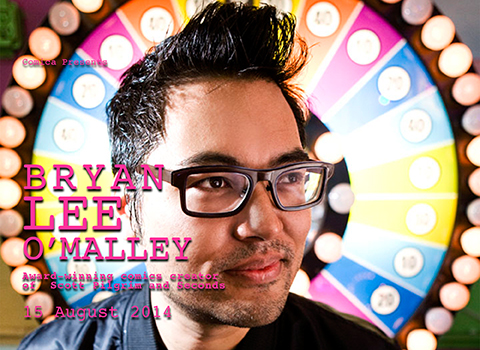 It seems almost redundant to say it given what a declaration of the glaringly obvious it is but for London-based comics aficionados it's been an amazing few months of Comica Festival-related happenings at the British Library since the Comics Unmasked exhibition opened there in May. From Neil Gaiman and Tori Amos through to celebrating the work of European graphic novelists, from looking back on the achievements of venerable British comics institution 2000 AD to welcoming the next wave of exciting UK comics talent at the Myriad Editions First Graphic Novel Competition final, the British Library has played host to a bevy of interviews, panels and events designed to inform, elucidate and entertain on all aspects of the medium.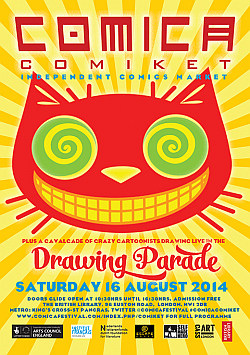 Over August 15th-17th the festivities will draw to a close with the Comica Festival weekend and what a finale we're promised! Understandably, appearances from Scott Pilgrim creator Bryan Lee O'Malley and The Photographer's Emmanual Guibert will be the highlight for many but for those old enough to remember an era of newsagent shelves stuffed to overflowing with British weekly comics then Pat Mills interviewing Misty illustrator Shirley Bellwood also represents an unmissable opportunity to recapture the eerie magic of the cult 1970s supernatural comic.
From a purely Broken Frontier perspective, though, it's a true pleasure to see two creators whose work we first championed in 'Small Pressganged' – my regular column on all things small press, self and micropublished – making appearances on panels. Jade Sarson – winner of the aforementioned Myriad First Graphic Novel Competition of which I was also one of the judges – will be among those talking about the road to first time publishing on the 'New Voices, New Directions' panel. Jade's always engaging Cafe Suada was first reviewed at BF back in 2012 and you can read her extensive interview with me here. Alys Jones – who I also interviewed here at Broken Frontier last year – will be on 'The Great War in Comics' panel with Pat Mills and company talking about her remarkable use of the form in the graphic novella Beyond the Wire.
And, of course, don't forget the first Comica Comiket since last November on Saturday 16th featuring the cream of the UK small press and indie publishing scene!
Full details of all the events are in the press release below…
###
Since May 2nd, The British Library at 96 Euston Road, near King's Cross, London has been hosting Comics Unmasked: Art and Anarchy in the UK, the largest ever exhibition of British comics in this country, co-curated by John Harris Dunning and Paul Gravett. It's proved hugely popular and has to close on Tuesday August 19th. To celebrate its final weekend, Comica Festival is running an amazing programme of events at this prestige venue.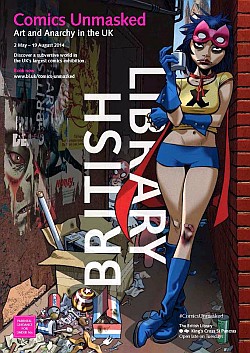 To kick off, the Canadian superstar creator of Scott Pilgrim Bryan Lee O'Malley is in London for his only public interview on Friday August 15th 6.30pm to launch the UK edition of his brand new graphic novel from SelfMadeHero entitled Seconds. For more details and to book your tickets, click here….
Then on Saturday August 16th, from 10.30am to 4.30pm, the Entrance Hall of The British Library will be buzzing with our Comica Comiket, the Independent Comics Market where you can meet and buy from brilliant creators and publishers. You can also enjoy the Drawing Parade live on stage and shown on big screens, watching great artists like Mark Buckingham, Al Davison, Asia Alfasi, Jan Cleijne and Emmanuel Guibert draw before your very eyes. Bryan Lee O'Malley will open the Comiket, introduce the Drawing Parade and sign all morning. And yes, it's all completely free, so come and enjoy a fantastic day of comics creativity!
And for our grand finale, on Sunday August 17th, we've programmed FIVE fascinating Comica Conversations in the British Library Conference Centre from 11am to 7pm. Tickets for each one are only £5, or £4 for over 60s, or £3 for concessions. And if you come to all five Conversations, you pay for only four and get one free! Each one is followed by free signing sessions in the Foyer. Here's a summary of the line-up with links for more details and how to book:
The Great War In Comics: 11.00-12.00 From Charley's War to To End All Wars, Pat Mills and company explore portrayals of the First World War in modern comics and graphic novels…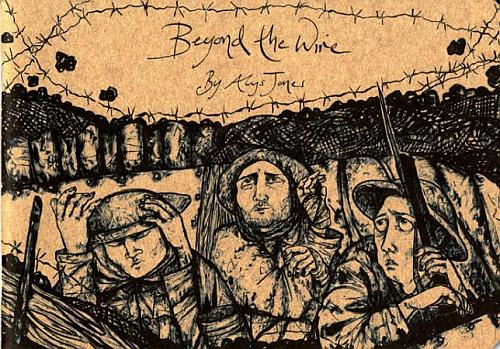 Sex, Censorship and Sensibility: 12.30-13.30 Lessons from past trials, bans and censorship of comics, and the threats to freedoms today, with Charles Brownstein from the CBLDF, historian Tim Pilcher and the legendary erotic maestro Eric Von Gotha…
New Voices, New Directions: 14.00-15.00 First-time graphic novelists Jan Cleijne, Andrew Rae, Jade Sarson, Matilda Tristram and Ian Williams share the secrets of their process and working with an editor and publisher…
Draw Misty For Me: Shirley Bellwood: 15.30-16.30 Misty was the raven-haired hostess of the spooky girls' weekly, illustrated by Shirley Bellwood. For the first time, Shirley meets her admirers and talks with Misty creator and writer Pat Mills…
Memories And Memoirs: Emmanuel Guibert: 17.00-18.30 How the award-winning Parisian comics creator has transformed life-changing friendships into the graphic biographies Alan's War, The Photographer and his latest, How The World Was…
Please note that demand will be very high to visit the Comics Unmasked exhibition over these days, so you are strongly advised to book tickets for this in advance online please. We look forward to welcoming you at The British Library for this very special Comica Festival weekend celebration!
For more on Comica Festival visit the website here.